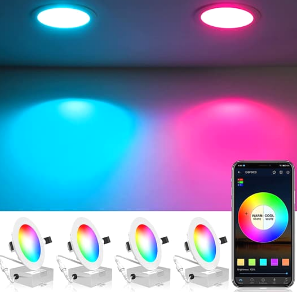 If you want to light up your environment with a touch of discreteness, get smart recessed lighting. It's delightful when you can control your light with your voice without stress. But, again, if you detest seeing connection extensions from lights on your room surfaces, then Smart Recessed Lighting is your dream.
It fits into the architecture that makes non-surface light installation possible. In addition, it doesn't make your space because the bulb is inside an inverted cylindrical canister. So, when installed, its flushes with the ceiling.
But the challenge often lies in making the right choice. So, this review will help you to choose the brand in terms of features and convenience. Our top pick is the JULLISON 4-inch LED Smart Recessed Light. But we also reviewed other great products.
5 best smart recessed lighting reviews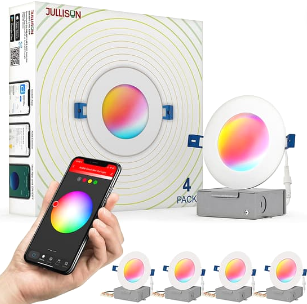 You can actually accomplish amazing things with the Jullison Smart Light in terms of providing the comforts and simplicity of operation. It's the product that has our top score rating in the Smart Recessed Lighting category. The sophisticated smart app has powerful voice control that provides a seamless capacity for intelligent voice control. Its communication technology enables it to receive digital instruction from smart devices and analog instruction from the human voice.
Apart from the voice control feature, it responds efficiently to any smart device that runs the smart Life software (a.k.a Tuya Smart). Thus, you can control the Jullisonsmart light with any mobile device that runs iOS 8.0 or higher or Android 4.1 or higher. Also, you have absolute voice control over these smart recessed lightswitch Google Assistant. Alexa and so on.
The Smart Life application allows you to control the smart down-light remotely on a tablet or smartphone without a Hub. Moreover, you can switch the lights to any color you prefer. Also, you can tune the color temperatures as you wish. For example, it can go from 2700K warm light to 6000K for daylight, or RGB color changing up to 16 million colors.
Furthermore, the Jullison Smart Light can handle dimming from 1% to 100% via APP and Voice. The product allows you to creatively and smartly control the space color of your bedroom, dining, kitchen, bathroom, etc. You can use the Jullison smart WiFi recessed lighting to create group control settings for different rooms and set up automatic on/off through timer.
However, the setback of the product is that you cannot use a regular dimmer.
Main features
Smart Life APP
Alexa/Google Assistant Compatible
Canless Solution
2700-6000K Color temperature
600 Lumen
Music Sync
Timer and Group Control
IC Rated
50,000 hours
Pros
RGB Color Changing with music/game beats
Voice control
Dimming from 1% to 100%
Energy Saving
Cons
The product doesn't support a regular dimmer.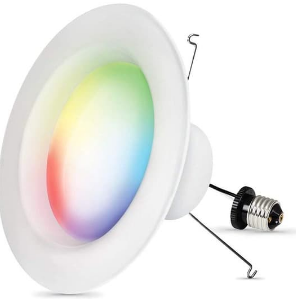 If you're interested in quality and a budget that is not biting, then the Feit Electric LEDR6/RGBW/AG should be your choice. The amazing features of this product include a WiFi IntelliBulb upgrade and the option of using your smartphone to do more controls.
With the Feit Electric app on your smartphone, you can control the light anywhere you are without needing a hub. The app supports both Android and iOS devices, but the operation requires a 2.4 GHz WiFi network.
You can achieve amazing voice commands on the smart downlight with the help of Google or Alexa assistant. Secondly, its light replacement for a 75W produces 1000 lumens. Moreover, the downlight kit fits 5-6 recessed can housings that last long up to 25 000 hours.
In the same vein, the LED bulb has Tunable White that enables Color temperature adjustment from 2700K to 6500K. You can select the warm, soft light or bright daylight, or any color among the millions available to spice up your atmosphere.
This light with google and Alexa connectivity suits every modern smart home. You have the freedom to set the different light colors on apps for special occasions in different rooms; bedroom, kitchen, living room, etc.
However, the downside of this product is that it doesn't support Wink hub 1. Also, the manufacturer stated a specific number of bulbs that the app controls, and that's 30 bulbs, and it depends on your internet speed and router.
Main features
Voice Control
Alexa or Google assistant enabled
2700K to 6500K temperature from
Remote Control
Grouping Control
25 000 hours &1000 Lumen
Pros
Schedules settings
Changes color with music/game beats
WIFI smart 6″ retrofit
One Year Warranty
Cons
Requires 2.4 GHz WiFi network
It takes time to sync the bulbs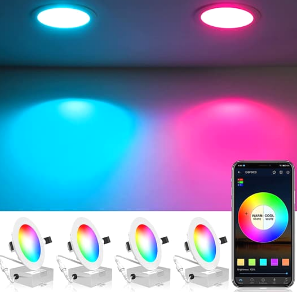 A Smart Recessed Lighting user that focuses on high performance and a view of slimness should use this product. The 2-in-1 design and ultra-bright quality set the pace for the experience of the multi-functions for your ambient lighting requirements. In addition, its quality LED chips to ensure 1100LM uniform light functionality with low watts consumption to save energy.
The product features up to 16 million colors. In addition, it has a DIY mode and color temperature of 2700K-5700K to select as you wish. Likewise, you can dim it smoothly from 0%-100% to fine-tune the atmosphere for daily and festival lighting needs within your reach.
The amazing smart control of the product is something that provides delightful feelings at all times. Just download the Pro App and connect 2.4 GHz WiFi to control the LED ceiling lights through your smartphone at your pleasure.
In addition, you can smartly control different lights once without stress. Amazingly, the device can be shared with family members to control the smart lights together.
The LED ceiling light is compatible with Alexa, Echo, Google Home Assistant, Siri, and IFTTT applications, which enables you to achieve the experience of hand-free operation. You can use voice to turn on/off or to dim and fade in/out the light to create beautiful atmospheric effects while partying, watching movies, playing games, etc.
The compatibility of this color-changing smart recessed light via the Magic Home Pro APP gives you the opportunity to enjoy various scenes from this feature. For example, music and dynamic modes. You can even smartly customize your own mode.
However, this product's downside is that it comes with a huge template that might ruin the ceiling. Also, the metal boxes might not be very strong as users want.
Main features
1100 Lumen
0%-100% Dimmable,
2700K-5700K Color Temperature:
Voice Control
Group Control
Intelligent Remote Control
Pros
Music & Mic Sync
Multiple Dynamic Modes
Share devices to the family through APP,
No Hub Required
Cons
It has a large template.
Only compatible with 2.4 GHZ WiFi,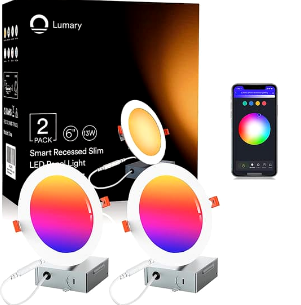 Well, this is a feature-loaded design that meets the high values of the premium grade of choice. The voice control capability gives the user a mind-blowing experience. The voice smart technology is compatible with Alexa and Google Assistant. With a very simple dialogue, can operate the product, using to control the light and colors.
It comes with an intelligent app that enables you to have great control of the product. All you need to do to feel the experience is download the Lumary / Smart Life APP. With the app, you can create an on/off schedule for the light, create groups, remote control the product, and share other devices the led smart recessed lights together.
The memory function saves all your settings giving the freedom from worrying about repeating settings at each turn on. The product supports warm white and cool white from 2700K to 6500K. Provide 16 million colors. Also, 1%-100% brightness is adjustable, as well as 8 scene modes. You can also DIY the scene modes of your choice.
The control that creates the feel of changing the colors with the beat of the music or the game's sound is a notable atmospheric spice. The imagination of not having flicker during start-up is another function that keeps the product qualified for premium choice.
One of the setbacks of this brand is that there's no clear instruction on using the app. Also, you need the internet to connect to add lights to the application.
Main features
(2700K~6000K) Color temperature
Alexa & Google Assistant
13W 1100LM
1%-100% Dimming
25000 Hours
Pros
Compatible with Lumary/Smart Life app
Color change with music/game beats
Cons
Only compatible with 2.4 GHz WiFi, 6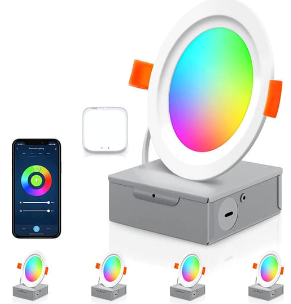 This is continuity of the Philips Hue brand. The 4 inch RGB LED Recessed Lighting is another model with attractive functionality. With this product, you cannot suffer groping in the dark. Instead, having access to your smartphone can help you to light up the place.
This product comes with beautiful automation that simplifies the initial setup. Just download the "Smart Life" app and use an auto-scan to connect the hub. The hub will automatically search for recessed lighting and connect; it's that simple.
The product comes with all the modern features found in today's Smart Recessed Lighting and some unique stuff that you do not see in other products. The features include Voice Control, Brightness and Saturation Control, and Pre-set and Editable Scenarios.
Only support 2.4 GHz WiFi. However, the great admiration theJullisonattracts does stop the fact that there is something to consider as a setback. One of these is that you cannot use REGULAR DIMMER on this product.
Main features
13 Watts lighting capacity
Syncs seamlessly with the "Smart Life" App on the phone
CW Dimmable with 16million colors
Compatible with Alexa & Google Assistant,
6 Inch Smart Recessed Lights 2PCS
Pros
(2700K to 6000K) Color temperature
Smart Life app
1%-100% Dimming
Cons
Color change with the music beats,
Advantages of using the smart recessed lighting system
The advantages of using the smart recessed lighting system are as follows;
The features of smart recessed lighting offer a better and more efficient way for you to manage your home light. For example, you can remotely modify your home lighting from anywhere you are. Gone are the days when you would patrol around your household, especially during the night, to ensure that all your light switches were off.
A smart recessed lighting system gives you more control over your home lighting. You can personalize the mood in any of your rooms to suit you. You can set a colored ambiance and dim your lights as you love them. The best part is that you don't even have to set up dimmer switches to maximize their effects.
Initiate an Automatic Lighting Plan
A smart recessed lighting system allows you to initiate an automatic lighting plan on every side of your lifestyle. With the smart recessed lighting system, you can set a wake-up call for 6 a.m., and your light turns on automatically with little adjustments. You can also set the lights to dim in the evenings so that you can relax or general lights out by 10. P.m.
What you do need to consider before choosing smart recessed lighting
The Parts of a Recessed Light
The Housing
Most of the fixtures come in two pieces, but some of them are in one piece. The housing is the piece that is mounted to the ceiling in a two-piece fixture type.
The Trim
You may be forced to remove the trim to install the light bulb itself. This is so because it is the trim that is inserted into the housing. Although, this depends on the type of housing and trims that you choose
The Wattage
Electric lighting fixture rated is important to achieve maximum wattage for the incandescent light bulb or other bulbs that are safe for you to use it. For example, even though most recessed fixtures come in the rating of 75 to 100-watt bulbs, some bulbs' rating is up to 150 watts.
The Frame
It is important to know that Recessed fixtures for installation into open framing need a mounting frame attached to the framing members in the ceiling.
Talking about size, you have to consider the distance of the ceiling from where you want the light to be and the area you want the light to cover. For example, the normal size for residential recessed light fixtures is 4″ through 7″ in diameter.
A 4″ fixture may be the ideal type for an 8′ ceiling A 6″ downlight from such height can light up your breakfast table very well.
Incandescent, fluorescent, halogen, or LED light bulb is best fitted with recessed fixtures with medium screw base lamp holder. There are special lamp holders that need matching fixtures, and they are available.
The halogen usually works better for high-intensity light. For general lighting and warmth, most guys go for incandescent lamps. LED light bulbs can combine all the characteristics.
If your installation requires that you feed wire from one joist bay to another, then you need to bore a hole in the center of each joist. Be clear that recessed lights are made in a junction box that is attached to the fixture.
The Fixtures that have built-in Type NM clamps in their junction boxes are the best for NM or Romex wiring.
Insulation Compatible VS Air Tight Fixture
Modern recessed lighting fixtures are Insulation Compatible (IC). Its means that the housing can be in direct contact with insulation in the installation. If your decision is to add recessed lights in an insulated ceiling, then fixtures with housings that are IC rated are what is required.
If your recessed lighting fixture is not rated to be Air Tight (AT), then it may not be alright to install it because it will create a funnel for your wintertime heating to escape through. It's alright if you have enough space above it. However, it is an issue if the space is on your upper floor.
Remodel Fixtures VS New-Construction Housings
If what you have is housing for a remodels fixture, then you need to push metal clips or nail through the housing onto the top of the ceiling. On the other hand, new construction fixtures require screwing or nailing the fixture's frame to the ceiling joists. It is important, therefore, to be sure of what you need.
Related Articles:
Best recessed lights for bedroom
Best recessed lights for hallway
Best recessed lights for kitchen
Best recessed lights for sloped ceiling
Best recessed lights with speakers
Best recessed lights for bathroom
Best retrofit led recessed lights
Best recessed lights for basement