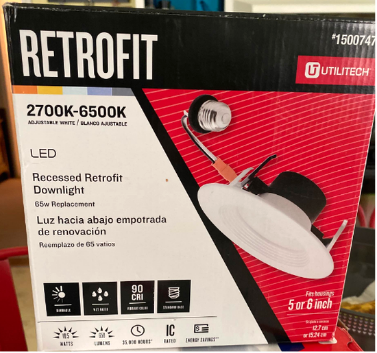 The lighting fixtures that recess inside your ceiling to brighten spaces are generally known as recessed lights. In some cases, you can install LED recessed lighting kits in already existing recessed lighting fixtures. That is by detaching the primary trim and bulb before you screw in a LED module adapter in its place.
But this procedure can only be possible with LED retrofit kits meant for recessed lighting. Retrofit LED recessed lighting kits to allow you to easily improve your already existing lighting plan to a more powerful and efficient one you need.
Currently, there are many brands in the market, and it gets confusing when searching for one. In this review, our top pick is the Bbounder Lighting 12 Pack 5/6 Inch LED Recessed Downlight. However, we also reviewed many others in terms of features and what makes them unique. Also, we'll put a comparison between retrofit and new construction recessed light. So read on and learn more about them.
7 Best Retrofit LED Recessed Lighting Reviews
This Bbounder Lighting system stands out as the overall best retrofit recessed light. Packed with unique qualities and at a good price, this aesthetic recessed lighting operates perfectly for retrofit purposes. It offers a great lighting option with its large lighting package suitable for large spaces at homes, offices, and others.
The lighting fixture comes with 12 LED lighting bulbs. Also, the fixture is designed with the standard size of 6-inches. With its manufacturer's design, the lighting fixture is compatible with lots of dimmers. Thus, you can conveniently adjust the brightness to different levels that suit your needs. This makes the lighting a good option for kitchens, closets, hallways, the basement, etc.
Furthermore, the recessed light is UL approved, having great safety standards. It has an airtight structure that ensures corrosion and rusting protection. So, you can use it in different locations for your roof and ceilings.
Also, the retrofit downlight is insulation contact rated. With its high-quality operations, it doesn't overheat or cause fire out-break in ceilings.
Using 12.5 Watts, the lighting system can produce an equivalent of 100 Watt light with 950 lumens. It gives a 3,000K warm white color temperature light.
Despite its great features, the major setback is that this lighting fixture has an average build quality.
Main features
5/6 inch lighting system
12 LED lighting bulbs
Baffle trim
Dimmable
12.5 Watts
Insulation contact rated
Pros
Excellent and high-quality illumination.
Standard white color temperature.
Corrosion and rust protection.
Cons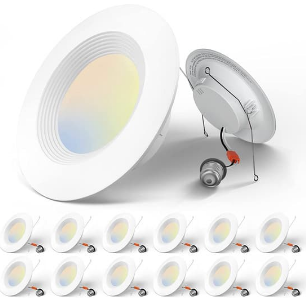 This Amico recessed light comes with 3 selectable color temperatures of 3,000K, 4,000K, and 5,000K. This accounts for its brightness of different levels without worries of inappropriate color temperature. This super brightness of the lighting system makes it a great choice for kitchens, living rooms, offices, shops, bathrooms, etc. This lighting system remains the best lighting budget option for you.
The manufacturers designed the lighting fixture with baffle trim that serves as an anti-glare. This helps to ensure maximum eye care and protection. Its dimming setting ranges from 5% to 100%, creating perfect lighting that suits different décor and moods.
Furthermore, the Amico 3CCT lighting fixture has no complications in its installation. There's no need for additional accessories. It fits perfectly into 5 or 6 recessed housing that has a C clip. It's a good option for both new construction and retrofit installation. You can easily screw the fixture through its E26 base.
Moreover, its versatility in lighting applications puts this light system at the forefront. The design accommodates its connection in damp locations such as showers, bathrooms, or outdoor porches. Also, this downlight has CL certification of a high standard. It boasts up to 50,000 hours of lifespan.
However, this light fixture seems to be smaller than other recessed lights in this review with its 4 inches diameter measurement.
Main features
5/6 inch light fixture
12.5 Watts consumption
Baffle trim
3 CCT selection
12 LED bulbs
Pros
Excellent thermal protection against fire.
Highly durable with a long lifespan.
Great dimmable lighting with eye-caring capacity
Cons
The diameter of the light system seems to be about 4 inches.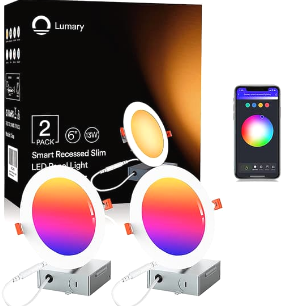 When it comes to smartness and lighting, the Lumary Smart LED recessed light is the option for you. This lighting system encompasses unique features and functionality in its design.
You can get a wide range of color options, about 16 million color options, from the recessed lighting. This creates a remarkable lighting environment. Of course, there's no excitement in having the same light shade all year long. But with this smart lighting fixture, you're in for a bigger package.
Besides the different color shades, this lighting fixture switches the temperature of its environment to be warm or cool. Also, you can dim the brightness of the lighting from 1% to 100%
Furthermore, the design of the smart light fixture makes it compatible with google assistant and Alexa. So, you can opt for voice control for the ON/OFF and the color adjustments. When synced with music and a mic, you can control the color through music or a game.
By downloading the Lumary APP, you can conveniently utilize the intelligent control. This allows you to schedule the ON/OFF of the light, enjoy group control of the light or through the App. Also, you can share other digital devices for the control of the recessed lighting. The memory function remains at the last setting when you turn it OFF. There'll be no need for a reset.
The use of this recessed light requires the installation of Wi-Fi in the environment. Also, unlike most recessed lights, this lighting fixture has no foam or rubber air sealing gasket.
Main features
Compatible with Alexa and Google
RGBWW adjustable
Syncs with music and mic
APP intelligent control
Voice control
Pros
Voice commands for ON/OFF
About 16 million color options.
Functional memory that displays last settings.
Can remote control with smartphones or other digital devices.
Cons
Requires the installation of a Wi-Fi network at home.
Has no foam or rubber air sealing gasket.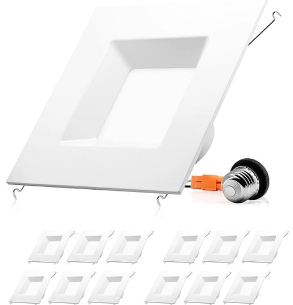 If you're searching for a great design, this recessed light has a distinguishing modern and classic construction. It's a square recessed light that boasts amazing features for its functionality. The recessed light comes with a sleek aluminum body that accounts for its lightweight yet toughness and durability. It offers different color temperatures that will suit your desired moods. Besides lighting other rooms, the light fixture is suitable for wet areas such as showers, bathrooms, and under the soffit.
There's the dimming setting for the light with 10% to 100% dimming capacity. This allows you to set the lighting mood of your choice. This lighting system is compatible with several LED dimmers such as Lutron Dimming System and others. Furthermore, the installation of this PARMIDA recessed lighting is very easy and simple. You can conveniently fit the fixture in a 6-inch recessed housing for both retrofit and new construction purposes.
Moreover, the lighting system features an added diffuser that enables the lighting to be evenly distributed. Thus, you can get dark spots after the installation of the fixture.
The setback with this recessed light is the possibility of overheating in its base,
Main features
6-inch LED recessed light
Compatible dimmer
Durable aluminum body
15 Watts energy consumption
Added diffuser
Pros
High quality and modern design.
Customizable brightness for different moods,
Compatible with different dimmer lists.
Cons
There could be overheating at the base.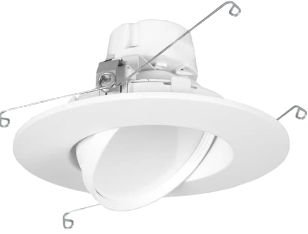 This 6-inch Maxxima retrofit downlight is a great replacement for ceiling lighting in your rooms and other areas. Its rotatable eyeball allows you to direct and focus the light to any desired point. It has 950 lumens of light that use just 11Watts energy to generate an equivalent of 75 Watt incandescent. Maxxima recessed lighting remains your best option for an adjustable lighting system.
This lighting fixture has UL approval as well as Energy Star Listed. Also, it can be used in different locations, including in damp areas. Moreover, this retrofit recessed light produces excellent illumination with its neutral white and 4,000K color temperature.
Furthermore, the lighting is dimmable, which gives the option of getting different levels of illumination as you desire.
The installation process is very easy and simple to complete. It operates with an E26 connection that will enable a simple screwing to the base of the housing can. Alternatively, there's the E26 Adaptor for direct plugging to an LED can.
One of the downs parts of this lighting system is the uneven placement of the springs. This makes it leave gaps or fall off from the hole when trying to fix the lighting fixture. Also, when the light is pointed in a direction, it gives a reflection on the inside of the white housing. This will eventually cause the lighting to keep moving in the opposite direction where you pointed the light.
Main features
6-inch lighting fixture
11 Watts energy consumption
Rotatable head
E26 lighting connection
UL approved
Pros
Beautiful and colorful light.
Easy installation process.
Cons
Uneven springs placement.
Light reflection on the inside.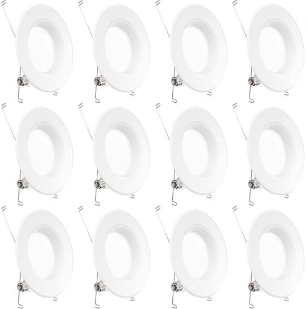 This Sunco recessed light is the best dimmable lighting system that will conform to your requirements for different moods. It comprises a dimming capacity that runs from 10% to 100%. It comes with a baffle trim that requires no warm-up for its starting. Also, using the adjustable clips, you can easily adjust the fixture to fit 6-inch or 5-inch recessed housing.
Furthermore, there's a 90o beam angle that ensures a wide flood of lighting for larger spaces and areas. This creates a softer and highly diffused illumination. Thus, Sunco recessed light is ideal for lighting different areas in homes, offices, and public places. Additionally, the lighting system follows a simple and seamless installation process. You can conveniently fit it into an existing lighting can. Also, it's suitable for wet areas.
The down part of this recessed lighting is that it seems to produce electromagnetic interference with other electronics.
Main features
12 pack LED recessed light
Baffle trim
13 Watts energy consumption
Adjustable clips
90o beam angle
Dimmable lighting
Compatible with different dimmer lists.
Pros
Wide flood beam angle of 90o.
Adjustable clips for different fittings.
Great energy efficiency and high sustainability.
Cons
Can initiate electromagnetic interference with other electronics.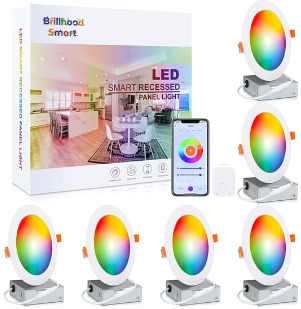 When you desire a recessed lighting system that will have different light shades in your home or other buildings, Brillihood is your option. This system combines smartness with a wide color-changing capacity in its functionality.
This lighting fixture produces a wide range of lighting colors that is up to 16 million. The lighting colors and tunable white range from 2,700K to 6,500K. There's always the possibility of creating several lighting shades for different moods.
You can control the lighting through Smart App by downloading Tuya or Smart Life App. This App allows the creation of auto ON/OFF for its daily control or through a group control. Alternatively, there's the hands-free voice control for the lighting as you desire.
The lighting system has 8 built-in scenes suitable for different occasions. Also, you can customize your scene that suits your event for the lighting effects. Moreover, the light changes through the music or game sounds.
However, the lighting dimming process from this recessed light system is not compatible with dimmer switches. The dimming only works through voice or App control.
Main features
Voice control
Smart APP control
Baffle trim
12 Watts energy consumption
ETL listed and approved
Several scenes and music sync.
Pros
Excellent colors shades of about 16 million.
Hands-free voice control.
Wide application for different purposes.
Cons
Not compatible with dimmer switch
Retrofit vs. New Construction Recessed Light
Retrofit recessed light encompasses the addition of a component to the existing recessed light system. Retrofitting removes the hassles in creating and making an entirely new process. So, it's always easy, simple, and cost-effective to retrofit recessed lights.
However, new construction recessed light is a lighting system for newly constructed buildings. This means that you should finish its installation process before completing the ceiling of the building.
Additionally, you will need to support a retrofit fixture to the ceiling using metal clips. But for new construction fixtures, the supports are directly through screwing to ceiling joists.
FAQs
Can you retrofit recessed lighting?
You can only retrofit recessed lighting if the new recessed lighting trim is the same size as the existing one. It will be difficult to retrofit with a different size of trim into the existing housing.
What does retrofit recessed lighting mean?
Retrofit recessed lighting is replacement lighting that allows you to retain the original or existing housing. This removes the burden and stress of embarking on the rewiring of the entire lighting electrical connection in the ceiling and building.
Can you replace the can lights with LED?
You can conveniently replace your can lights with LED if the brackets in the existing housing are compatible with LED lights. Where the current housing lacks suitable brackets, you will first go for a universal type of fixture.
How do I measure for replacement recessed lighting?
To measure for replacement recessed lighting, take your measurement in inches on the diameter of the cut-out opening for the lighting. Ensure that the measurement excludes the trim.
Related Articles:
Best recessed lights for bedroom
Best recessed lights for hallway
Best recessed lights for kitchen
Best recessed lights for sloped ceiling
Best recessed lights with speakers
Best recessed lights for bathroom
Best recessed lights for basement