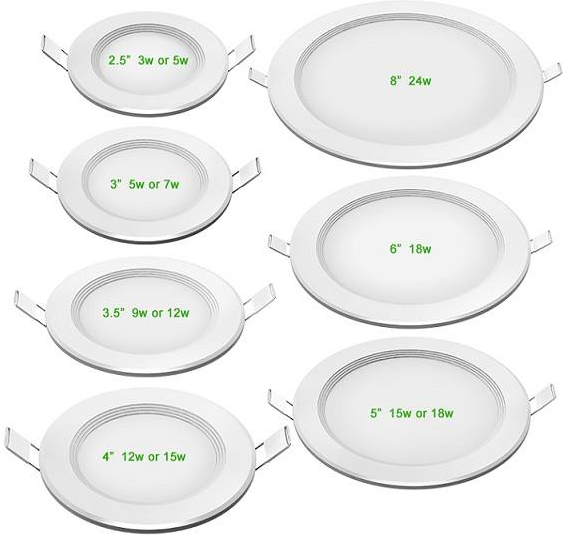 Recessed lightings—also called "can lights"—are one of the most versatile lighting alternatives available. Their functionalities can vary from wall lighting, downlighting, or even uplighting. They provide a great ambiance in numerous residential and commercial places. In addition, you can use recessed lighting as accent lights to emphasize artworks, furniture, or the wall itself. This lighting is a top choice in most housing cases that have to do with low-ceiling or uptight spaces as it enhances a minimalist design.
Some of the sizes available vary based on the place you aim to use it. For example, you can get 4"-7" recessed lighting for living rooms, 4"-5" housing for the kitchen, plus other sizes for different locations. The room location and room size determine the size of recessed lighting to use. But you can combine different sizes of lighting per room.
Now let's consider the different rooms and their requirements:
Size for Kitchen
4"-5" housing.
A bright white lighting temperature—4000k-5000k
Work area: 7,000-8,000 lumens.
Other parts of the room: 3,000-4,000 lumens.
Size for Bedroom
4"-6" housing.
Warm white lighting—2,200k-2,700k
Soft warm white—3,000k
1,000-2,000 lumens.
Size for Bathroom
3"-4" housing.
A soft white lighting temperature—3,500k-4,000k.
Must have a wet rating for damp areas.
7,000-8,000 lumens.
Size for Hallway
2.3"-5" housing.
Warm white color temperature—2,700k-3,000k.
500-1,000 lumens.
Size for Basement
4"-6" housing.
A bit cooler temperature lighting—3,000k-4,000k
800-1,200 lumens.
Size for Outdoor
3"-6" housing.
Warm lighting temperature—2800k-2900k.
2,700-5.000 lumens.
These are the summarized versions of light requirements for the rooms in your home. We shall now proceed in detail in each of them for better clarification.
Size for Living Room
The living room is very strategic in the home. But the size of recessed lithing to use will depend on the room size and preferences. For example, higher or sloped ceilings will require bigger housings of up to 6-inch—7-inch or several 4-inch –5-inch fixures.
Also, there are various trim choices available, like the gimbal, reflector, or adjustable trims. Another amazing additive will be to integrate the lighting with a dimmer to regulate mood-setting throughout the day.
Kitchen
Recessed lighting for the kitchen should be at least ip44 rated. Sometimes, the kitchen is the largest room in many homes. Place your ceiling lights at least 3ft from the cupboards and also as spotlights under the cupboards for task lighting. To provide a wide wash, make use of 4-inch or 6-inch housings.
Although you can use smaller housings for tighter areas, you will still need bright temperatures and lumens to see what you're doing.
However, to find out how much lighting you need in a room, measure the square foot with a measurement tape. After that, you can either calculate it via a lighting calculator or a lighting formula. Using the lighting formula, you will be calculating the lighting based on the bulb wattages.
Bathroom
The bathroom should be the second brightest room in your room. The brighter it is, the more spacious it will look. You can position the light housings over your sink to prevent them from constantly casting dark shadows over your face. Also, you can add another 5-inch housing over your bathtub or shower place.
As you are installing recessed lightings, ensure that they are approved and wet-rated for damp areas.
Bedroom
When it comes to bedroom lighting, it's pivotal to have balance in mind. Don't overdo it, making your bedroom look like a shopping mall. Instead, having a balanced number of well-positioned can-lights integrated with accent lightings or task lightings will do much good.
You can fortify your bedroom recessed lights with table lamps, floor lamps, pendant lighting fixtures, or hanging ceiling lights.
Position a pair of (3-inch or 4-inch) recessed pot lights on any side of a ceiling-installed light above the bed. This gives the room a great outlook. If you're displaying any artwork in your bedroom, place a recessed light over it to give you a focal point.
Hallway
The hallway is positioned at the house to facilitate movement. Therefore, lighting in the hallway should be competent enough to enable ambiance to flow freely through the room. The hallway's recessed lighting should also complement the internal decorations with mood lighting and task lighting.
When you follow any interior decorator's procedures, you can confidently choose the type and style of lighting needed for your hallway(s).
Basement
The basement is usually the darkest room in the home. Therefore, the basement is a place that needs more lighting. To determine how far apart to space the lightings, measure the height of the ceiling and divide it by two. For example, if your room has a 10ft ceiling, you should place your can lights 5ft apart.
Also, the diameter of the housing should be consistent with the spacing of the bulbs. For example, 6-inch recessed lights should be 6 feet apart, 5-inch bulbs should be 5 feet apart, etc. If it's a bedroom, you don't need it to be as bright as a kitchen. You can install 2 rows of 4-inch recessed lightings 4 feet from each other.
Additionally, you can use smaller accent or task lighting with two-inch or three-inch lamps combined with well-positioned general recessed lights.
Outdoor
Recessed lighting is a great option for outdoor purposes. The unobtrusive light doesn't compete with other decorations. Using recessive lighting outdoors provides additional light without taking any visual space. It is also effective for mood-setting and determining functionality. However, its effectiveness is determined by some factors: the home's architectural style.
If your home has a smaller porch, one or two large 5-inch or 6-inch recessed housings will be great. But if you own a much larger stoop, a balanced and even layer of light will light up every square foot in the ceiling. So rather than installing one large outdoor recessed light, utilize several small-sized patio lighting.
A few wall lights integrated with downwash and a few path lights integrated with puddling effects are preferable to one large.
Related Articles: