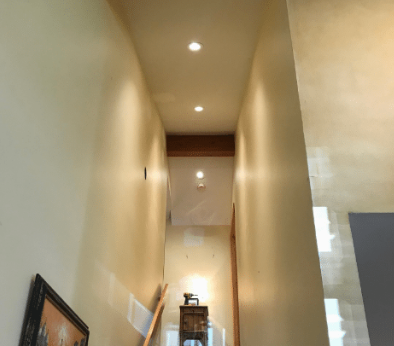 Choosing the best-recessed lighting for hallways could be a challenge. Hallways are not like other rooms that benefit from natural lighting. Moreover, there isn't much space where you can just put down any lamp on hallways.
This means that if you want to light up the space, you must use a built-in light. That's where the best recessed lighting for hallways becomes beneficial. It is the lighting fixture that can fit into the narrow height and width space.
This article has reviewed some of the best-recessed lightings for the hallway to help you make the best choice. Our top pick is the Ensenior 12 Pack 6″ Ultra-Thin LED Lights, followed by other great products. Read on to learn more!
6 Best Recessed Lighting for Hallway – The Review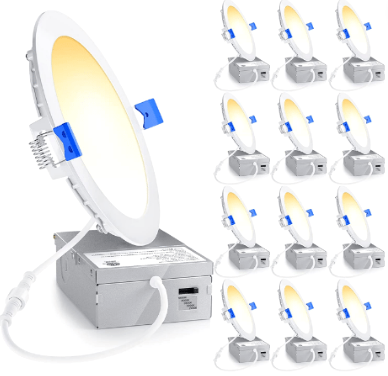 If you want a brand that offers affordability, superior illumination, and perfect functioning on your hallway ceiling, Ensenior 12 Pack 6" fits well. This light is our top pick because it is reliable with a sleek and flawless look always.
It has a unique design with 3 selectable temperature colors. You can set the light to either 5000k daylight, 4000k cool white, or 3000k warm white. Also, it comes with a junction box which ensures that it is thermally protected. It is also compatible with a wide range of dimmers in the market.
Enseniorcan fit in various ceilings and joists. With its 5% to 100% smooth dimming, slim structure, adequate damp location, you can fix the light in your kitchen, office, home, bathroom, bedroom, or living room. Its 80+CRI technology brings true color brightness to your household.
The light has lower power, and higher lumens LED chips. So, its 1050lm can only absorb 12 watts, produce high brightness and conserve energy. You can save up to 88% on the cost of electricity. In addition, its frosted LED lens ensures anti-glare and doesn't scratch easily.
Installation of this recessed light is easy, and it is ideal for new décor. You have to open a space in your ceiling with a 1.1 hole template for the installation process. Then, link the junction box to the wires, and fix it on your ceiling with the provided spring clip.
The drawback of this fixture is in the light springs. They are a bit on the small side, tight, and you cannot manage them easily.
Main Features:
2 pins single-color light connector
2700k – 5000k
3 pins CCT connector
1050LM high brightness
Corded electric power source
Scratch-resistant and anti-glare
0.47 Lightweight
80+CRI
No noise and flicker
Ultra-thin recessed lighting
Energy Star and ETL certified
Pros
Selectable temperature
High brightness
Wide application
Energy saving
Thermal protection
Cons
Light springs challenges
The lights seem more yellow and dimmer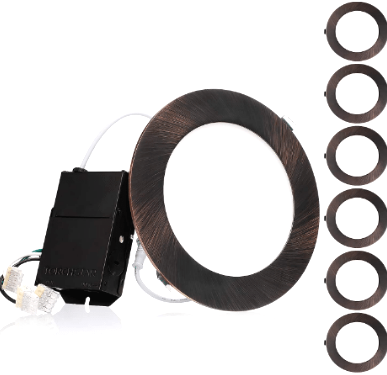 Are you worried about your small ceiling space? Are you afraid of the high electricity bill that is coming to you this month? Then this TORCHSTAR E-Series 6-inch is your best option.
Due to the slim size design, you can install this light on any small ceiling. The only thing you need is a 2′′ clearance height. The light doesn't need any can, and it supports remodeling, new construction, and retrofit installations.
TORCHSTAR E-Series manufacturers followed a stringent standard to ensure maximum safety. It consists of a strong aluminum housing that is resistant to corrosion and has noteworthy heat dissipation capabilities.
The installation procedure is seamless and easy. You can effortlessly set it up in your home safely. All you need is to fix tight the light with its accompanying metal spring clamp to your ceiling. Then, stand back to enjoy the various advantages of this light in your kitchen, apartments, bedroom, attics, and many other areas.
The major challenge this light has is, if your power module gets faulty, it is difficult to get a replacement.
Main Features
Energy Star and ETL certified
Ultra-Thin size
IC rating
13o F to 113o F working temperature
Compatible Lutron Dimmers
Spring clip max
Waterproof rating
10 to 100% dimming range
Pros
Sturdy and slim.
Saves money and lasts for a very long time
Easier to install than other traditional cans
Delivers bright illumination
Cons
You must purchase an additional expensive outdoors wire for safety reasons
Faulty power module difficult to replace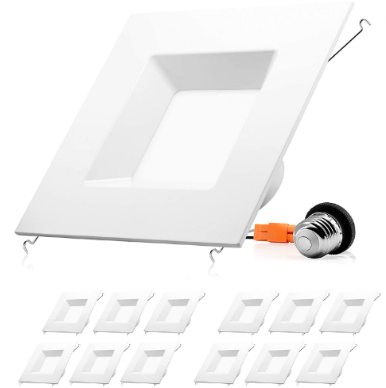 If you are searching for the best square recessed light to add to your hallway, office, dining room, living room, kitchen, and bedroom, get PARMIDA 12 – PACK 6" Dimmable LEDlight. This square downlight has a superior spring installation. Moreover, the fixture can directly fit inside a 6′′ downlight housing canister.
With the Tittle 24 connector and E26 adapter, you can achieve a secured and simple retrofit installation procedure. Besides, you don't need any additional accessories. It features a unique, classic, sturdy aluminum design. As a result, the light is durable and will never lose its color for a long time.
PARMIDA offers a range of color temperature options. Hence, this downlight delivers an attractive, stunning touch to your rooms. Also, its wet location listing allows you to install this fixture in your shower as well as beneath the soffit.
Also, the light possesses a dimming capacity of 100% to 10% effectively. So, you can control the mood as well as ensure that the level of lighting in your space is perfect. If you check out the list of compatible dimmers, you will find out that it is compatible with various LED dimmers. One of the dimmers is Lutron Caseta Wireless Dimming Systems.
This Parmida downlight can last for 50,000 plus hours, which helps you in saving money. It starts instantly with no humming or flickering due to the DOB LED technology. Also, it has the Energy Star Certification to assure safety and superior quality. In addition, it has the wet location rating, meaning you can install them in your bathroom, shower, or outdoors where it comes into contact with water.
Furthermore, this downlight is FCC compliant and ETL-listed. Thus, you are sure that the light is both reliable and energy-efficient.
Main Features
· Metal rings
· Aluminum body
· Lutron dimmers
· Ultra-thin design
· Wet location rated
· 5000-kelvin color temperature
· 15 watts
· 120v bulb voltage
Pros
· Impressive and simple design
· Instant start bright light
· No flickering and no humming
· Customizable brightness
· A sleek modern look
Cons
· No cons yet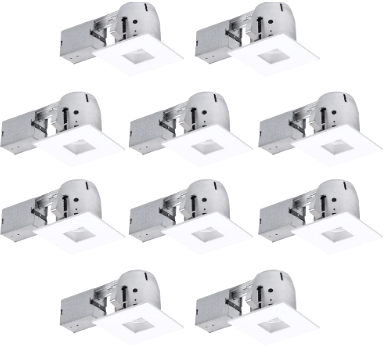 This Globe Electric recessed lighting with white finishing is the ideal way to illuminate the interior of your home with style. It features the licensed PUSH-N-CLICK clips that are adjustable and the extra-wide to grasp rough surfaces, which guarantees easy and tool-free installation.
Also, it has a swivel light bulb that allows you to direct the light on particular areas, while the smooth baffle offers the ideal glare control. Finally, the merged cut-off switch ensures that this light fixture will never overheat, and you can use it with or without an insulation box.
Globe Electric recessed lighting fixture is dimmable. You can dim it with any compatible dimmer switch or with the dimmer in its package. It uses 7-watts LED GU10 bi-pin base MR16 or 10 50-watts halogens, which you'll buy separately.
It features a robust body construction with galvanized steel, modified steel clips, changeable side panels, and a large attainable electrical box.
The major challenge to this light is the white covers. They are the only visible side you can see after installing the light, but they rust very fast.
Main Features
Adjustable trim
Directing swivel gimbal
Smooth baffle
Licensed PUSH-N-CLICK clips
Real hole size: 3.88"
Total trim size: 5. 13"
IC rated
Galvanized steel construction
Pros
Easy installation
Eye protection
Safe to use and no overheating
Good price with high functionality
Cons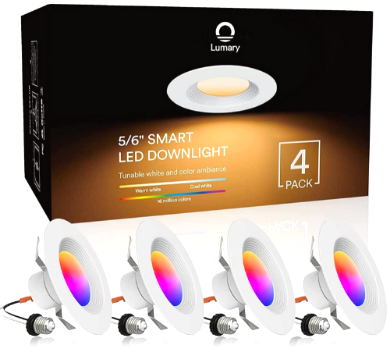 This smart recessed lighting creates a mood-boosting and vibrant ambiance to your household. You can sync it to your most loved music and also add your Television viewing experience to your entire room. The Lumary 5/6″ LED Smart lights are perfect for parties, Halloween, and Christmas celebrations.
Both the color temperature and the brightness are adjustable. You can adjust it from 1% to 100% brightness for when you want to read, sleep, or work. With over 16 million color production, the light can boost your mood. Also, there are many color temperature options for users ranging from 2700k warm white to 6500k cool white.
Users can control the light with their voice through Google Assistant or Alexa. These apps will help you switch ON/OFF your LED recessed lights, adjust the brightness, change colors, and carry out many other commands.
The installation of this smart recessed lighting is easy. It comes with a TP24 connector and E26 adapter for it. Moreover, it is perfect for 5-inch or 6-inch recessed housing canisters. The width of this downlight is 7.28′′, diameter fitting, 5.9~6.7′′, height fitting : >3.15′′. This Lumary smart light also feature blades that facilitate secure and easy installation.
It has a high Color Rendering Index (CRI) of 90 to create a more stunning environment. In addition, its flicker-free, instant start, smooth dimming, and silent operation make it ideal for several scenes like porch, basement, closets, hallways, kitchens, and doorways.
The light is low profile with its usage of 100 to 130 volts and output of 1100lm equivalent of 80W incandescent lamps. But it only consumes 13 watts. Thus, it uses 90% lower power than other 80 watts incandescent bulbs.
The challenging aspect of this light is that you will have to do it one at a time if you are setting up multiple lights. Also, you will have to set it individually on the App before you can install the next one. If not, you'll be overwhelming the App if you pair all the lights similarly.
Main Features
Voice control
APP control compatible with WiFi
Mic and Music sync
CRI>90
Wide application
1100lm output
2700k to 6500k color temperature
Pros
Adjustable color temperature and brightness
Multiple mixtures of vibrant color
Good customer care service
Superior quality lights
Cons
Too easy to reset mode
Difficult and technical forilliterates.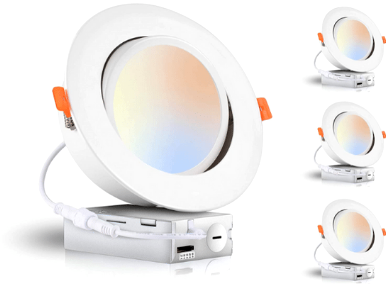 There is a reason for considering this Gimbal recessed lighting. The manufacturers designed it with 5 selectable color temperatures of 2700k, 3000k, 3500k, 4000k, and 5000k. Choosing one of these color temperatures can satisfy your various lighting needs in your hallway, walk-in closet, bedrooms, kitchen, and living rooms.
It is suitable for easy new construction, remodel, and retrofit projects. You don't require cans or junction boxes to install the lights. Just cut the hole size on the 6-inch1:1 template.
The 6′′ ultra-thin lights useLED chips that generate higher lumens but consume less power. Its 900 lumens only consume 15 watts to produce an equivalent of 100w incandescent lights. Thus, it produces maximum energy and reduces your electricity bills. In addition, it is merged with LED chips but non-replaceable bulbs.
The Cloudy Bay 15W 6" lights are compatible with many different LED dimmers. So, you can easily adjust its brightness level from 100% to 10%. With its superior quality LEDs, this light provides a natural, flicker-free, and eye-friendly brilliance.
The drawback is the delay for the lights to turn on again after being off for some time.
Main Features:
Tilt angle- 30 degrees
ETL listed
25,000 lifespan
Dimmable
High brightness- 900 lumens
Selectable 5 color temperature
With junction box
IC rated
Pros
Eye friendly brilliance
Natural glow
Energy saving
Innovative design
Cons
What should be the distance between recessed lights in Hallways?
The distance between the recessed lights in your hallway should be between 6 feet to 8 feet across the middle of your hallway ceiling. Generally, the space of the floor which a recessed light illuminates is equivalent to the ceiling height. So, one recessed fixture in any 10-foot ceiling illuminates up to 10 linear feet of floor space.
However, since recessed lighting comes in different sizes, it is advisable to buy bigger sizes of 5inch to 6inch diameter for your hallway if you want maximum brightness.
FAQs
Are recessed lights good for the hallway?
Recessed lighting on your hallway ceiling generates various levels of brightness. Therefore, it is advisable to install direct beam recessed lighting for hallways as they give excellent illumination if you plan and space them appropriately.
What size recessed lighting for the hallway?
The size of the recessed lighting for your hallway should comprise a 2.3′′ – 5′′ aperture. It should also be able to generate 400 to 800 lumens for each light and produce 2700k to 3000k color temperature.
How many lumens does a hallway light need?
The number of lumens for your hallway should range between 500 – 1000 lumens. Lighting needs differ according to the room you want to light. For instance, a kitchen or bathroom will need higher foot-candles more than your bedroom or living room. For hallway lighting, the standard foot-candle requirement is 5-10 foot candles.
How do you choose a hallway ceiling light?
The general rule is to measure the square foot of the hallway and multiply the figure by 1.5. With this calculation, you will arrive at the total wattage for creating appropriate lighting. Also, check the dark spots to identify the type of light that will illuminate all the corners. Finally, make sure that the lighting matches the lighting elements in other spaces close to your hallway. This will ensure uniformity of styles, finishes, and color.
Related Articles:
Best recessed lights for bedroom
Best recessed lights for kitchen
Best recessed lights for sloped ceiling
Best recessed lights with speakers
Best recessed lights for bathroom
Best retrofit led recessed lights
Best recessed lights for basement