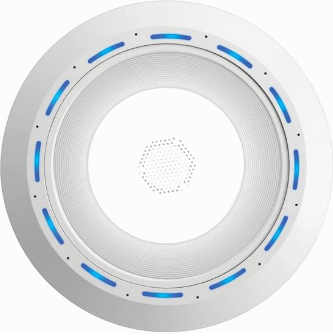 Creating an increased digital atmosphere around you through lighting is quite thrilling. Recessed lights now come in different types, designs, and features. For instance, some of them come with speakers, as you will see below. Recessed lights with speakers will not only lighten your buildings but will also produce sounds through its speaker.
Selecting recessed lights with speakers can be confusing to some individuals. That's why we prepared this review to help. Our top pick here is Lithonia Integrated Wireless Speaker. But we also reviewed other amazing products. Also, you will understand what to consider when choosing recessed lights with speakers.
Keep reading!
5 Best Recessed Lights With Speakers Review
Recessed lights with speakers present a beautiful illuminating effect to your rooms and environments. Also, they create a modern and classic atmosphere by providing music through their speakers.
Here is the review of our top recessed lights with speakers to help you understand the products better.
(Note: generic sentence without any proper value<no need of this intro before review)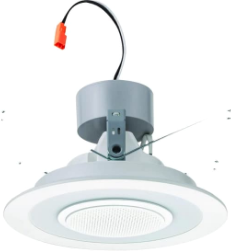 With this Lithonia recessed lighting, you will get the best quality and value in lighting. It stands as our top pick for recessed lights with speakers. It can fit perfectly as a retrofit or new construction recessed lighting purposes. With the E26 adapter, you can install the light module within an existing lights housing.
The recessed light produces high-quality lighting in any given area. Its capacity delivers about 730 lumens with three color temperatures of 2,700K, 3,000K, and 4000K. The connection and use of the fixture for sound take just four simple steps to accomplish.
Furthermore, the Lithonia lighting fixture has Bluetooth connectivity and can pair with up to 8 smart devices. You can conveniently control the light and sound within 30 feet. The sound speaker produces a loud sound suitable for your music, podcasts, and other sound effects. The recharging takes only 4 hours and can play for 6 hours non-stop when the light is off. Also, once the light is ON, the fixture doesn't use the battery life to function.
Moreover, the fixture is highly compatible with wet conditions. So, you can conveniently use it for outdoor purposes and in your bathroom. With its flexibility and operation, the lighting fixture delivers impressive lighting and sound effects for your home. For example, you can dim the brightness down to 10%, and it helps with the fast charging of the speaker.
The setback for this recessed light is that it loses Bluetooth connection once your battery is off. So, you'll wait for a long time for the recharging of the battery to enable the Bluetooth connection again.
Main features
13 Watts lighting capacity
Works with Amazon Echo
Pairs with eight (8) devices
Dimmable light
E26 adapter included
Pros
High-quality lighting and sound fixtures.
Excellent functionality and flexibility.
Easy and seamless installation process.
Cons
Loses Bluetooth connection once the battery is off.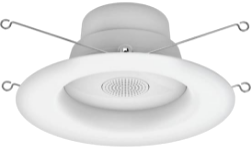 GE Lighting LED+ recessed light is a quality indoor floodlight that produces premium sound via Bluetooth speakers. Its operation is wire-free and requires no app or Wi-Fi to operate. This downlight remains your best option for the budget as its efficiency and cost will be a thrill for you.
By connecting to its Bluetooth, you can light and enjoy music, podcasts, and your other favorite sounds, which creates a fully immersed atmosphere that can suit your mood in both lighting and sound. Also, with the remote, you can separately control the lighting and the sound from the speakers.
This lighting fixture comes with a 65 Watts LED bulb that offers optimal daytime floodlight. It's lighting that is soft white, creates the perfect brightness for any area. Thus, you can install the recessed light in the bathroom, bedroom, living room, offices, kitchen, and others. Furthermore, the recessed light is highly energy efficient. The functionality extends the lifespan of the LED bulbs, which cuts down your energy bill. When you use the lighting on an average of 3 hours daily, the LED bulb can last over 13 years. However, the lighting system gives sounds that are low from just a single bulb. Therefore, it is not ideal lighting with speakers for outdoor usage. Also, there is no app connection for its functionality as it's not compatible with Alexa or Google Assistance.
Main features
6′′ recessed light with speaker
65 Watts LED
Included remote
Bluetooth connectivity
Pros
Creates a fully immersed atmosphere.
Easy installation process.
Separate control for light and speaker.
Cons
Volume is too low for single bulb use.
Not suitable for outdoors.
Doesn't have an app or works with Alexa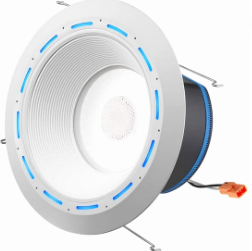 This Juno lighting system is everything and even more than what you can desire in a modern light. The technological design impacts the fixture with artificial intelligence (AI) that can program different operations. You have total control in lighting, voice, sound, and privacy using this recessed light.
Juno AI, through the use of Alexa, pairs up with over 200 smart devices. It allows voice control for door locks and bells, thermostat, garage door, vacuum cleaner, and others.
With its flushed appearance, this downlight is practically invisible within your ceiling. It has a lifespan of about 50,000 hours and is highly energy efficient. Moreover, it's suitable for wet locations.
Through its AI, this lighting system can perform several activities beyond your imagination. It can schedule appointments, announce your family dinner, read to you, operate your vacuum, adjust the thermostat, etc.
Using the tunable lighting color temperature, you can create different temperature settings from warm to cold ranging between 2.700K to 5,000K. In addition, the premium JBL speaker produces great sounds for your music, podcasts, and others.
Its setback is that it takes a longer period to boot up. Also, the installation of this lighting system is quite complex.
Main features
Energy-star certified
Tunable lighting color temperature
Compatible with Alexa
Bluetooth connectivity
Included socket adapter
Pros
Can pair up with over 200 smart devices.
Voice control for lightings, door locks, and more via Alexa.
Highly programmable AI lighting system
Cons
Slow in booting up
Installation is quite complex
More expensive than other fixtures in this review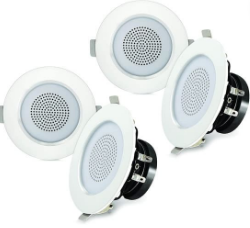 This Pyle 3 recessed light has a built-in Bluetooth that allows you to connect easily using any Bluetooth-enabled device. It operates as a wireless streaming receiver and is an ideal stereo sound for any room and office setting. Through its almost invisible speaker, you can enjoy your favorite music and other sound production.
The aluminum design frame and housing make the lighting system lightweight. Its aesthetic beauty comes from the flush-mount design that makes it very flat on ceilings and other surfaces. Thus, it's a simple illuminating and entertaining fixture suitable for homes, offices, or other professional settings.
Furthermore, this lighting system comes with built-in LED lighting that can produce a 5 Watt capacity. The lighting output offers you 650 lumens. So, with a single fixture, you get both bright illumination and a sound system that leave your ceiling with no unsightly cluttering.
This recessed light has ABS construction that ensures its safety features prevent overheating or fire outbreaks. Also, with the Bluetooth controller, the fixture functions as a sound processing digital amplifier.
The installation process for the recessed light is very simple without stress. The spring-loaded clips aid the installation. Also, you have the cut-out template for assistance.
The down part of this lighting fixture is that you can change the LED bulb once it fails. This's because it is built-in light. So, you will need to completely replace the entire lighting system.
Main features
5 Watts lighting
Bluetooth connectivity with speakers
Aluminum frame housing
Built-in LED light
Flush mount design
4-channel digital amplifier
Pros
Beautiful flush mount design
Wireless streaming receiver
Easy installation process
Cons
Can't change the LED bulb once it fails.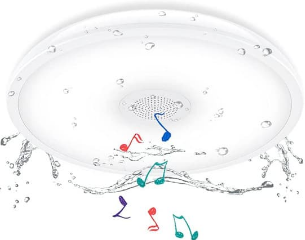 This unique Horevo lighting system has a wide application, and it's used for both indoor and outdoor purposes. It's highly energy efficient as it can produce up to 150W incandescent using just 18W capacity. Thus, it saves about 85% energy cost for you.
It comes with a waterproof feature that protects it against splashes of water and other moist factors. Thus, it's a good lighting option in wet locations. Furthermore, its dust-proof performance is great.
Through the built-in Bluetooth speaker, you can connect to any smart device to enjoy your favorite music. Also, the installation process for this fixture is simple and straightforward. Finally, the dual-use for the lamp makes it a good choice for both ceiling and socket pendant lighting.
With a great concern for human eyes, the lighting from Horevo is glare-free, posing no discomfort to your eyes. Also, the bright light forms no shadowy worktops and comes without an annoying buzz.
The fixture functions with three gear light modes that you can control through a wall switch. The first or default gear will switch the light to white or daylight mode. The second comes as you switch OFF and ON to produce the rhythm mode. The color change in this mode follows the music rhythm while volume controls the brightness of the light. The final or third gear produces about seven single lights that are colorful.
The major setback with this lighting fixture is that you can only control it from the ON/OFF switch.
Main features
IP65 water and dustproof
18 Watts energy capacity
Bluetooth connectivity with speaker
Several color light modes
Dual lamp use
Pros
Excellent dust-proof performance.
Seven beautiful color lighting modes.
Dual use of the single lamp.
Cons
The lighting control is only from the switch.
Considerable Factors When Choosing Recessed Light With Speakers
Most individuals may seem confused when they want to purchase recessed lights with speakers. The difficulty can lie in their lack of knowledge of the important factors when selecting the lighting fixture.
Here are some of the factors you may need to consider before choosing recessed lights with speakers.
Note: No proper value with some generic sentences, no need of this
Style and Appearance of the light
Recessed lights with speakers come in different styles and brands. However, the general appearance of a recessed light will be flushed with the surface of installation, especially the ceiling. Therefore, based on your preference, you should select the lighting fixture that matches your aesthetic appeal.
The sound speakers of these recessed lights usually require a Bluetooth connection to function. Therefore, ensure that you select a fixture that easily connects and is compatible with most smart devices for its operation.
The size of your desired recessed light is very crucial before your final selection. The lighting fixture has different sizes ranging from 3 inches to 6 inches. Ensure that you select the same size for both the housing and the trim of the light.
Type of bulb
The type of bulb for your recessed lights with speakers is also a great influencer for your choice. While some are easily replaceable when they fail, some are built-in that you can't replace. Also, the bulb determines the amount of energy your light fixture can consume. The energy-efficient types of bulbs such as LED and CFL will lower your energy cost.
The voltage for the lighting fixture is an important influencing factor for your choice. It determines the energy consumption and the brightness of your light. There are the low-voltage and the line-voltage packages. While the former may cost higher at the point of purchase, it's more economical and will save energy in the long run. The latter offers you a standard voltage for light.
The cost of the lighting system and its installation will have a great influence on your choice. One great thing about recessed lights with speakers is that they are considerably affordable. Based on your budget, you can make your choice. Also, you should consider the number of units you intend to install. If you're not the one to personally do the installation, you'll include the installation cost.
What are the uses of recessed light with a speaker?
There are several purposes for installing recessed lights with speakers in your home or other areas. Besides lighting, you can use this fixture to play music, podcasts, and other sound effects.
Related Articles:
Best recessed lights for bedroom
Best recessed lights for hallway
Best recessed lights for kitchen
Best recessed lights for sloped ceiling
Best recessed lights for bathroom
Best retrofit led recessed lights
Best recessed lights for basement