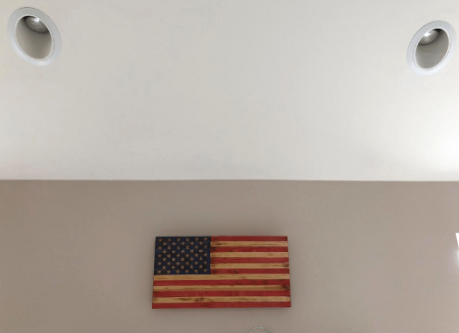 Recessed lights are the best solution to offer environmental lighting in various commercial and residential spaces. You can use them to highlight your furniture, walls, or your artwork. Furthermore, you can fix recessed lighting on your sloped ceilings to make a powerful décor statement in your home.
Sloped ceilings can produce cozy openings in attic levels beneath your roofline. This enhances the airiness in your environment. Then check out the combo of recessed lighting on a sloped ceiling. It will surely give you a mind-blowing lighting experience.
However, the challenge comes from buying the best that can provide the lighting solution you need. That's why we prepared this review. Our top pick is the OSTWIN (12 Pack) 4" LED Retrofit Gimbal Downlight. However, we also researched other wonderful products based on their functionality, reliability, durability, superior quality, and lighting options.
7 Best Recessed Lighting For Sloped Ceiling reviews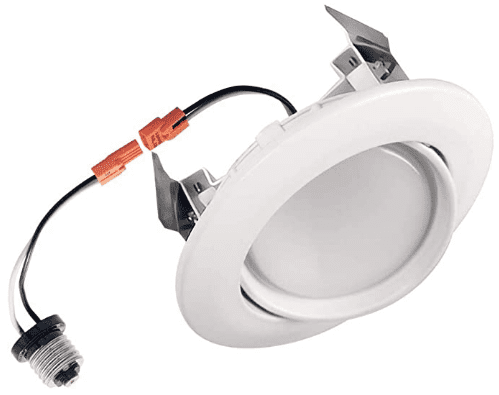 Our top pick is OSTWIN 4 inch retrofit recessed downlight. This 4" Gimbal recessed light is an ideal option for any sloped ceiling and directional lighting with the design and options available. It is the best fixture for most remodeling, surface recessed light housing, and new constructions. Its light is designed to rotate and pivot to generate light in the place you want it.
Gimbal light also possesses a smooth dimming capacity that ranges from 100% – to 10%. The classic dimmers permit you to direct the feel and look of your environment. So you have 3 color temperatures to choose from. You can either choose 3000k, 4000k, or 5000k. Moreover, its 90 degrees beam angle allows for smooth and uniform lighting.
The installation of this fixture is like a breeze. With its comprehensive E26 or TP24connectors, you don't have to worry about anything. It has spring clips that are preinstalled to ensure a perfect solution for easy and quick installation. There is even detailed instruction to assist you with the steps to follow.
With its 25 degrees vertical rotation and 360 degrees horizontal rotation, this light offers balanced and even lighting on your corridors, hallways, bedrooms, family rooms, and other living spaces in your home. The design is also especially ideal for damp areas. Thus, making it the best light fixture to install in your garage, showers, and kitchen.
It is energy-conserving and efficient. When you replace your light fixture with Gimbal Retrofit Kit, you are saving yourself about 8 times your present energy cost. With its 50,000 hours run time, it can last for quite a few years under standard operation.
The only setback is its longevity. It doesn't seem to last as long as the manufacturers specified.
Features
360 degrees horizontal rotation
Minimal energy usage
Compatible with dimmers
3000k lighting high lumens
Pros
Very bright like daylight
Easy installation
Unlimited lighting options through a fully rotational head.
Cons
Doesn't last as long as prescribed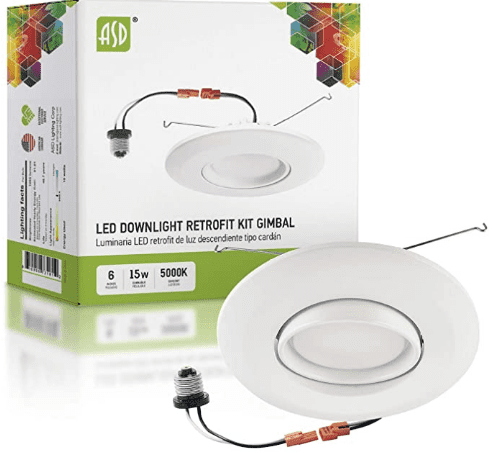 In the second position, we have ASD 6" Gimbal Retrofit LED Recessed lighting. It is the perfect lighting solution for surface recessed light housing, remodeling, and new construction. You can install this light on your directional ceilings and sloped ceilings. Its light can rotate and pivot to provide illumination to your required area.
It comes with a smooth dimming capacity that ranges from 100% – to 10%. With its classic LED dimmers, you can direct the feel and look of your décor. Its 90 degrees beam angle allows you to have even and smooth lighting.
The installation of this Gimbal retrofit light is like a breeze. Its universal E26 or E24 connectors, spring clips that are preinstalled account for easy and quick installation. With the 20 degrees vertical rotation and 355 degrees horizontal rotation, this LED recessed light can offer balanced and even lighting in your bedroom, corridors, hallways, family room, and other common places within your living space.
This light is ideal for damp locations. Thus, you can conveniently use it for your garage and bathroom. Moreover, you can still use it as a flattering light to your already existing ceiling lighting.
In addition, this recessed light is energy-efficient and saves some costs. When you replace an incandescent light fixture with this Gimbal fixture, you'll be cutting down on your electric bill up to 80% immediately.
As you are purchasing this product, go on with confidence as it comes with 5 years warranty provision as well as an Energy Star and ETL certification. This shows that it comes of top quality.
Main Features
355 degrees horizontal rotation and 20 degrees vertical rotation
10% to 100% dimmable
90 degrees beam angle
Detailed instruction steps
50,000 hours run time
Energy Star and ETL certified
15w dimmable
CRI 90, 1060LM, Damp Location
Daylight 5000k, Directional light
Pros
Highly energy-efficient and saves cost
Easy installation process
Wide application
Verified safety
Fully dimmable
Cons
This TORCHSTAR recessed light is a great and perfect lighting option for both sloped ceiling and wall art. It comes with a lamp capacity of 13 Watts that can provide an equivalence of 100 Watts lighting capacity.
With its 900 lumens and 5000K daylight color temperature, the illumination is very bright and brilliant. Also, it's highly dimmable and compatible with lots of dimmers. So, you can conveniently dim the bright from a range of 100% to 10% to suit your mood.
Furthermore, the pack has a rotatable design. You can turn the lighting head up to 360o horizontally and 45o vertically. Being UL and Energy Star listed shows the high and trusted quality of the light fixture. It's energy-efficient and helps you to save costs.
The lighting fixture is a great retrofit lighting option. It gives perfect fitting into 5/6 inch recessed cans. Also, it does not flicker and produces no noise when operational.
Its major shortfall is that it takes a longer time for its installation.
Main features
5 inch/6 inch Gimbal Led light
4 pack recessed light
Dimmable
CRI 90
5000K daylight color temperature
UL listed
Pros
Perfect lighting for sloped ceiling and wall art
Excellent dimming performance
Reliable quality with rotatable design
Cons
Takes a long time for its installation.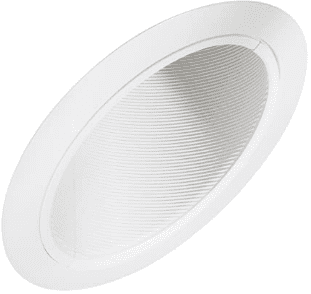 This Juno recessed downlight is specially designed for sloped ceilings. Juno lighting is a renowned brand in the lighting industry for its economy, efficiency, practicality, and versatility.
This E series is a combination of low cost and reliable performance as well as almost maintenance-free power-saving benefits. With its 50,000 hours rated lifespan, it is the perfect recessed lighting for new construction and retrofitting. In addition, you can use them in many different light commercial and residential settings like offices, retail shops, and multi-family residences.
This 65BEMW E Series design appropriately fits with 6-inch and 5-inch can-design housings through its adaptable torsion springs. It can also replace any 65W white-hot lamp. The color finishing of this fixture trims inserts are available in many different colors. You can get them in oil-rubbed bronze, brushed nickel, or smooth matte black.
This 604W-WH 604 WWH 6" was specially created to use with its superior slope recessed housing such as; the TC928R, TC928, and IC928 series. It can also work well with ICPL928 and ICPL928-42 series, respectively.
Each of these recessed housings is sold differently to enable you to choose the appropriate one that can suit your specific application. Its white baffle trimmings consists of a 5-1/2″ by 6-7/8″ aperture, which offers neutral-looking lighting with average brightness.
It has an anti-glare design with an aluminum encased reflector and deep regression to minimize glare. The interior reflector cone funnel shows light via a pressed-in diffused lens. As a result, there is no need to fear uneven lighting and flickering.
The downside of this fixture is its description. It seems that an error occurred, and its marketers can't figure it out. For example, people are expecting a fixture with a bulb inside, but they only get trim insert pieces.
Main Features
Aluminum anti-glare
Perfect for damp locations
Inner reflector cone funnel
6-inch can lights
70% lighting output
35,000 hours lifespan
USA based
Pros
Perfect fit
Modern and beautiful appearance
Dimmer compatible
Environmental-friendly and economical
Cons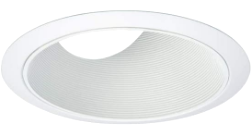 This HALO 456W, 6-Inch Trim Baffle Trim is an ideal option to use on any sloped ceiling. You have to use it together with a HALO H645IC sloped ceiling housing, though. It also fits perfectly with 2/12 – 12/12 pitch ceilings.
This particular fixture operates smoothly without any difficulty with lamps that are energy efficient. You can even interchange this light fixture with the TRM6 classic trim ring sets.
The major challenge facing this fixture is when used with other housing. Its minute coil springs tend to stretch easily, which prevents the trim spring from being snug on the ceiling.
Main Features
White trim
Metal baffle for sloped ceiling
456 trim for H645, H618, and H612 HALO slope housing
TRM6 classic trim rings
1pc seamless baffle
Coil springs
Use for LED lamps
Pros
Good quality lighting fixture
Perfect fit
Interchangeable with other TRM6 series of trim rings
Energy efficient
Cons
Not compatible with other trim housings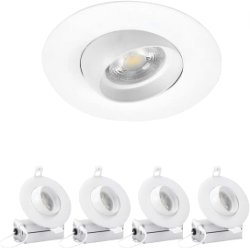 This recessed light with eyeball trim is simply an excellent model. Featuring a low-profile design, if you install them on your outside walls, you don't need to worry again about installing more recessed lighting. In addition, their design makes them capable of holding a huge incandescent hot lamp, and you can install this light wherever you want it.
The junction or driver aluminum box has two quality knockouts that are compatible with Romex connectors. Within its hinged lid is the Wago-type push-to-connect wire connector which can hold up to 4 wires each. One of these wires is for the light, while 3 of them serve as a daisy chain for other units. Its 14-GA Romex is easy to strip as well as bend. Moreover, it is approved for in-wall usage.
You can also attach this unit to a low volts wire that protrudes from the driver/junction box through a 2-conductor threaded splice. You can always switch this light on or off very easily with any ordinary switch. Its dimming command is by a secret tiny slider located beside its wider switch. It also offers a full range of color temperatures to fit the existing styles and switchplates.
The only setback to this fixture is that it doesn't dim completely. Its dimming goes from 100% to 5% only.
Main Features
Junction box
Slim design
Superior quality aluminum housing
1000 lumens high light
100% to 5% dimmable
Airtight and IC rated
38 degrees beam angle
2 spring clips
ETL listed
Pros
Cost-effective
Easy installation process
Highly adjustable to any direction
Ideal light for a wall wash
Excellent customer care service
Cons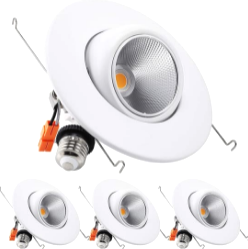 This TORCHSTAR 5/6" Adjustable LED Recessed Downlight offers an outstanding lighting solution for any sloped ceiling. It matches the power output of 90W incandescent and can bring down your power usage and cost down with 87% savings.
You can rotate its light head to 350 degrees and tilt it to 35 degrees for a higher flexible light direction, ideal for sloped ceilings. Moreover, this light dims smoothly from 100% – 10% with no humming, pausing, or flickering. Finally, it illuminates with a non-dazzling soft light. Thus, it brings out the natural color of your home décor. Besides, it works well with many other LED dimmers to create the best lighting experience.
With the 30 degrees beam angle, this light can create a uniform and focused spotlight. In addition, its excellent CRI90 plus delivers a natural color of its surroundings. This makes the light the ideal solution to showcase artworks, paintings, watches, jewelry, lighting merchandise, and many more.
It is ETL-listed, certifying that it's very safe to use. Moreover, the JA8 and Energy Star certification ensures that the light is energy efficient. Also, it is rated for damp locations and can last for 46 years based on 3 hours per day of light output. With an aluminum exterior, this light produces perfect heat dissipation and is resistant to corrosion.
The downside is that the product doesn't operate like other retrofit kits. Instead, you have to drill holes into the fixture inside the housing to fit the spring clip for a better fit.
Main Features
Matte white color
2700k color temperature
90w luminous flux
30 degrees beam angle
50,000 hours run time
938lm CRI> 90 lifespan
10% to 100%dim range
Damp location rated
Aluminum construction
Pros
Perfect spotlight
Trustworthy quality
Perfect for sloped ceilings
Great color consistency and rendering.
Cons
Needs to drill a hole in the fixture
It doesn't come together with a diffuser lens
Things to Consider Before Buying the Best Recessed Light for Sloped Ceiling
Classic residential recessed lights come in many different size ranges. Therefore, you need to choose the best size option that can suit your sloped ceilings.
Sloped ceilings require special types of recessed lights. There are fixed recessed lights, and there are adjustable recessed lights. It is advisable to go for adjustable lights so that they can aim downward lighting.
The color tone of the light you fit on a sloped ceiling is very important. There are many different color temperatures for recessed lighting: daylight, bright light, neutral white, soft white, and warm white. Choose the one that best suits your requirements.
Recessed lighting brightness comes in lumens. Either 600 lumens or 900 lumens. If the lumens are higher, the light it produces is also higher. Therefore, it is better to buy higher lumens accompanied by a dimmer to enable you to control the brightness.
CRI or color rendering index measures the capacity of any light to showcase colors perfectly in comparison to a natural or ideal light source. Therefore, it is vital to use LED lights that have greater CRI. CRI of 90 or more is the best.
Another important factor you need to consider is the beam angle of the recessed light you want to install into your sloped ceiling. Beam angle shows where the light concentration is focused. It ranges from 50% or more than 90%. The higher the beam, the wider the spread of light. However, it can lead to excessive glare when you look across your ceiling. So, it is advisable to use flood type instead of spotlight beam angle.
FAQ:
Do I need special recessed lights for the sloped ceiling?
You will need recessed lighting with special housing for the sloped ceiling. It will enable the beam of light to shine straight down. The housing has to be longer on one side so that it can fit the sloping of the ceiling.
Can you put recessed lights in a slopped ceiling?
You can put recessed lights in a slopped ceiling, but there are certain considerations you must follow. You have to choose the recessed lights, which are specially designed for sloped ceilings. That is the way you will be sure that the light beams will go in the required direction. If you use recessed lightings made for flat ceilings, it will radiate in your eyes.
How do you install recessed lighting on a sloped ceiling?
If you want to install recessed lighting on a sloped ceiling, you'll think of where the beam of light will strike. Also, think of the walls that will be reflecting the light. Standard lights should be 40 -80″ apart.
You should also consider the height of the ceiling. Whether the light is pivoting, adjustable, beam angle, and dimensions of the room. For smaller spaces, 4" lights are perfect. 6" light is ideal for heavy-duty requirements. However, you should get ready to create more space.
What size recessed lighting for the vaulted ceiling?
You should select 6-inch lights since they shine on more areas than the 4′′ recessed lights. Moreover, it has more trim color and trim style options.
What are the advantages of using recessed light in a sloped ceiling?
It delivers a clean, uncluttered look
You can adjust the light to accommodate the ceiling pitch
It can illuminate areas that ordinary light fixtures cannot reach
Related Articles:
Best recessed lights for bedroom
Best recessed lights for hallway
Best recessed lights for kitchen
Best recessed lights with speakers
Best recessed lights for bathroom
Best retrofit led recessed lights
Best recessed lights for basement