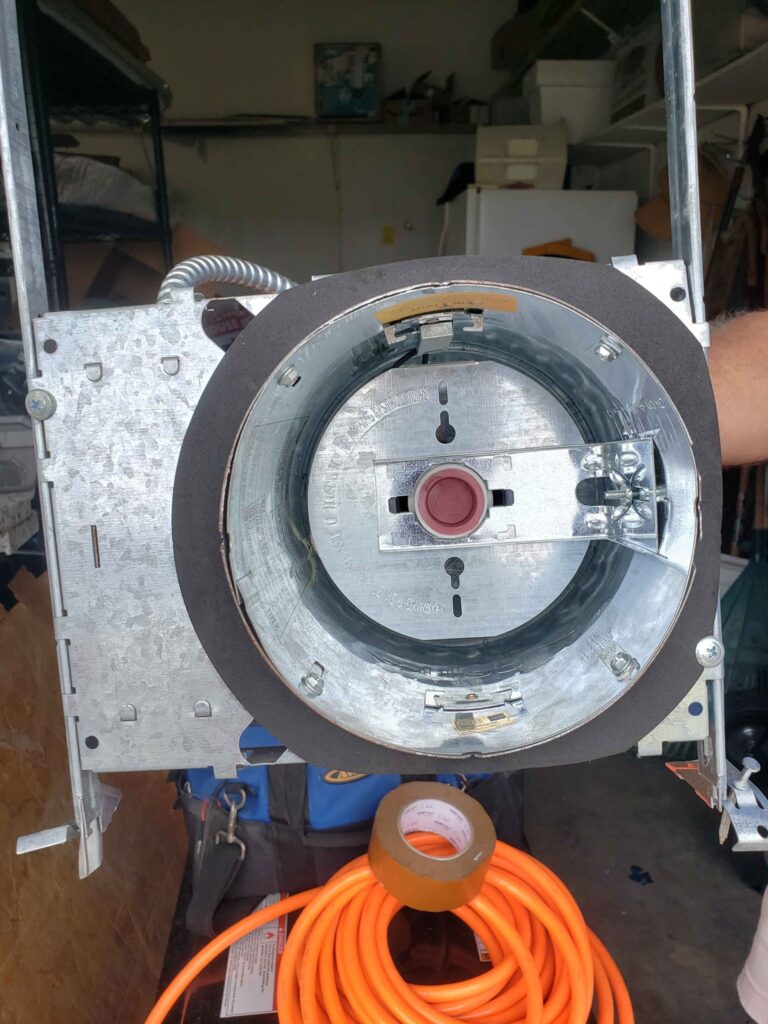 Do you know that your choice of lighting for a new home can affect the aesthetic appeal of your home décor and mood? When you fix inefficient or outdated lights in a new home, you won't enjoy brighter rooms, save energy, or make a modern style statement.
That is why; you should consider the best LED recessed Lights for new construction in your home. Recessed lights are functional and practical as they sit flush with the ceiling of any home. Moreover, it can provide a natural and even lighting experience all over your home.
But, choosing the right brand out there is not always easy because you may have some specific requirements in mind. That is why we have researched various products in this review to present some of the best LED recessed lights for new construction here. Our top pick is the Sunco Lighting 12 Pack 4" based on its interesting features and operation. But we also have some other high-quality lights from reputable brands. Check them below
7 Best LED Recessed Lights New Construction Reviews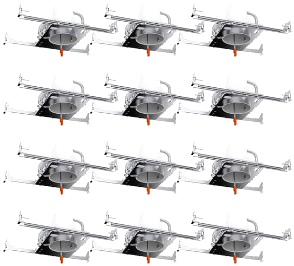 This Sunco Lighting 12 Pack 4-Inch is our top pick for good reasons. First, it comes from a reputable manufacturer based in the United States and is well-known to offer affordable prices and high-quality products. Also, it specifically provides perfect lighting for new constructions.
The lighting is IC rated, and the cans are airtight. Moreover, they are thermally protected, and you can install them in ceilings encompassed by insulation. Also, the can doesn't cause fire or overheat in your roof or on the overhead joist space. That's because of the airtight design, which maintains air conditioning and prevents heating from escaping through the light housing.
Installing this recessed light is also very easy. You only need to follow the instructions for installation to secure the lights quickly. These Sunco direct wire cans are installed to their frame with an adjustable bar hanger preceding the drywall installation. It also comes with a TP24 connector.
Featuring a Title 24 and UL certification, this fixture upholds the best standards in safety and optimal performance. In addition, the Sunco Lighting is adaptable to TiTle 24 energy-saving standards.
Furthermore, the manufacturers offer a 10-year warranty provision to substantiate this fixture's quality and back users with support specialists.
The only downside to this fixture seems to come from the TJIs mounting width.
Main Features:
Airtight
IC rated
Included junction box
Metal material
Modern style
Title 24 and UL compliant
TP 24 connector added
120 to 277 Volts production
Pros:
Easy installation
Safe and secure
Great value
Perfect for new construction
Well-built
Quite economical and affordable
Top rated
Cons:
TJI disturbance
Set screw cannot hold the housing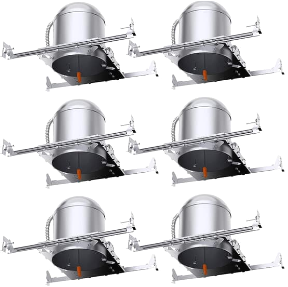 This best 6-inch recessed light can is top-rated and perfect for new constructions and large remodeling projects. The brand is a US-based manufacturer, popular for affordable and superior quality products.
The light is IC-rated with an airtight design. Being thermally protected and airtight, you can successfully install it on an insulation surrounded ceiling. Besides, this design doesn't give room for your roof or overhead joist space to catch fire or overheat. Moreover, the airtight design ensures that overheating or air conditioning does not leak out of your home via the housing.
With its simple-to-follow instruction, you can effortlessly install this fixture safely and securely. The direct wire can with junction box is set up to the frame with adaptable bar hangers preceding the drywall installation. There is also a TP24 connector added.
The light also features a TITLE 24 design and UL certification. Moreover, this new construction can is compatible with Title 24 energy-saving standards.
The only drawback of this fixture is the metal legs that are more on the flimsy side.
Main Features:
Joist nails
Lamp connectors
Pre-fitted Junction box
Steel frame arms
Baked enamel metal housing
Supplies 120 volts
Pros:
Thermally protected
High quality
Great price
Easiest installation
Easy fitting
Inherently-protected lights
Dimmable
Cons: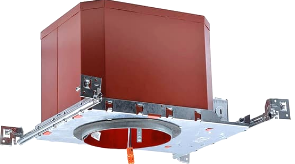 Are you searching for the best fire-rated LED recessed light for your new construction? This AH lighting 4-inch is an excellent option. It is perfect for many different applications. It can help you achieve the best fit in various structure layouts. You can install it on your condominiums, residential, commercial, multi-family, and apartment buildings.
The AH Lighting 4-inch is IC rated and airtight. Thus, it is thermally protected, and you can set it up on ceilings covered by insulation. Also, it features the UL certification. This means that its fire rating can reach about 2 hours. So, you can use this light in non-insulated and insulated ceilings. But you can only use it on CUL or UL classified retrofit kit that is ideal for a 4-inch recessed housing.
The body construction is made from galvanized steel. Also, it features 13-5/8-inch bar hangers, alignment foot, and captive nails. The installation of this particular light fixture is as simple as you can get. You only need to follow the clear-cut instructions from the manufacturers to install your device easily and quickly.
The only setback is that it is compatible only to CUL or UL classified LED Retrofit kits for 4" recessed cans.
Main Features:
2 hours UL fire rating
For both insulated and non-insulated ceiling
Airtight design
Quick connect available
Alignment foot, captive nails, and 13-5/8-25-inch bar hangers
1-1/2-inch housing adjustment
Compatible only to CUL or UL classified LED Retrofit kits for 4."
Body construction- galvanized steel
Bar hanger and Junction box
Flexible non-combustible insulated housing interior
Pros:
It offers a very wide application
Easy installation
High quality
Dimmable trim
Airtight
For damp and wet locations
Cons:
Compatible only to CUL or UL classified LED Retrofit kits for 4" recessed cans.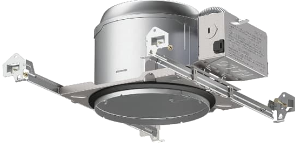 Are you looking for shallow recessed LED lights for new construction? This HALO E27ICAT E26 is an ideal option. The body construction is compact, and it works efficiently. This fixture is remodel housing optimized as well as EISA compliant tungsten-halogen bulb listed. It is also compatible with LED, CFL, and incandescent lamps.
The housing of this lighting can suit light commercial or residential shallow ceiling usage. In addition, with the airtight code design, you can use this fixture for non-insulated and insulated ceilings.
You can use this light fixture with different finishes and trims to deliver various lighting effects that suit any décor. It is also compatible with retrofit Halo LED light systems.
The drawback is on the packaging. Some parts seem to be missing out
Main Features:
Voltage-120
Wattage-90
Aluminum color
Thick metal construction
Electrical connectors included
Shallow insulated ceiling usage
Housing gasket
All-nail bar hangers
Q-channel mesh hanger bars
Pros:
Perfect for suspended ceilings
Good product quality
Very easy to install
Perfect for shallow construction
Works excellently
Junction box
Cons: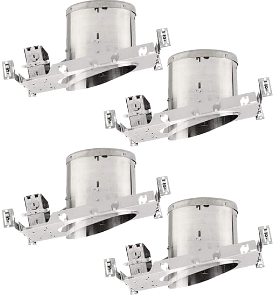 This particular airtight line voltage housing is suitable for sloped ceilings. It is an ideal lighting solution you can use in either commercial or residential applications. It is also perfect for new constructions that have open ceiling applications.
Moreover, it features thermal protection guards and an adaptable socket bracket. The light is also insulation-contact rated and comes with appropriate push-in-wire connectors to ensure easy installation.
All the 4 Bros recessed cans are IC-rated for optimum results. This means that you are sure of thermal protection. Also, you can install this light fixture on a ceiling covered by insulation.
Also, the lighting features an airtight design which keeps conditioned and unconditioned spaces differently. With wide bar hangers which you can fit between the joists, this fixture is designed for joist-style ceilings. You can also secure this can into place with nails.
The major challenge this light can have is the trim rings. It seems that the design doesn't allow for trim rings on its exterior.
Main Features:
Quick LED connectors
2 joists
Die-cast aluminum construction
Airtight and IC rated
Bulb voltage- 120 volts
Wattage- 75 watts
TITLE 24 and UL rated
Pros:
Compatible with every LED downlights
Works great
Good quality and value
Affordable price
Perfect fit
Simple installation
Instruction guide
Junction box
10-year warranty provision
Cons:
Items sent seems not to be the same one described online
Trim rings don't fit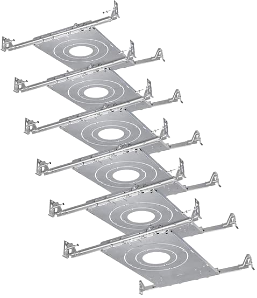 Are you looking for the best mounting plate for your new construction? This Torchstar Recessed Light Kit is a good option to consider. The lights from a renowned brand for superior quality and optimal performance.
The 3-inch tough aluminum housing is resistant to corrosion and also has good heat dissipation. It is IC rated, thus; allowing you to have a direct link with insulation. The metal spring clamp attaches closely to the ceiling to ensure safe and easy installation.
You can use this lighting in your bedrooms, kitchen, apartment, attics, and many other areas. Also, the lighting doesn't need any housing can. It supports retrofit, new construction, and remodeling installations.
The mounting plates are very easy to use. It features a double hanger bar can that extends from 9.0-inches to – 25.20-inches. In addition, there are also semi-detached heads nails which ensures easy mounting.
With its galvanized steel construction, this mounting plate is resistant to corrosion and rust. As a result, you are assured that it will last for a very long time.
The only downside is that it doesn't fit with 3-inches light even though the hole is 3 inches.
Main Features:
6", 4", and 3-inch LED recessed lights
2 hanger bars
Galvanized sheet construction
9.06" to 25.20 inches adjusting range
Compatible to Torchstar E-star series, basic series, essential series, E-lite Series LED recessed light 4″ 10w/6″ 12 w LED recessed lights with anti-glare trim.
Pros:
Excellent performance
Easy to use
Corrosion and rust-resistant
Last for a very long time
Perfect fit and finish
Trusted quality
Widely used
Adjustable size
Simple and quick installation
Cons:
Do not fit with 3-inch lights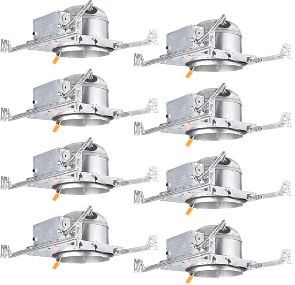 This lighting is a short-version design ideal for 16W 6-inch ceiling lights and various designs of new construction projects. This short-version design can save more space as it fits almost every ceiling type, especially the narrower ceilings.
Its IC rating and airtight design mean that it can prevent heated airflow circulation from affecting your home's heating and air conditioning. It also allows this light can to gain access to the insulation material within the ceiling. Moreover, the airtight design ensures that air doesn't pass through the space above your ceiling.
Another important thing is that installing the lighting is easy too. With the available junction box that consists of 4-wire-push-in connectors, you can complete the wire connection quickly. There are also 3 knock-out stamps that enable a versatile wiring style to suit every users' requirements.
This lighting is also versatile and can appropriately fit into various kinds of structural style arrangements. The fast-nail adjustable hanger bars also help to boost their suitability. Moreover, with its damp location waterproof design, this light fixture is perfect for any location in your residential or commercial projects.
You cannot dispute the superior quality of this light fixture. It is ETL-listed, offers safe operation and great quality standards. Moreover, with the TP 24 fast connectors, you are sure of excellent performance. Also, the manufacturers provided an instruction guide and a cut-out template to ensure a hassle-free installation and use.
Main Features:
Short-version design
3 knock-out stamping
IC rated and airtight design
ETL listed
Narrow/slim design
Junction box
Airtight and IC rated
Adaptable bar hangers
TP 24 fast connectors
120 volts
Pros:
Backed by a warranty provision
High-class quality and safe
Wide application
Easy installation
Flexible design
Durable construction
Approved fixture for electricians, industry experts, and contractors
Waterproof
Cons:
Things to Consider before Buying the Recessed Lights for New Construction
Lighting requirements
Before buying a recessed light for new construction, determine the place you will install the light and how it will lighten up the space. Most designs only have thin trims around the lights, which reach underneath the ceiling. As a result, most designs are quite flush with the ceiling surface providing a neat look. However, its illumination is lower than the standard ceiling lighting. So, if you go for this type, you may need more recessed lights.
Lighting ratings
Many lightings come with different ratings, and you should pay attention to them. There are IC Rated and Non-IC rated housings. If the lighting has contact with insulation, ensure that it is IC rated, but if not, the other one is okay. Other things to consider are the Damp-rated and wet location rated status of the lights. If the lighting has no contact directly with water, then damp rated is enough. But if rain, snow, shower water, or sleet will touch it, go for wet rated lighting.
Trim Type
Choosing a trim will depend on the design and application of the light. There are square trims, and there is round trim as well. Some trim comes with a decorative lens or flange. But to guide you further, if there is a specific object you want to lighten up, go for gimbal trim. For the outdoor spaces or shower, pick a wet-rated/shower trim.
Bulb choice
LED bulbs are more energy-saving than incandescent lights. However, people relate higher brightness with incandescent bulbs. Most LED lightings are comparable to their equivalent incandescent, but only a few are comparable to the halogen light equivalent. But it's better to pick recessed lighting compatible with LED bulbs.
Color Temperature
Another vital feature you must consider is the recessed light color temperature. Warm white and cool white color temperatures are suitable for standard home lighting.
Dimming Feature
Most of the present recessed lights are dimmable, which means that you can connect them to a dimming switch. With this feature, you can reduce your lights illumination anytime you want to suit your needs and moods and conserve energy.
Smart Technology
Considering a recessed light that has smart technology is a big plus. You can use your home, PC, tablet, smartphone, remote control, Bluetooth technology, and WiFi network to control the lights.
FAQ:
What is the difference between new construction and remodel recessed lights?
New construction lights are applied to a new project or building where the builders haven't covered the ceilings yet. This means that both the ceiling and joists are accessible or exposed. That means you can simply nail or screw the light's fixture frame onto ceiling joists.
Remodel fixtures require only minimal construction. The installer will make a small cut of your ceiling and use clips to support the housing. This type is suitable for replacing a system with an LED downlight or introducing more downlights to your already ceiled space.
How do you install recessed lighting in new construction?
The recessed light installation is easier during new construction, although you can retrofit them to existing ceilings.
Shut off the electric power from the circuit breaker
Make sure you place them appropriately
Use the stud finder to prevent lights overlapping the joist locate
Mark every joist in your room
Related Articles:
Best recessed lights for bedroom
Best recessed lights for hallway
Best recessed lights for kitchen
Best recessed lights for sloped ceiling
Best recessed lights with speakers
Best recessed lights for bathroom
Best retrofit led recessed lights