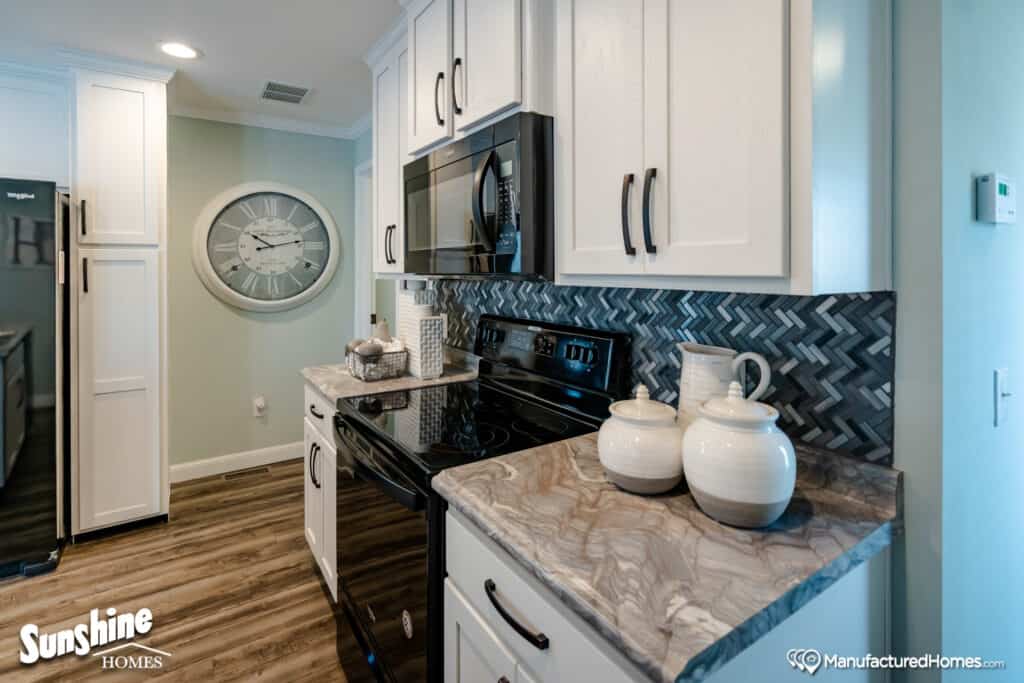 When it comes to kitchen lighting, people have several individual options. But the brightness of recessed lighting for the kitchen will offer you the adequate illumination you need while working in your kitchen. Also, recessed light is very ideal for highlighting some of the particular spots in the kitchen like a countertop, island bar, stovetops, etc. It gives proper detailing to the important parts of the kitchen.
But it's never easy to choose the best-recessed lighting from the competing brands. That's why we offer this review of the best brands in the market. Our top Pick in this article is Ensenior 12 Pack 6 Inch Ultra-Thin LED Recessed Ceiling Light.
We also reviewed some other recessed lighting for the kitchen and highlighted their unique features. Also, you will get to know what to consider when choosing recessed lighting for your kitchen.
7 Best Recessed Lighting for Kitchen reviews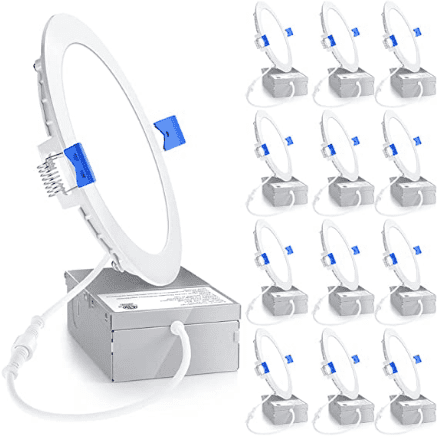 Ensenior recessed lighting is our top pick for recessed lighting for the kitchen due to its outstanding features and functionalities. This lighting system comes as a 12 pack with 12 Watts LED lighting capacities. In addition, 80+ CRI manufacturing technology offer unique color brightness.
The LED chip is packed with very high lumens, 1050LM, to give an output equivalent to 110 Watts of incandescent lighting. Thus, the fixture is highly energy-efficient and can save up to 88% of your energy costs.
The LED lenses are frosted to ensure anti-glare for the protection of the eyes. Also, the frosting makes the fixture scratch-resistance. With that, the durability of the package is elongated.
Being IC rated, the recessed light can have contact with insulations in your ceiling. Thus, there's adequate thermal protection for the junction box against possible overheating and fire outbreaks. You can maintain just 2 inches in ceiling spacings for the lighting package.
The major down part of this recessed lighting is that it produces some buzzing sounds when left ON.
Main features
12 pack lighting system
Junction box
12 Watts energy capacity
Dimmable
Anti-glare
Pros
Excellent lighting fixture where there's high clearance limitation.
Highly energy efficient.
Wide temperature lighting range.
Easy installation process
Cons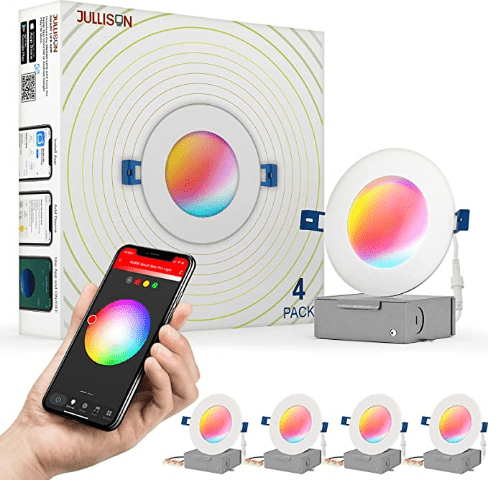 Our 2nd choice is the best smart option for your kitchen. JULLISON is a smart 4 pack lighting system that allows both App and voice control. The light fixture stands as the best smart recessed lighting for your kitchen. You can pair the fixture with mobile devices that run on Android 4.1 or iOS 8.0 or higher. Being compatible with Alexa and Google Assistant, you can control the lighting through voice.
You can initiate a group control for this recessed lighting by using special settings in different rooms. Also, there's a timer for auto ON/OFF. Using the music sync function, you can connect the light system to sounds. This helps you to listen to your favorite music, podcasts, games, and other sound effects.
Furthermore, the fixture has 38 different scene modes that are perfect for different events and moods. The manufacturers designed the lighting with a canless solution that is IC rated. This makes it suitable for drywalls and insulated ceilings. So, it saves cost when compared with using a light fixture, junction box, and trim in a unit.
Also, JULLISON recessed light is a tunable and dimmable white light. The dimming is through smart control with either App or voice control. It moves from 1% to 100% representing warm white light and cool daylight, respectively. Unfortunately, the lighting dimming doesn't support non-intelligent switches.
Moreover, the recessed light is highly energy efficient. It uses 9 Watts energy capacity to produce an equivalent of 60 Watts incandescent lighting capacity. Thus, it can save about 85% energy costs. The illumination has a color temperature range of 2,700K to 6,000K.
Additionally, JULLISON lighting creates a new environment all year round within your home. It offers about 16 million different light colors that you can choose from to lighten your kitchen and other places. The installation process is very simple and easy, and it's ETL and FCC certified. Besides using it for your kitchen, you can conveniently use the lighting in any dry or wet environment.
The shortfall of this JULLISON lighting is that it's not compatible with non-intelligent dimmers.
Main features
Voice and App control
Compatible with Alexa and Google Home
ETL, FCC, and IC rated
RGB and 2,700K – 6.000k
Timer
Pros
Music synchronization.
Smart lighting with Alexa and Google Home compatibility.
About 16 million different lighting colors
Cons
Not compatible with non-intelligent dimmers.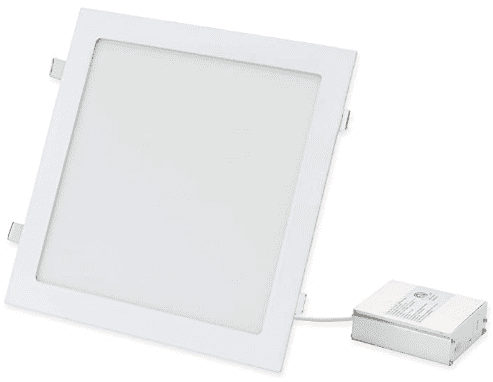 This light fixture remains your best square recessed light for creating a beautiful and illuminated environment in your kitchen. The fixture is highly ultra-thin that accommodates a ceiling spacing of 2 inches for mounting.
Having a slim design makes it very simple and easy for installation as new construction, retrofit, or remodel lighting. Also, it gives very bright illumination for your kitchen and other areas like bedroom, living room, hallway, etc. It uses just 24 watts to produce more than 1,920 lumens and a temperature of 5.000k.
The lighting fixture is highly dimmable. It has a TRIAC dimming certification. So, through the use of any LED-compatible dimmer, you can achieve 10% to 100% adjustment.
However, the light fixture is not suitable for outdoor purposes. Also, you can't use it in damp locations such as your showers.
Main features
Dimmable
1,920 lumens
Airtight
ETL listed
Wiring nuts included
Pros
Extremely bright illumination.
Easy installation process.
Beautiful square ultra-thin LED light.
Cons
Not suitable for outdoor use.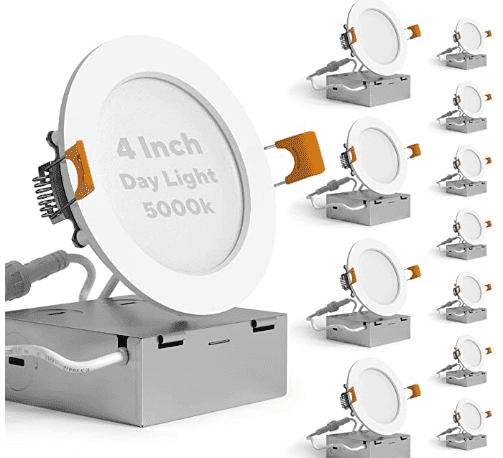 This SunLake recessed light is your best budget option for recessed lighting in your kitchen. The fixture features a junction box in the design that elimination using a separate recessed can for the system. Through the use of a compatible dimmer, you can dim the brightness to suit your mood.
This recessed lighting comes as a beautiful ultra slim LED lighting that gives your home a modern and glamorous look. With its special design, SunLake has wide usage possibilities in different locations such as kitchens, offices, or for creating retrofit projects. In addition, the built-in heat dissipation cools the fixture for efficient operation. This prevents possible overheating or fire outbreaks from the light.
The installation process is very easy. The fixture comes with snap springs of high quality that help for simple mounting. There's a sponge gasket that accounts for airtight sealing in the lighting system. The included wire nuts ensure perfect connectivity.
The lighting fixture produces zero humming when it's ON. Also, the fixture is flicker-free. With the water-proof connector, the fixture puts off wetness and moist which makes the light suitable for wet locations.
Additionally, SunLake has 45 years of lifespan and offers 10 years warranty. Also, its energy-efficient, having the capacity to save up to 80% energy costs. This's because the LED light with 14 Watts energy capacity con produce 110 Watts equivalent lighting capacity.
However, you can't change the lighting lamp of this light system once it fails
Main features
12 pack lighting fixture
Dimmable
CR180+
Junction box
1050 lumens
Snap springs
Wire nuts included
Pros
Beautiful ultra-thin LED light
Highly energy efficient and energy star certified.
10 years warranty
Cons
Can't change the LED lamps.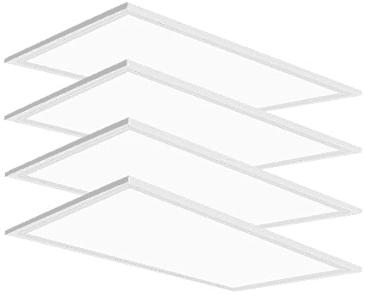 If you are looking for panel recessed lighting, this is the right choice for you. It comes with high-quality features that create a difference in its illumination. With its sturdy aluminum alloy frame, the classic design has a white finish. The manufacturers created a special lighting design that can last 5 times better than fluorescent panels.
Furthermore, this recessed light is dimmable and gives 1 – 10V dimming. Hence, the fixture can produce four lighting intensities: 40%, 60%, 80%, and 100%. In addition, the lighting system is flicker-free and doesn't buzz as it gives off brightness in a room. Also, it leaves no dark spots on its fixture, no matter how long it lasts.
This lighting fixture with 75 Watts capacity produces an equivalent of 200 Watts fluorescent lighting capacity. It gives 7,800 lumens that enhance its brightness with a color temperature of up to 5,000K.
Besides being used for kitchen illumination, the lighting system has a wide application in different other locations. So, you can use it to lighten offices living rooms, bedrooms, showrooms, shops, meeting rooms, hotels, and others. It features a smooth PMMA cover that accounts for its uniformity in light distribution.
Its installation process is quite easy. You can either install it as a drop ceiling lighting system or suspend it. Also, it's an energy-efficient lighting fixture.
The main shortfall of this lighting fixture is that it needs the wiring of an interface box during its installation.
Main features
4 pack LED light fixture
Dimmable
7,800 lumens lighting capacity
75 Watts energy capacity
5,000K color temperature
Pros
Offers wide application.
Excellent energy-saving light fixture.
High reliable and durable fixture.
Cons
Requires the wiring of an interface boxduring installation.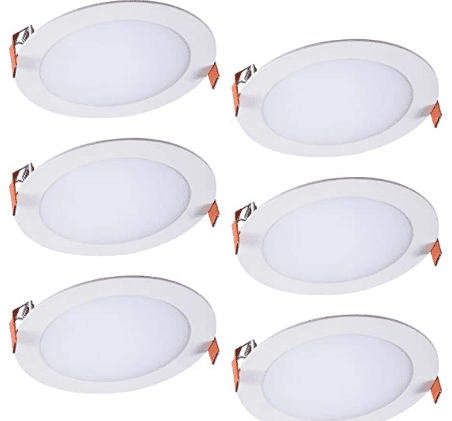 Halo is a famous name in the lighting industry and This Halo recessed light is no different from excellent. It is an ultra-thin lighting fixture that requires no housing for its components. This simplifies the installation process that saves you both money and time. Thus, you can mount it on either walls or ceiling more great illumination in your kitchen and other areas.
Being a dimmable lighting system, you can conveniently dim the light to as low as 5% brightness to suit your mood. In addition, the design inculcates a long-lasting LED into the fixture. Thus, you have a maintenance-free lighting system that lasts for many years.
It features 5 color temperature settings ranging from 2,700K warm white to 5,000K daylight white. The selection option is applicable through the switch located on the driver junction box.
Additionally, this Halo recessed light is suitable for both wet and dry locations. So, besides using the lighting fixture in your kitchen, it's an ideal option for showers, outdoors, and other areas.
Its main shortfall is that you can't replace the bulbs once it fails. You will need to buy a completely new lighting package.
Main features
Repositionable driver junction box
Spring clips
5 color temperature setting
Dimmable
Pros
Universal lighting applications
5 selectable color temperature
Requires no housing.
Cons
Irreplaceable light bulbs.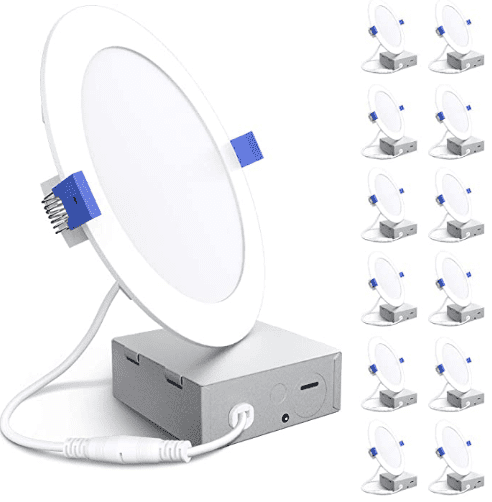 This Bbounder recessed light gives excellent lighting performance that has a long lighting lifespan. The recessed light has about 50,000 hours as the average lifetime while functioning on 3 hours of lighting per day. So, you can use the light fixture for over 45 years.
The illuminating output offers your about 79,2% energy-saving costs. By using 12.5 Watts, the light produces an equivalent capacity of 60 Watts incandescent bulbs through 850 lumens.
Bbounder is a dimmable lighting system that allows you to have brightness suitable for different moods. It's compatible with most dimmers, including EATON, LEGRAND, LUTRON, and others. So, you can get a dimming from 5% to 100%. In addition, the color temperature ranges from 2,700K to 5,000K, which enables four different lighting brightness.
Furthermore, the installation is very simple. It involves the connection of the junction box and the use of the spring clips to hold the fixture strongly. Also, it has a 5 years warranty that will handle any issues you may encounter. With the ETL certification, you are sure of safe and high-quality performance.
Despite its great features and performance, the major down part of this light fixture is that it's compatible with just dimmers.
Main features
12 pack recessed light fixture
Dimmable
Junction box
Spring clips
12.5 Watts energy capacity
ETL certified
Pros
Excellent lighting performance.
Easy installation process.
Balance illuminating output without flickering.
Long lighting lifespan,
Cons
Compatible with few dimmers.
What to consider before buying recessed lighting for your kitchen
Recessed lights are prominent due to their classic and modern designs. Also, their appearance is aesthetically satisfying as they remain flushed with the installation surface. There are different types of recessed lighting that someone could be confused about choosing suitable ones for your kitchen.
Here are some important factors when choosing recessed lighting for your kitchen.
· Lighting Brightness and Color
Remember that the primary purpose for getting a recessed light is for increased illumination in your kitchen. So, the quality of lighting, brightness, and color are very important.
The brightness is what lightens up your space and is measured in lumens. The higher the number of lumens, the greater the brightness of the recessed light.
On the other hand, the color reviews the effects of your space. The color temperatures of recessed lighting fixtures are measured in Kelvin. Lots of LED recessed lights have color temperature ratings between 300K to 8,000K. A rating less than 3,000K gives warm colors, while the ones greater than 3,000K give cool colors.
· Wattage
The wattage capacity is very crucial when selecting recessed light for your kitchen. It will determine the energy required for the functioning of the light. Fixtures with higher wattage consume more energy and incur more electrical costs for you. Therefore, always go for the recessed lights with lower wattage and can produce more lumens.
· Housing Voltage
The voltage of the recessed light affects the energy consumption of the fixture and its lighting intensity. There are line and low voltage fixtures.
The line-voltage fixtures are cheaper but less cost-effective in their lighting functionalities. However, the low-voltage fixtures are quite expensive but will effectively lower your energy costs in the long run.
· Safety
The safety associated with a recessed lighting fixture should be a great influencer of your choice. However, most people tend to neglect this factor.
Purchasing a recessed light that complies with standard safety regulations will save you from possible overheating or fire outbreaks. So, ensure that you always go for ETL and Energy Star certified recessed lights for your kitchen.
FAQs
Are LED recessed lights good for the kitchen?
LED recessed lights are great options for kitchens as you will need to light up beneath your cabinets and other hidden areas. With their high intensity and a greater number of lumens, LED recessed lights will give your kitchen the right illumination and safety.
Where should recessed lights be placed in the kitchen?
While placing recessed lights in your kitchen, you should be mindful of the position of your cabinets. The best position for your lighting is at the edges of the counter. This will give clear illumination of the work areas both at the counter and the sink. You can maintain a spacing of 12 inches between the lighting packs and away from your cabinets.
Related Articles:
Best recessed lights for bedroom
Best recessed lights for hallway
Best recessed lights for sloped ceiling
Best recessed lights with speakers
Best recessed lights for bathroom
Best retrofit led recessed lights
Best recessed lights for basement