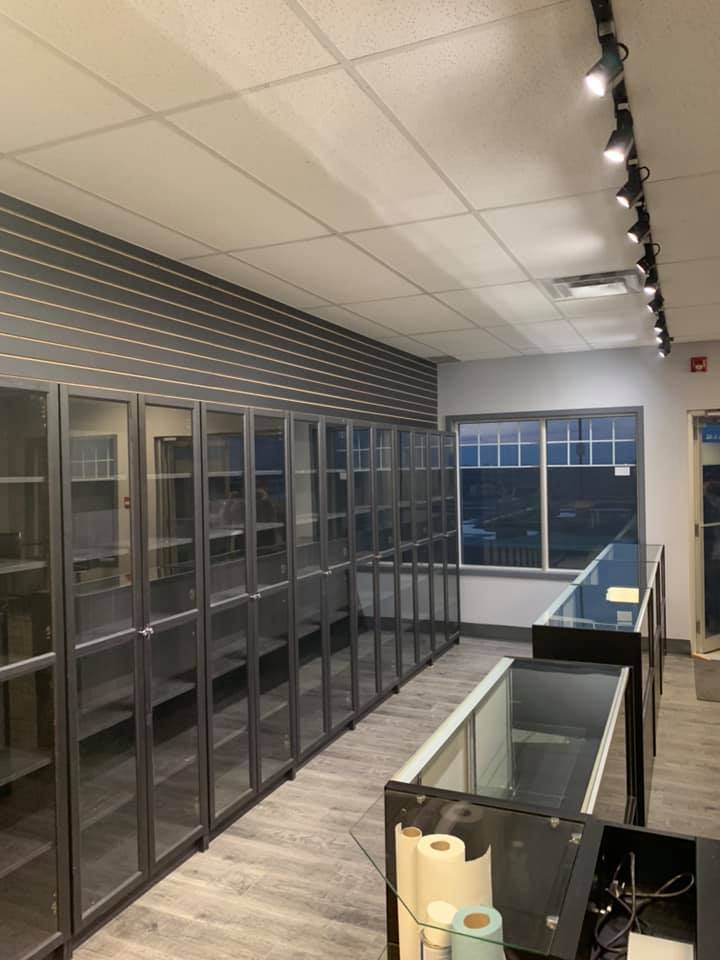 Track-based lighting has become one of the most versatile light options. Many people love it for its vast functionalities and flexibility. It is a unique lighting fixture system mounted on the wall or a ceiling that supports and gives power to singular light fixtures on it.
While initially used in museums, art galleries, commercial installations, and workshops, track lighting has recently gained popularity among residents. Notwithstanding whether they live in a rustic cabin or stylistic modern house, the lighting has flourished within homeowners.
The types of track lighting can be divided into multiple categories. Like based head, track, bulb, power source, style, connector.
This article will understand the different types of track lighting systems based on the various specifications.
Different Types of Track Lighting
It's pivotal to understand what to look out for when purchasing a track lighting system. Most times, the light bulbs are independent and suspended from different positions to provide light to varying angles. We understand all these might be a tussle for, so we have divided the various types of rail-based lights for you to understand:
Based on head
Based on Track.
Based on Connector
Based on Bulb
Based on Style
Based on Heads:
The track light fixtures, also known as track heads, are made in varying forms and styles. Most track rails can support different variations of track heads. However, choosing a complementary track head and track while purchasing your lighting system is paramount. The track head is a light fixture/fitting that houses the bulb. Below are the types of track heads available:
Pendant:Pendant track lighting heads are decorative track heads. Unlike other track heads that have industrial designs, the pendant heads are designed for aesthetics and connected to an elongated down rod. As a result, they provide excellent ambiance to rooms that need full illumination.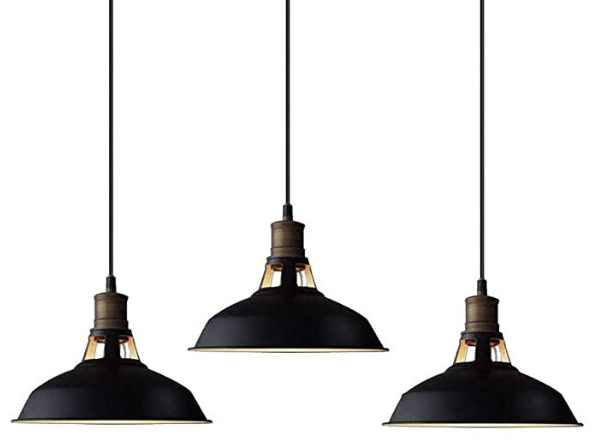 Step Head: This is the most common kind of track head. It is known for its clean and simplified design. The step head supports all the track types.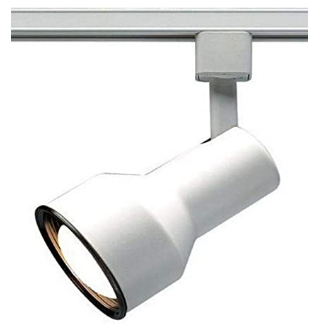 Round Backs Head: Round backs look very similar to the step head. However, the round back has a rounded end. It's this more sophisticated design that makes it work more ideally with the contemporary rail type.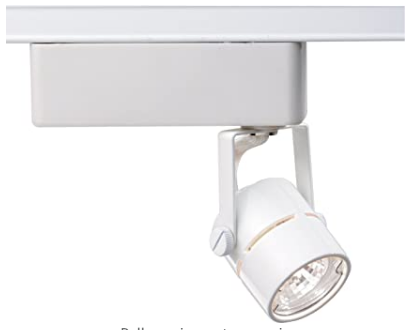 Gimbal Head: The Gimbal head has the peculiar resemblance of a movie camera. This unique lighting is perfect for industrial functions such as in art galleries, museums, garages, etc. Also, the Gimbal can rotate 360o in all directions.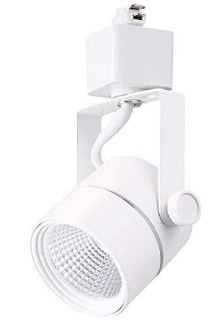 Pinhole Head: The last type of track head is the Pinhole head. This miniature light head has the semblance of the roundback and step track heads. It has a mechanical look which sells it out more in places that prioritize functionality over aesthetics.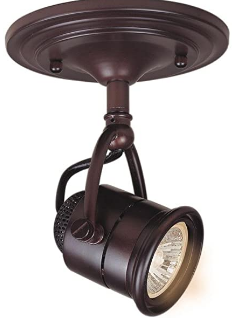 Based on Track Type
There are three configurations of tracks for the rail-based lights utilized in North America—the J-type, the H-type, and the L-type. These acronyms come from the standards set by the manufacturers of each track type. They are the Halo, Juno, and the Lightolier. They all have performance similarities and can either be a single-circuit or dual circuit.
However, there are some notable distinctions between them. For instance, if the track has three contact points, it is a "H" track. If it has two contact points, it is a "J" track; and, if the tracks are 7/8inch apart, it is an "L" track. There are also arrangements for the "J2" circuit, which regulates two different lightings on one single rail.
Additionally, the different types of track types are:
Swing Arm Track:In this type of track, the light fixtures are mounted on fixed rails that swivel on a joint. The fixtures can't move, but given the angle and swiveling arms, it can deliver light all across the room.

Standard Track: This is the regular track type that you'd most probably see. It's also called "Traditional", "straight", or "linear" track lighting. The track is screwed to the ceiling and connected to an already set-up circuit. The standard track is connected linearly so that the light fixtures can easily glide through it.

Fixed Track:In this track type, the light fixtures are fixed in one position and you can't move the light in the track from that position

Flexible/Monorail Track:The monorail has a distinct feature of a flexible track lighting. It has a curvy track that enables the light fixtures to glide through the track. Additionally, you decide what shape you want the track to be. They can bend up to 30 degrees.
In the monorail, the power flows through the exposed rail metal itself. Due to this, most rails need a transformer to reduce the voltage passing to their conduits. These conduits are metallic plates positioned at both sides of an insulating connector to transmit the low-voltage through the rail, which powers them.
Monorail also has a 2-circuit feature that enables you to manipulate some lights on one switch and the other with another switch.
Based on Connector
To distinguish the various track lighting, you need to understand the connector type. Connectors enable an unhampered power supply over multiple tracks without needing to power feed.
The connectors link the track elements for more elongated rail systems with non-linear structures. Most systems use customized connectors to accomplish unique designs. Also, note that the connectors can be flexible.
The track-based light system utilizes connectors in the following designs, "X," "T," and "L" designs.
Read this: How does track lighting work?
Based on Bulb
A majority of track lighting utilizes the dichroic, reflector, or par16 bulbs. However, the type of bulb you use is determined by the kind of track head you have chosen to use. So, you must find out the bulbs which are supported by your lamp.
If you choose the pendant track head on your light fixture, you'd probably want to go for a bulb that will give a more dramatic look illumination to your room. The Edison or Carbon filament bulbs are great choices for ambiance bulbs because of their aesthetic radiance and intriguing shapes.
Based on Track Lighting Style
Another important procedure to consider is the track light style to use. The track lighting style you use helps you determine your overall design options. This includes the type of shade you're to use, color, and materials.
It's recommended that you choose a lighting style that complements the room's furniture and aesthetics. Here are the different types of track lighting styles you can choose from:
· Modern track lighting
Naturally, the rail-track lighting technology is a modern design. This accounts for the growing traction in the use of the modern track lighting style.
The modern design is famous for its well-polished and refined designs. It has sleek geometric outlooks, clean lines, and brilliant colors. The modern design isn't used as the centerpiece in a room but fits properly in the background.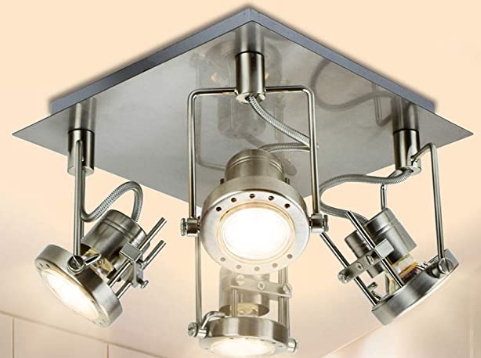 · Contemporary track lighting
Contemporary track lighting is frequently used synonymously with modern track lighting, but they are two distinct styles.
Although their similarities, the contemporary style offers a more relaxed and less luxurious outlook than the modern lighting style. It has less clean, more rounded edges and straighter lines than modern track lighting.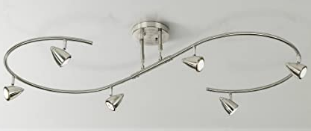 Also, the contemporary track lighting gives a more innovative display than the modern lighting. It is mostly used as a center of attraction within a room.
· Victorian track lighting
The Victorian track lighting style is the most complicated and detailed track lighting style. This style is dedicated to homeowners who pay so much detail on every single detail about their home's internal decorations and lighting. Oftentimes, engraved tracks and track heads are Victorian styles.
Victorian track lighting brings the feeling of exquisiteness, luxury, and elegance to whatever room it is placed in.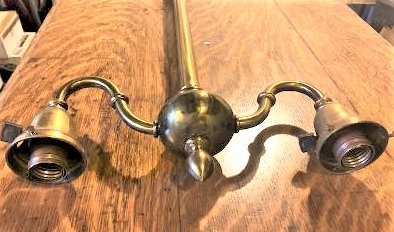 · Traditional track lighting
This track lighting is dedicated to homeowners who favor a classic outlook over a modernized lighting display.
The traditional lighting provides a straightforward, simple, relaxed, and vintage image. In addition, it creates a homely display in the room it is used in.

· Rustic track lighting
The rustic track lighting is very similar to the traditional lighting. However, it creates a more "ancient-time" outlook than the traditional track lighting.
This style enhances rugged and natural colors to beautify the home. It utilizes light-shaded modest lights together with earth-tone colors.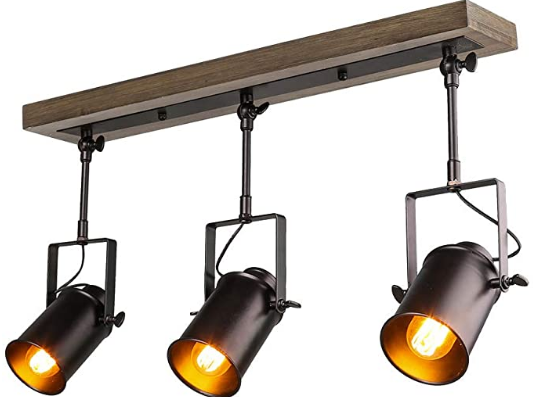 Additional Features
There are a few additional features that are utilized for track lighting. These features comprise plug-in lighting, cable lighting, lighting kits, control type, and dimmer switches.
· Plug-In Track Lighting
In track lighting, understanding the wiring is a much complex task. Additionally, hard wiring a new lighting system can be risky.
One of the ways to maneuver these hard wiring dangers is using the plug-in track lightings. Rather than wiring these lightings, you connect them directly to a normal electrical outlet or socket.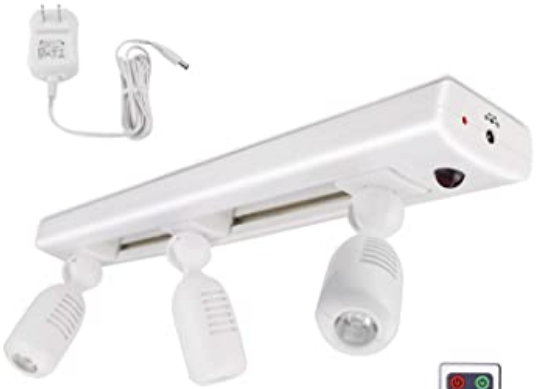 · Cable Lighting
This lighting system isn't exactly a track lighting system; it is similar to it.
One distinction between them is that cable lighting uses cables rather than rail. The cables are connected to the ceiling with a light hanging from each of them.
Cable lighting provides a very distinct feature in the home.
· Lighting Kits
These kits facilitate easy installation of the lighting rails and fixtures. They come with all you need to install a track lighting system. The lighting kits are complete, and you don't need to buy anything else after getting it.
If you desire to mount the lighting yourself, the lighting kit is all-in-one for you.
· Control Type
Most track lightings are regulated directly from a switch mounted on the wall. Other alternatives comprise a special lighting application on your mobile phone or touch-screen controls on the wall.
· Dimmer Switches
Dimmer switches are one of the most effective lighting equipment today. The dimmer switch enables you to adjust the level of brightness you desire according to your preferences.
You can crank up the brightness when you want to work, read, or cook; or dim it when you want to rest or sleep.
It's also important you understand that not all types of bulbs support a dimmer switch.
Where to buy track lighting:
You will find track lighting in any lighting shop. But if you want to buy it online, you have different options are available.
In each of them, you will find different types of track lighting. But my recommendation will be amazon. As there is more variety available also the price is comparatively low then other places.
Where to use track lighting:
Track lighting is a very versatile lighting fixture and you can use them in a wide range of applications. You can use them as general lighting, accent lighting, and task lighting in your home, office, shop, art gallery, museum, etc also a lot of different other places.
Related Articles:
Track lighting vs recessed lighting. What are the differences?