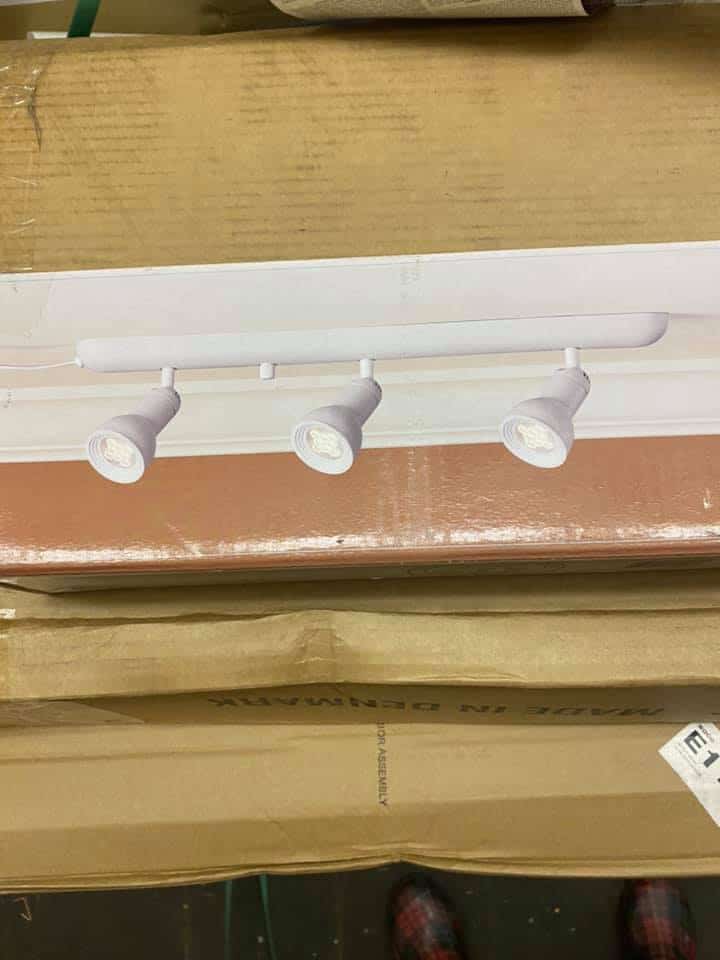 Track lighting comes in various types and features. One of such types available in the market is the plug-in track lighting system. Many people love it due to how easy it is to install. All you require is an electric power outlet, and the light comes on. Once connected to a socket, plug-in track lighting can power floodlights, spotlights, pendant lights, and other fixtures
Thankfully, many brands are available for home users to explore and purchase. But that decision is usually challenging, and that's why we present the top five out of them all. In this review, our top pick is the BIGLIGHT LED Track Light. We also reviewed other plug-in track lights for various purposes. You will also get to know the advantages and disadvantages of using these types of lighting. Keep reading to know more!
6 Best Plug in Track Lighting Reviews
The popularity of plug-in track lighting results from its versatility, flexibility, and functionality in different areas. Below is our review of the best plug-in track lighting.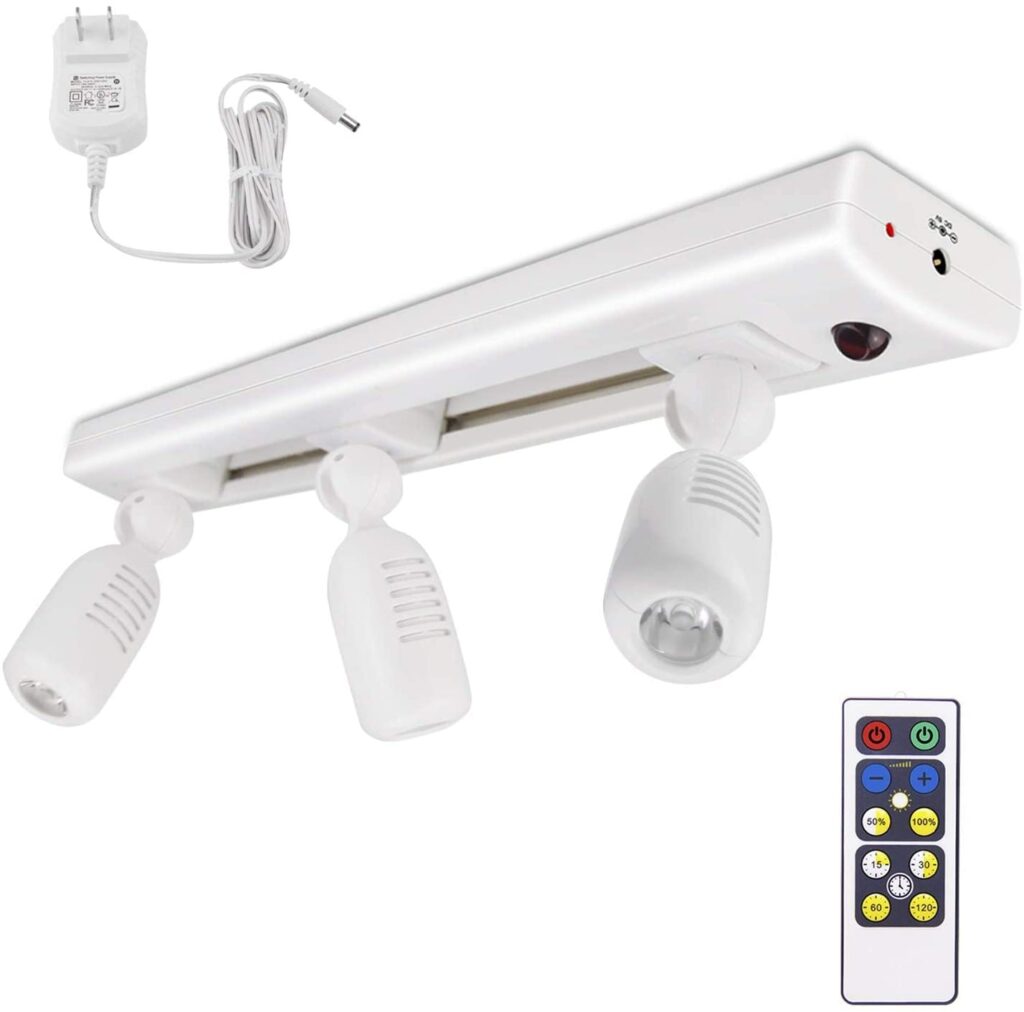 The BIGLIGHT LED track light is our overall top pick for both quality and price. This unique plug-in track light system comes with innovative features for illumination. Through its 3 adjustable heads, 500 lumens, and 3,000K warm white temperature color, this lighting system is used in artworks, living rooms, bedrooms, hotels, etc. In addition, you can easily rotate the heads through 310o to get directional lighting in any area of your choice.
Also, the light system has a brightness dimming control that helps you get the needed illumination. The dimming setting is from 5% to 100%, and you can control that using the remote.
The manufacturers designed the system with an auto OFF timer function. This enables you to set an automatic turning off within 15, 30, 60, or 120 minutes as your desire. Thus, the lighting system is a great energy-efficient tool with a lifespan of up to 30,000 hours.
Furthermore, an AC adapter can power this track light, and it features a cord that is about 6 ft long. Also, its installation process is very simple without any complexity using the double-sided adhesive tapes.
The down part of the plug-in track light is that the dimming setting fails when there's a power outage. Also, when you switch OFF the light and switch it ON again, the light will come up with full brightness, losing the previous settings. Furthermore, the remote interferes with other electrical applications like a projector.
Main features
3 rotatable heads
Adjustable lighting direction
Auto OFF timer function
Remote control
Flexible slid track head
Pros
Great energy-efficient.
Adjustable lighting direction
Brightness dimming control
Cons
The dimming setting doesn't hold after a power outage.
The remote interferes with other electrical items.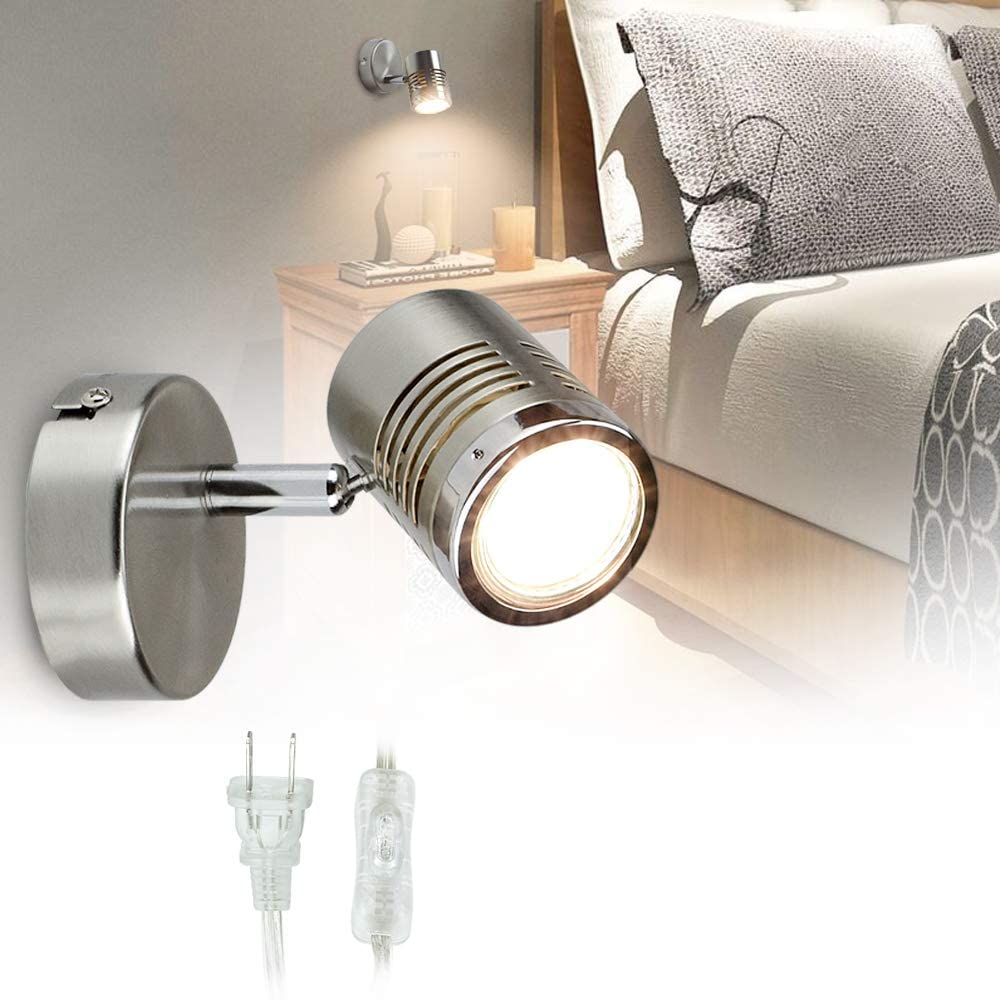 This DLLT Mini track lighting is a very light and handy light that is also versatile in acceptance and usage. Plug-in lighting is an ideal option for aesthetic lighting in bedrooms. You can install the light by your bedside, hallway, kitchen, office, and other areas.
The light installation process is quite easy and simple. You can mount it on your ceiling or wall to create the perfect atmosphere within the room and area. Also, with the adjustable track head that makes 330o rotation and 90o tilt, you can direct the light to suit your convenience.
Furthermore, the track light is designed with a hollow carving that ensures fast heat dissipation. This helps to prolong its lifespan. Moreover, with its GU10 LED bulb, the lighting system provides 240 lumens and can last for over 50,000 hours. Thus, it's highly energy-efficient as it can save more than 80% of your electricity bill. Also, it eliminates the cost that comes with frequent bulb replacement.
Additionally, the manufacturer of this track lighting system offers friendly after-sales customer services. You can easily use this means to get clarification and assurance of the quality of the product. Also, through the service, customers can get replacements and refunds as the case may be.
The down part of this track lighting is that it's quite difficult to change the bulb.
Main features
Adjustable track heads
Included 3W GU10 LED bulb
Hollow carved design
Pros
Easy and simple installation.
Excellent heat dissipation.
Great after-sales customer service
Cons
Difficulty in changing bulbs.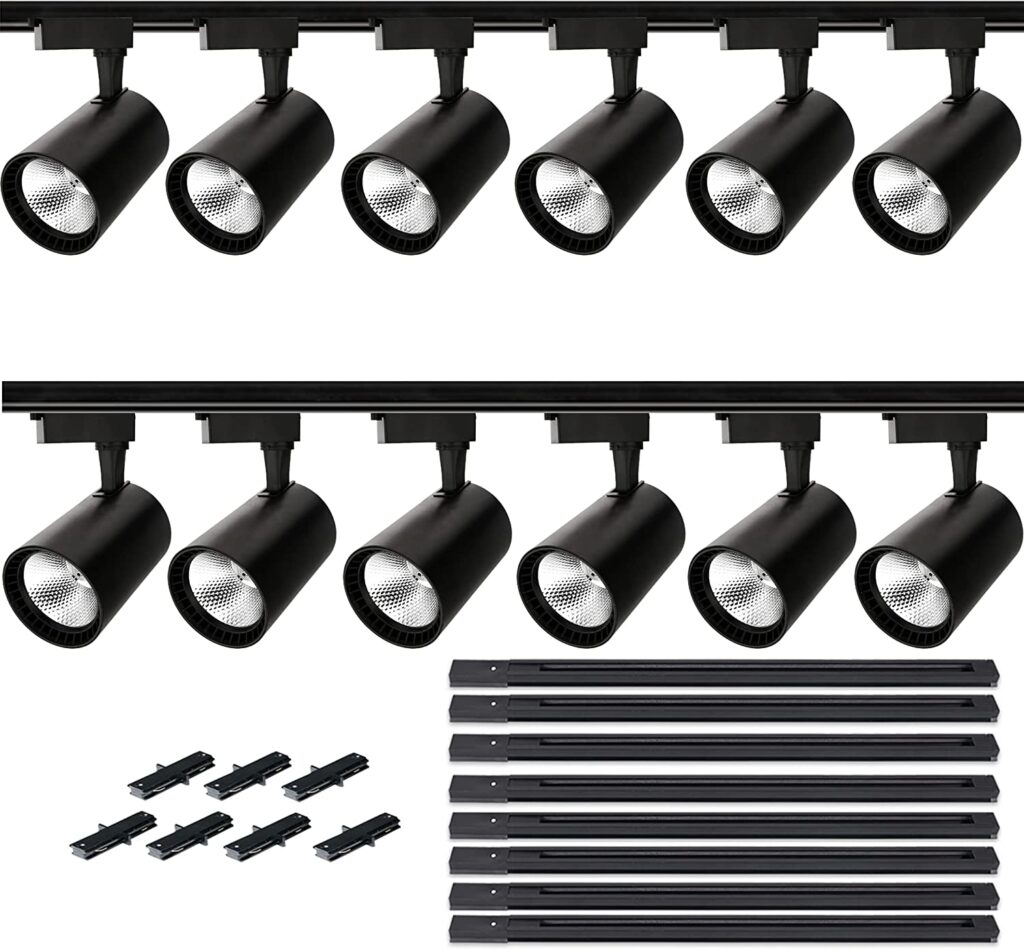 This Doavis track lighting system is the best that offers you value for your money. With 2,700 lumens and illuminating angle of 50o, this lighting fixture can offer precise lighting effects. Hence it's a great choice for brightness in different environments such as homes, restaurants, clothing shops, supermarkets, galleries, and others.
Designed with an H track light operation, the fixture offers enhanced illumination beyond the given mounted area. Its aluminum components account for its lightweight nature. Also, it can excellently dissipate heat even on prolonged usage for the entire day.
The lighting system boasts about 50,000 hours of lifespan and has ETL FCC track light certification. This makes it an ideal option for most customers.
Additionally, you can easily install the track light by selecting a design installation style suitable for you.
Main features
12 pack LED lighting heads system
H-track rail
2,700 lumens
Pros
Provides precise illuminating effects.
Excellent heat dissipation system.
Simple and seamless installation.
Cons
There are still no cons yet for this lighting system.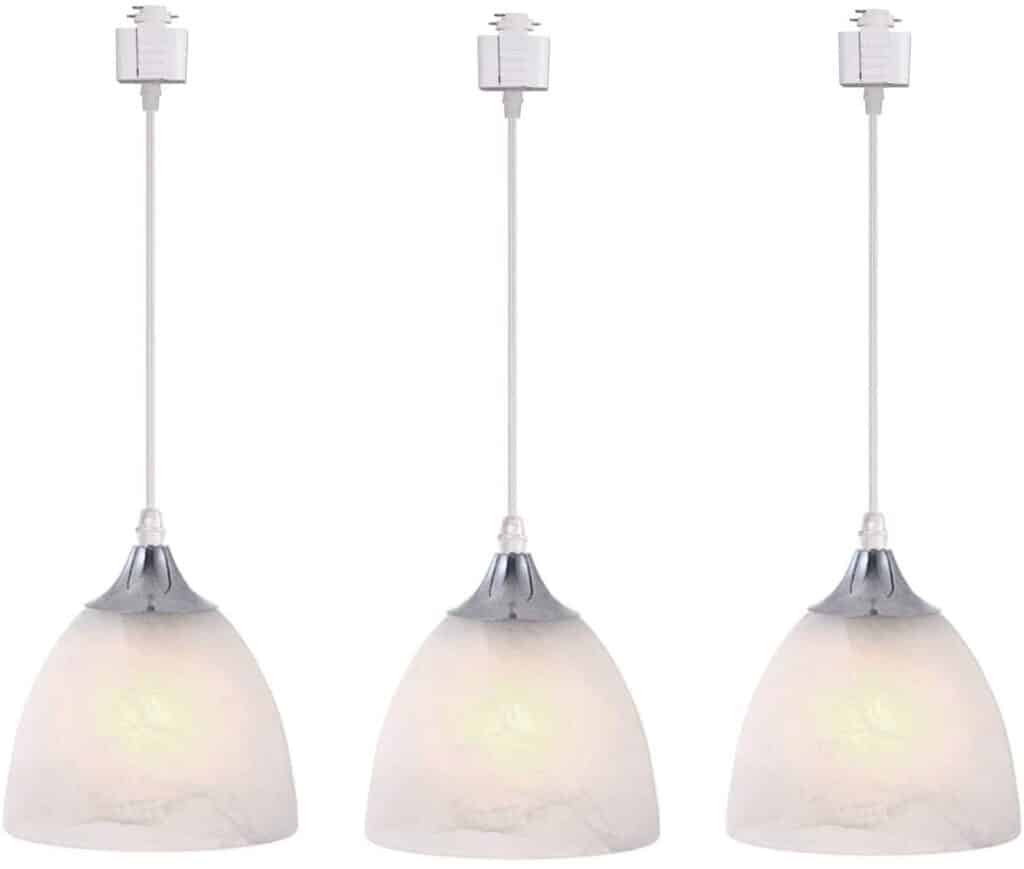 Kiven 3-Light H-Type track light comes in an aesthetic and unique design that distinguishes it from other lighting systems. With its 3 pendants, you're sure of high-quality lighting that provides adequate brightness within the given area.
The lighting system comes with a maximum height of about 31.5 inches. However, based on your demand, you can easily customize the height by reducing the measurement to suit sloped ceilings.
The matte white glass shade enhances the illumination from your bulb while creating a modern lighting system in your room. The lighting system is ideal for coffee shops, kitchen islands, dining rooms, offices, and bars.
From its design, this Kiven track light is compatible with different bulbs such as LED, incandescent, halogen, and CFL.
Besides its unique and modern style, this track light is quite expensive, the most expensive in this review.
Main features
3 head-track light pendants
Dimmable
Downward light direction
Pros
Strongly built with high quality
High compatibility with powerful bulbs.
Customizable pendant lengths.
Aesthetic and unique design.
Cons
Quite expensive than other plug in track lights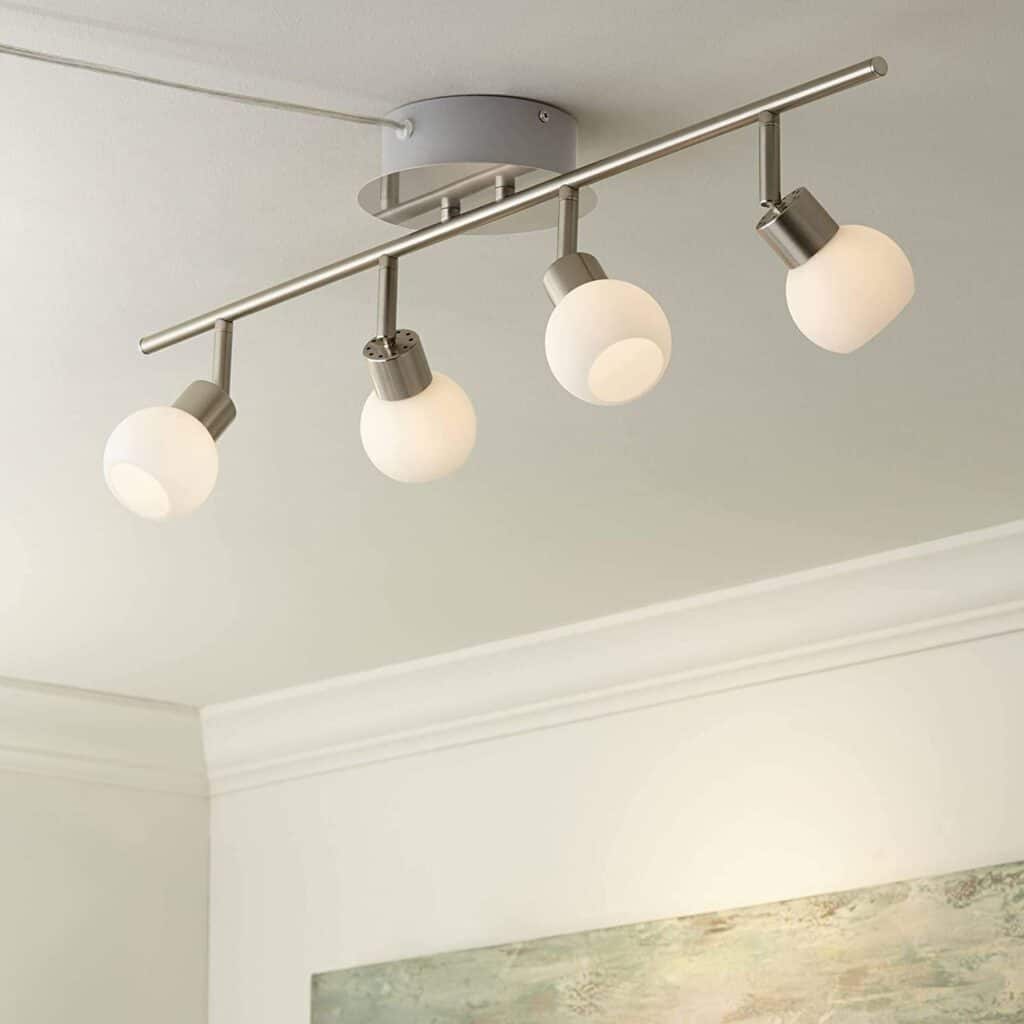 This track light comes in a sleek and modern design to give instant glamorous lighting to its mounted environment. The four-light heads are adjusted and can be set in different directions individually to provide the desired illumination.
Also, the fixture has 20,000 hours of lighting lifespan when the utility has a maximum of 3 hours daily lighting. They operate with a power supply of 120 volts. The design includes four built-in 5.5W LED bulbs that are non-dimmable. It has about 1670 lumens and produces a 3,000K neutral temperature color.
The nickel finish on the track arm provides both aesthetic appeal and prevents corrosion of the track lighting system. This light fixture is a desirable choice in several locations such as living rooms, bedrooms, dining, supermarkets, shops, and others.
One of its setbacks is that you can't replace the LED bulbs when they fail since they are built-in. So, the entire system will need replacement in such situations. Also, the lighting is not dimmable. This means that it will continuously produce bright lighting without a means for its adjustment. Hence, it's less energy-efficient than other track lighting systems in this review.
Main features
Four light heads
Inclusive 4W non-dimmable G9 LED bulb
In-line ON/OFF switch
Frosted glass globes
Pros
Excellence lighting system.
Sleek and modern design.
Easy installation process.
Cons
Built-in LED bulbs that are not replaceable when they fail.
Non-dimmable lighting.

This KimYan brand of track lighting provides great accurate and vivid lighting using its three 5 watts LED bulbs. It has 400 lumens and can give a 38o bean angle in its functionality. Each of its GU10 LED bulbs produces light that is equivalent to that of a 50W halogen bulb.
The lighting system features a solid metal construction that depicts high quality and heat-resistant ceramics for the lamp holder. Also, its construction metal is an anti-deformation ferroalloy for the lighting cage.
Furthermore, you can conveniently adjust any of the three light heads independently to get a directional or focused light when you want. With the beautiful track lighting design, you will get a unique décor for any place in your building. It makes the light a great choice for living rooms, bedrooms, bathrooms, porches, garages, farmhouses, offices, and others.
Moreover, this KimYan track lighting is ideal for wall lighting, track lighting, or even floor Uplighting.
Its setback is that you may need more information before installing it if you want to do so yourself.
Main features
Three 5W LED bulbs
Adjustable track heads
Solid metal construction
6" plug-in cord
Brushed nickel finish
Pros
Aesthetic and timeless design.
Great energy-efficient track lighting.
Multi-purpose usage.
Cons
May require more information before installation.
Advantages and Disadvantages of Plug in Track Lighting
The use of plug-in track lighting is gaining more popularity due to flexibility and unique functions in different areas. Here are some of the advantages and disadvantages of using plug-in track lighting.
Advantages of Plug in Track Lighting
Simple and Seamless Installation
The installation of plug-in track light is quite simple without any complication. There's no requirement for electrical hard wiring for the lighting system. You just need to mount the fixture to your suitable position and plug in the cord to get your lighting.
Great Lighting Options for Highlighting and Task Lighting
Plug-in track lighting offers a great option for highlighting and task lighting. When you're specifically lighting a spot, nothing can beat the effect of track lighting for such purposes. That's why they are ideal for lighting artworks, furniture, and others.
Comes in Different Styles and Types
Plug-in track lighting is available in different styles and brands. There are sleek and classic styles for conventional rooms and offices. The dangle exposed pendants bulbs styles founds more usage in rustic restaurants.
Aesthetically Complements the Room or Space
You can create an aesthetically appealing environment by using plug-in track lighting that matches your space. For instance, using tracking lighting with pendants can produce a great attractive appeal in your dining, restaurants, and even shops. Also, homeowners have easy means of getting the type of lighting that complements their décor.
Has More Modern and Innovative Spice to Lighting
Plug-in track lighting has innovative addition from the manufacturers that makes the lighting systems more acceptable. Its flexibility and versatility make as a wider choice in different places. Thus, you can use it in kitchens, bedrooms, living rooms, offices, restaurants, hotels, shops, and others. Also, the manufacturers have most designs that are low-voltage rail lighting to suitable your energy cost.
Disadvantages of Plug in Track Lighting
Despite its great benefits, there are some down parts for plug-in track lighting.
Requires a Close Electrical Outlet for connection
In comparison with most lighting fixtures, plug-in track lighting requires an outlet for its connection. Such a connection point must be quite close to the lighting fixture. So, you must plan for a close electrical outlet for your plug-in track lighting.
With some lighting settings, plug-in track lighting may appear clunky insight. This will make the ceiling or the wall where you mount the lighting system look too busy.
Not Suitable for General Lighting
Plugin track lighting is not the best option when you're looking for general lighting for a space. Especially for homeowners, lighting should be based on the need. You should only use them when you desire to highlight or spotlight some specific areas. The best functionality is for areas that already have auxiliary lighting options from other sources.
FAQs
Can track lighting be plugged into an outlet?
Track lighting comes in different types. But not all track lighting can be plugged into an outlet. It is only the plug-in type of tracking lighting that you can plug directly or through an extension cord into an outlet.
What is the difference between J and L-track lighting?
The difference between J and L track lighting is that the contact tips in J types are 1" apart while in L, they are 7/8" apart.
Related Articles:
Best track lighting for living room
Best track lighting for vaulted ceiling
Best track lighting for kitchen