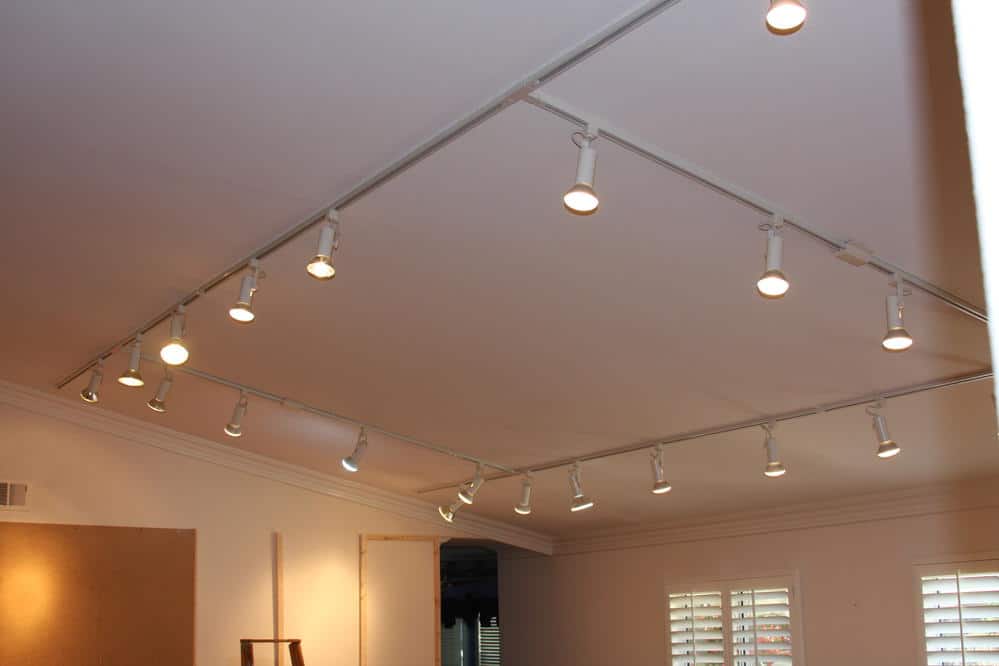 The living room serves as your entertaining space. As a result, it is the perfect space you can install any sensational light fixture like a decorative pendant or chandelier. Most times, you will probably need versatility more instead of style, and that's where track lighting comes in. It offers versatility in a higher dimension. You can easily integrate track lights in your living room in many different ways.
You can install it as ambient lighting if the space is small or accent lighting for furniture, artwork, or any architectural feature you want to highlight. Furthermore, track lighting in your living room can highlight the whole wall or deliver task lighting. Track lighting brings the ultimate grace to the open floor of the living room.
Also, if your living room is rectangular, you can install tracks on your ceiling across your room perimeter. Then fix track light heads at the appropriate place to deliver accent lighting on your sofa, or reading chair, or highlight an art object. This review has detailed information on the top brands in the industry. In addition, we discuss the features, pros, and cons to shorten your research time. Our top pick is DLLT 6-Light Flexible Track Lighting. But other products are available for your perusal as well. 
7 Best track lighting for Livingroom review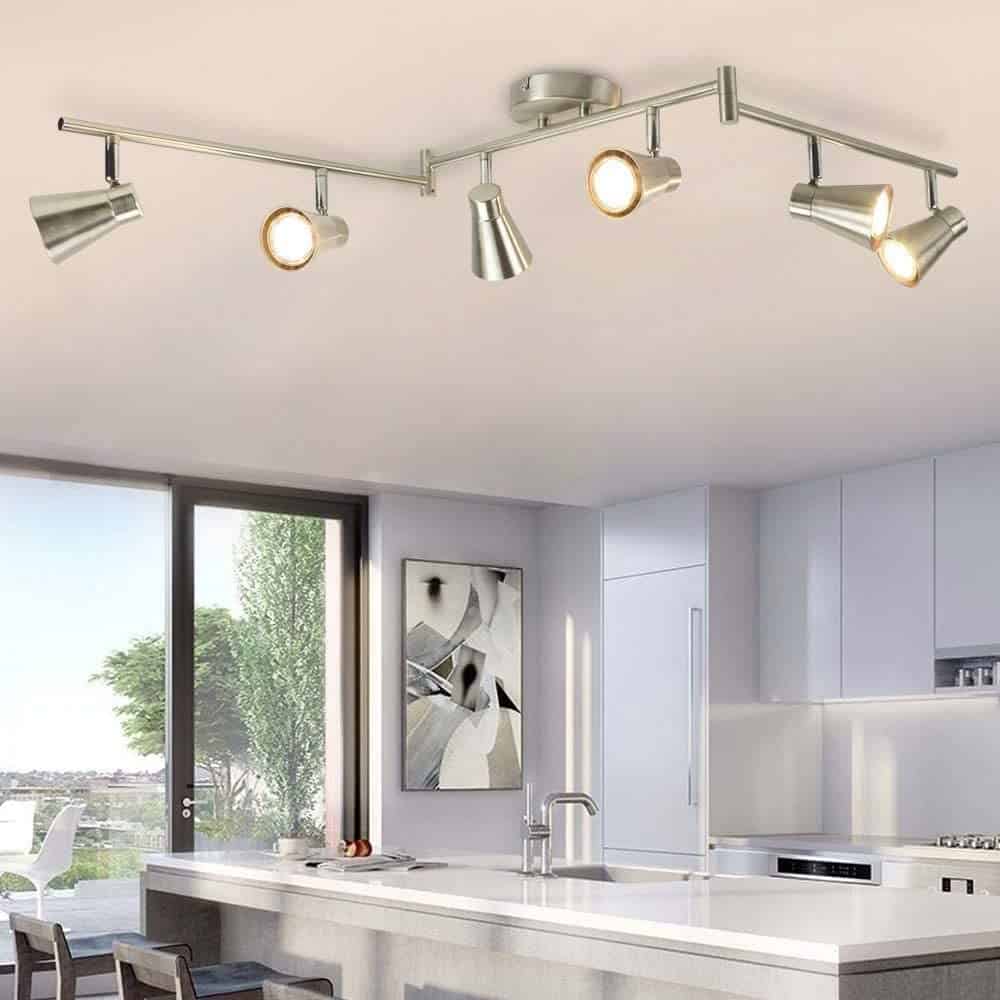 The DLLT flexible track lighting is our top pick track lighting for the living room for a number of reasons. Besides, being affordable and quality track lighting it is also very versatile in terms of use.
Whether getting this product is for a new installation or replacing existing lights, you will definitely catch the excitement of satisfaction when done. The product comes with 3 arms, and two of the arms can rote up to 350 degrees. With the rotating arms, you can configure the product direct it to any position of your choice.
You can rotate each of the lamps' heads up to 330 degrees on the horizontal line and 90 degrees on the vertical line. With this kind of flexibility of adjustment, you can get any kind of personalized configuration to meet your need.
The six 3W GU10 bases led bulb of 1440 total lumen light output that comes with the product makes it radiate amazing color rendition. Good enough, the light bulbs that come with the product are without extra charge.
The 300k warm light with 85 CRI gives a real view of the objects and surroundings. As ambient lighting in the living room or highlighting the wall's artwork, it can fulfill all your requirement. Also, it can be used as mood lighting. The hardwired installation is very easy with a canopy mounting plate.
One major setback of this product is that the bulbs are not dimmable. Also, a customer has complained that the mounting plate is not wide enough.
Main features
Produces 1440 Lumens
Comes with 6 3W GU10 bulbs
Offers 3 rotatable arms
Produces 3000K white light
Canopy-mounting plate for easy installation
Pros
Flexible Rotation
Heat dissipation
Adjustable track heads
Energy saving
Cons
Not dimmable
small mounting plate.
Flimsy ceiling shroud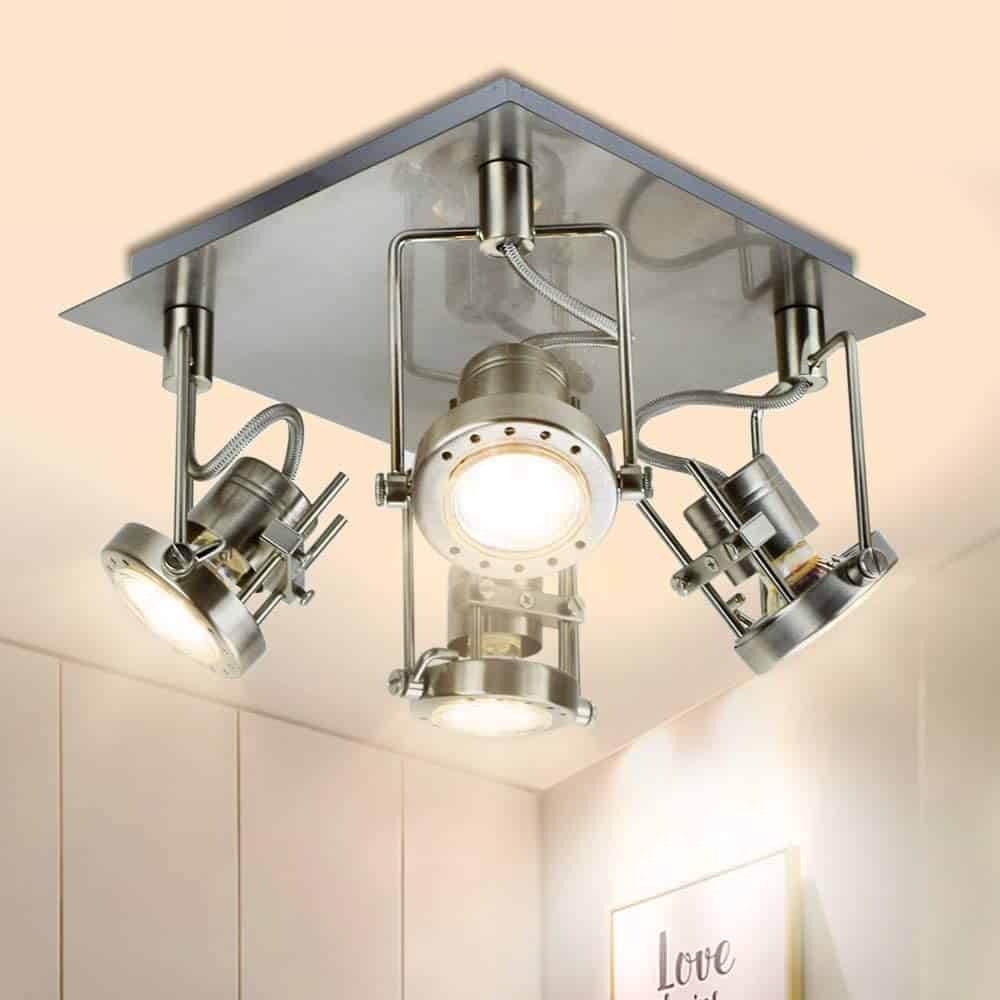 if you want a modern track lighting system for the living room, DLLT modern track can be a perfect choice for you.
The back hole lamp holder design heat dissipation feature of the product makes it run cool, which contributes to the cool temperature your living room so deserves. The heat dissipation also extends the life span of the product.
You have the freedom of customizing the focus of the beam o the lights because you can go as far as 330 degrees rotation in either direction. Also, you can simply achieve up to 90 degrees tilt when needed. This is by way of saying that you can adjust the flexible track heads of the product to point to any direction of your choice. Moreover, this product is one of the easiest to install.
The product is also very good at creating atmospheric pleasure in other applications like the kitchen, bedroom, shop, bar, etc. The GU10 led bulb included with this fixture has 4*3 soft warm light and it can provide 960 lumens light in total. Additionally, the product enables you to enjoy up to 85% cut down in their electricity bill because it's energy-saving and lasts for 50,000 hours. More importantly, it supports from 1-40w bulbs.
But some customers are not satisfied with their after-sell service. Another customer says " the 5-foot long CORD may be TOO SHORT". Other than that most of the customers are very happy with this lighting.
Main features
Produces 960 Lumen
Last for 50,000 hours
Heat dissipation
Adjustable track lighting heads
Compatible with 1-40W bulbs
Comes with GU10 LED Bulbs
Pros
Suitable for many spaces such as kitchen, dining room, hallway, etc.
Energy saving
ultra-modern design
affordable
Long lifespam
Cons

This product comes as a result of the latest innovation done to enhance the comforts of a pendant lighting system. In like manner, it presents as the best practical solution for meeting the illumination needs of your living room.
This product offers very beautiful 4 pendant crystal lights that give a warm feel. For the best result, it is recommended that you use four 40W max G9 light bulbs or equivalent in LED bulbs. It is simple to install. So, you can buy as many and push them up into different rooms to get the same feel of radiance.
The product delivers well in the functionality of its features. Moreover, you can trust the reliability of the products even for their very low price. Although the product stands out as a king when it comes to illuminating your living room stylishly, you can also use it in other environments.
It might interest you to know that this product stands different inbuilt and functionality from the typical pendant track lighting system. So, the look and its amazing features come unique for your satisfying pleasure.
One major setback of this product is that the switch installation type is ceiling only.
Main features
Crystal, Metal, and chrome materials
Comes as four pendant lights
Supports LED lights or 4 40W max G9 bulbs
Track heads flexibility
Features complete mounting hardware
Pros
Suitable for various spaces
Elegant design for any décor
Saves energy with LED light bulbs
Cons
The switch installation type is ceiling only.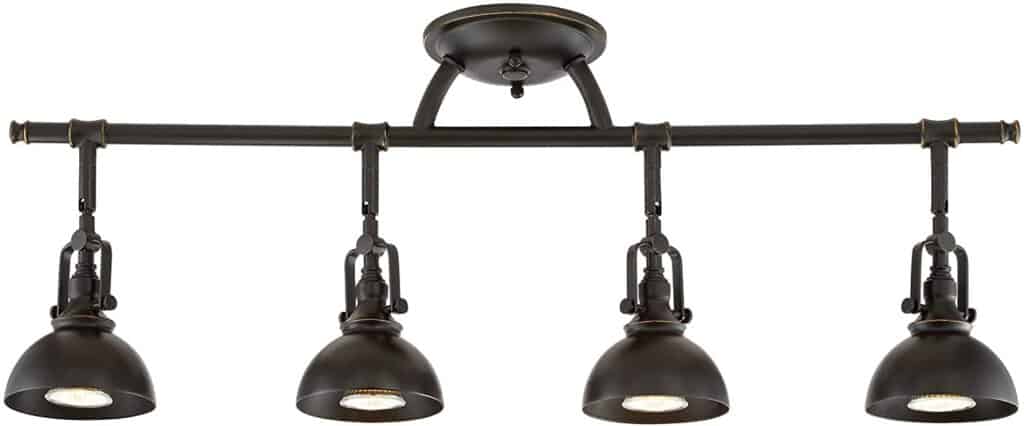 People do not just sit in the living room as motionless molded images. This is why you should consider the various activities held in the living room when choosing a lighting system. The Kira Home 4-Light comes in handy as a perfect choice for brightening up your living room either for relaxation, reading, or other activities. The product goes well for both wall and ceiling installation.
The rustic look of this track lighting system projects the kind of feel you get in the countryside, feeling at home with great comforts in your living room. The flexibility of the adjustable heads, combined with the possibility of mounting the product on the wall or ceiling, enables you to create your style.
Each adjustable head is a beautiful hand-painted gold trim that presents a decorative, industrial piece of work. The price of the product is amazingly low. Good enough, the price and the high profile of the architectural design do not affect the quality in any way.
You can customize the focus of the light heads to any area of your choice in the living room, such as a painting, photo, wall. So it's also a great product for a studio, wall art gallery, and many more. It is also perfect for illuminating your kitchen, an island or sink, bedrooms for specific tasks in an office.
The setback of this product pack is that the bulbs are sold separately.
Main features
Flexible Adjustable heads
Meets ETL Safety standards
Offers very bright lights
50W GU10 bulbs
Compatible with CFL 50W bulbs
Pros
Wide Application for many spaces
Easy to install as a DIY
Support various bulbs including LED for energy saving
Cons
Bulbs are sold separately.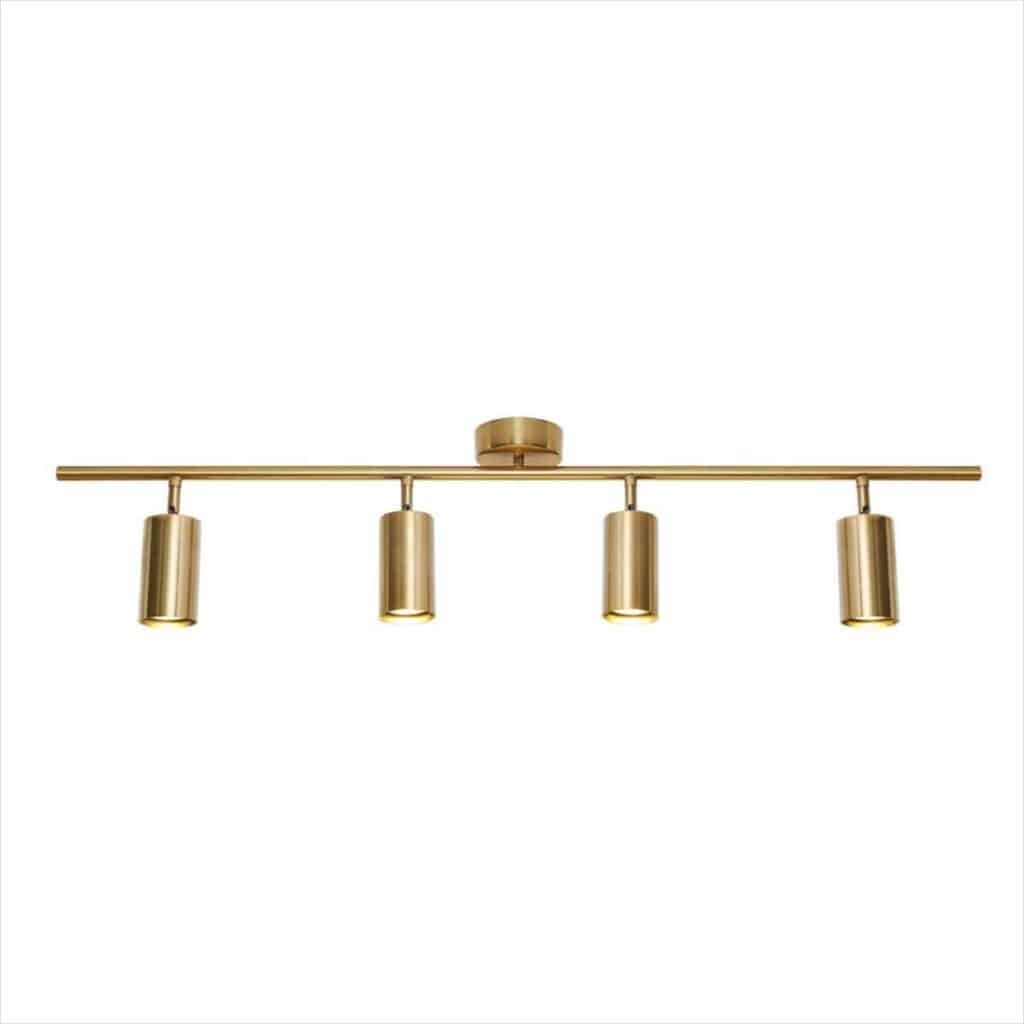 This product comes in a traditional design format with great flexibility in adjustments. So, apart from the amazing functionality and modern artistic build, you can customize it to your taste. Adjusting the heads is very easy because of its ability to rotate flexibly. So, you can set the angle to direct the light beams to illuminate any area you so desire.
The application of the product goes beyond the living room. It is also very cool with illuminating the bathroom, bedroom, kitchen, etc. The product is nice looking and presents the feel of good lighting blends in any environment it is used.
Also, KCO is very easy to install because it comes with all the hardware and the user manual containing the installation instruction. No doubt, you can count on the reliability of the product's functionality and durability.
The setback of the product is that it's not compatible with multiple styles of bulbs. You must use the. E26 and must be higher than 40W Max.
Main features
Energy Saving
Adjustable heads
Versatile
UL certified
50W GU10 bulbs Compatible with LED or CFL 50W bulbs
Pros
Wide Application for multiple spaces
Can lighten up selected spaces.'
Comes with installation hardware
Cons
Compatible with E26 (40W Max) only
Not dimmable

The fascinating look and comfort of being able to fold this product to accommodate your customizing needs is a plus to its build. Additionally, you can adjust the 6 heads that come with the product independently, giving you the freedom to push your customization to the next level.
This product comes in handy when the need to light up your living room, bathroom, kitchen, bedroom, and other areas arise. The product comes with all the mounting hardware, and this makes it very easy to install.
The sweet dimming capability of the product gives a very beautiful atmospheric feeling when you utilize that feature. All the dimmable bulbs that come with the product at the purchase point comprise 465 lumens on a lifespan of 3,000 hours.
You may need to have a closer look at the performance of the bulbs that come with the product. They are not actually energy efficient when it comes to energy-saving and cutting down your electricity bill. Furthermore, halogen bulbs are known to produce more heat than LED bulbs.
Good enough, the product is compatible with other types of bulbs. So you can easily replace the bulbs that come with the product with LED bulbs.
One major setback is the fact the bulbs that come with the product are not energy efficient.
Main features
Dimmable
6 Tracks heads (Adjustable)
Supports LED bulbs
Produces 465 lumens
Lasts for 3000 hours
Pros
Lightens up multiple spaces
Saves energy
Cons
The bulbs that come with the product are halogen and not energy efficient.
Can be dangerous to install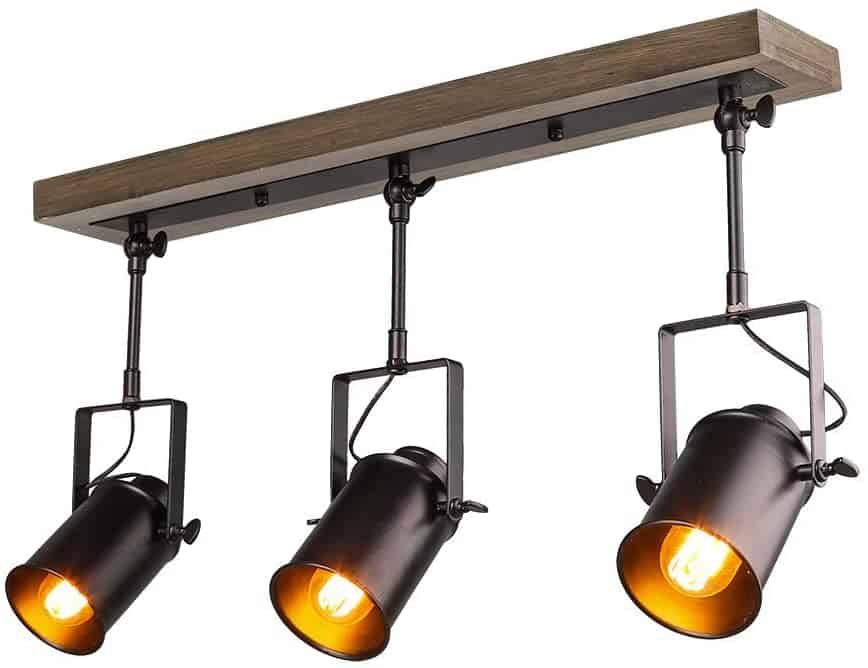 This product is the perfect solution for the desire of farmhouse owners. It combines the features of reliable functionality with the replication of the elegance found in normal American homes. The craftsmanship behind the product proves its efficiency.
LNC Adjustable Track Lighting is the product that gives blends to the combination of a farmhouse feel, convenience, and unplanned living. In addition, the product has excellent heat dissipation, which keeps the lights from experiencing overheating.
Each of the track heads rotates, and it allows you to have it on the ceiling to achieve an amazing ambient in any of the application areas. This product is superior in quality and has a rustic tendency in its look for a feel of a country home environment.
The dimension of the product makes it a perfect fit for any room. It comes in the measurement of 24 4/5" in length by 4 7/10" in width by 15 3/10'' in height. This, of course, makes it a perfect fit for any room.
This beautiful track light comes pre-assembled, which makes it very easy to install. In addition, the durability of the product is not questionable because it is made of premium materials and certified copper cords. So, you have no fear of fire outbreaks from normal usage.
The setback of this product is that it's for Indoor use only.
Main features
Dimmable
Adjustable track heads
Meets UL Standards
Supports CFL bulbs, vintage filament, LED, and incandescent bulbs
Pros
Wide application
Pre-assembled for quick and easy installation
Compatible with multiple bulbs
Cons
Installation can be tricky.
What you need to consider before choosing a track light for the living room
Most lighting tracks are industry standard. However, non-standard tracks may fluctuate in terms of quality service delivery when the heads are fixed. So, you need to look well or allow a professional to support you in your buying choice.
The application of the product is the main thing that decides which style of track lighting you should buy. You should know whether your location requires a ceiling or wall mount. The area you intend to light up is also important. The tracking light that fits best for a high-end store may not be too good for the living room.
It will be a pain in the ass if, after buying a track lighting system, you cannot make any adjustment after installation. For example, if you want one track lighting system to spotlight different points, then the product that allows you to rotate the track heads individually is your call.
Not all track lighting systems have the feature of dim. So, ensure that you know your need and go for the right product. Dimmable lights create a cool and calm atmosphere and are versatile for multiple places.
FAQ:
Is track lighting good for the living room?
Track lighting is a great choice for the living room. It has an open floor design. For the choice, you can go for track heads to accent the lighting point. But for ambient illumination, pendant track lighting is the best.
How bright should a living room light be?
A popular recommendation is that ambient lighting for a living room should not be more than 1,500-3,000 lumens. For reading, the illumination is best at 400 lumens.
Related Articles:
Best track lighting for vaulted ceiling
Best track lighting for kitchen
Best track lighting for basement