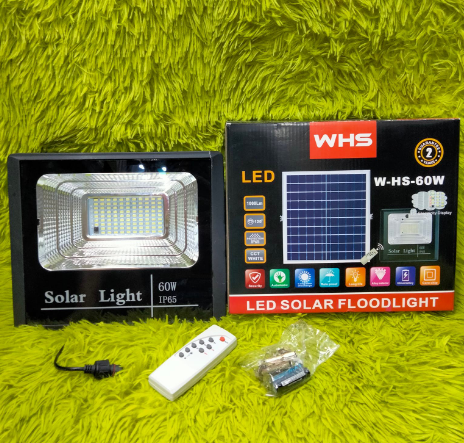 Whether it is a regular floodlight for illuminating the wide outdoor area, or security floodlight to protect you from unwanted visitors, or a landscape floodlight, you must want to control it from your comfort zone. The remote control floodlight allows you to control the floodlights remotely instead of walking to the switches all the time. With that feature, you can switch off the floods when not in use to conserve energy or you can switch it on when you need to from a remote distance.
So, this article will guide you to select the best remote control floodlight. We have reviewed the 8 best remote control flood lights whether it is a security floodlight or regular floodlight based on a lot of research and users' opinions.
Read on to know why they are the best!
8 Best Remote Control Flood Lights Review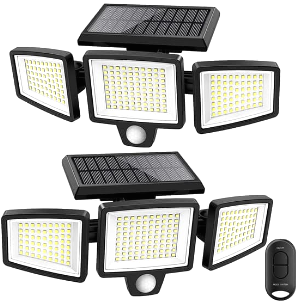 If you are looking for a solar security floodlight with remote control, you can give this light a go. this remote control security floodlight comes with 3 light heads with a motion sensor. This 210-led bread light produces 2500 lumens which are bright enough to keep your outdoor secure.
The 270-degree beam angle covers a very wide area to give maximum security to your surroundings with bright illumination. Also, the 6500k color temperature is suitable to give your outdoor cool white daylight illumination at night.
Taking about remote control, you can switch on/ off the light using the remote. Additionally, this light comes with 3 modes and you can switch each of them using the remote control. Mode 1 is a usual motion sensor light mode, it will turn on if detect any motion and turn off if the motion stops. In the 2nd mode, the light will turn on when it detects any motion and switch to dim when the motion is left, and finally, the 3rd mode is a strong long light mode where the light will turn on at full brightness for 4 hours and will automatically switch to mode 1 after 4 hours passed.
The 2200 mAh lithium-ion battery is powerful enough to give you security and brightness throughout the night. But the solar panel must need to get most of the direct sunlight in the day to be long-lasting at night.
Additionally, it comes with IP 65 rating and is built with ABS materials which indicated that it is waterproof and dustproof and can face outdoor extreme weather of any season. The heat-resistant technology keeps the battery cool for long-lasting.
The installation is not complicated either. You can easily install it into the wall with the buckle. Just need to screw the buckle into the wall and screw the light in the buckle.
However, one user said that the light isn't fully waterproof as it got water after using it for a couple of months. Also, a user has faced a problem because of the strong sensitivity of the motion sensor. He claims it even detects the vehicles from the nearest streets. Lastly, you cannot adjust the motion detection range and sensitivity.
Main Features:
Remote control
All-weather resistant
2200 mAh Long-lasting battery
2500lm
6500k
PIR motion inductor
270 degreeWide-angle illumination
A 3-head light construction
solar powered
3 different modes
Pros:
bright lights
Easy installation
Multiple application
Excellent heat dissipation
Offers extra visible areas
Rotatable to any angle of your choice
Cons:
Non-adjustable motion detection range and sensitivity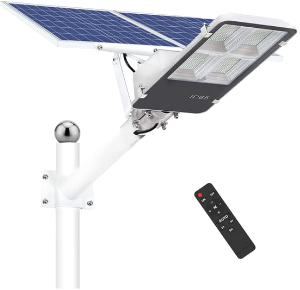 If you are searching for a floodlight to illuminate the streets around you, check the WERISE 300W Solar Streets Light. The light features 234pcs superior quality LED beads and delivers a maximum of 12,000lm brightness. It is the best light you can use to illuminate wider outdoor areas for security purposes.
With highly structured solar panels, its lithium-ion battery only needs about 6 to 8 hours of high sunlight for it to recharge.Once the 48,000 mAh battery recharges fully, it can operate for 11 hours, even at its brightest setting. It can even last for 36 hours when you set it on a dimmer setting.
WERISE streets light functions with a light sensor. It can turn on the lights at dusk and switch it off again in the morning. Moreover, theremote control enables you to switch on or off the lights and also adjust the brightness.In addition, it comes with the waterproof rating of IP65 that certifies its suitability for outdoor usage.
You can install this product using the accessories in the package. Many customers commend the installation accessories, specifically the mounting screws that come with the light. Also, they love the ease of adjusting the brightness using the remote controller. But the major setback of this light is that the remote control is not very durable, and there's no motion sensor like the one in ATUPEN 210 LED. Moreover, installation can be a bit tricky for a DIYer.
Main Features:
Remote Control
Generates 6500k daylight white light
Excellent heat dissipation
Cordless
2-method mounting
One major sleep mode
Set of assembling accessories
IP65 waterproof rating
Programmable
Pros:
Operates on big-capacity battery
Very bright and powerful
Automatic operation
Easy to install
No maintenance or wiring required
Operates from dusk till dawn
Cons:
Low-quality remote control
The price is a bit on the high side
Without motion sensor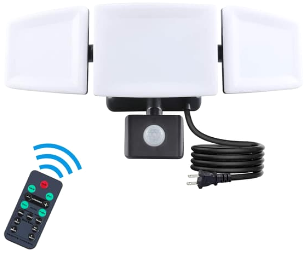 If you looking for a remote control plugin security floodlight, this light is a good option. Unlike the first light, this light is powered by the plugin. So you don't need to worry about a lack of energy.
Also, the 35w floodlight produces 3500 lumens which is much brighter than the first light. The 5000k temperature is perfect for outdoor lighting. Like the first light, this also comes with 3 light heads and motion sensors with 3 different lighting modes. Although it has high brightness, it can saves energy up to 85% compared to traditional incandescent bulbs.
The remote control gives you a variety of control features like dimmable, dusk to dawn, mode changing, motion sensor detection range, constant lighting mode, etc. It works at a maximum of 26 feet distance. You can switch to 3 different modes like motion sensor, dusk to dawn, or constant light on with the remote. You can dim the light and change the mode accordingly with the remote to save energy. Basically, you can control everything with the remote.
The auto motion sensor mode can be set in 2 different ways by the remote. If you set the auto day option in the remote it will detect motion throughout the day and if you select auto night, it will detect throughout the night. Surprisingly, there are 4 different holding time options for motion sensor light from 5 seconds to 5 minutes.
Additionally, features like adjustable lighting head up to 90 degrees and 270-degree beam angle make this light very useful and versatile as an outdoor security light. The IP 65 rating ensures that this light will sustain in all kinds of environments.
With all the amazing features it gives by remote control, this light is surely one of the most versatile options available. Features like holding timer, auto motion sensor, 100% dimmable give all the control and adjustment.
Finally, this light is great with so many amazing features with remote control. But has a few drawbacks as well. the remote control technology is infrared. This kind of remote control doesn't work in any obstacles. So you can't control light with remote from inside of your home. As there can't be anything between the remote control and the light.
Main Features
Motion sensor
Adjustable head
IP65 waterproof rating
Humanized remote control
Wide range of remote control setting
5000k color temperature
Pros:
very versatile
Easy installation
Offers convenience with the remote control
Dimmable
Energy saving
Cons: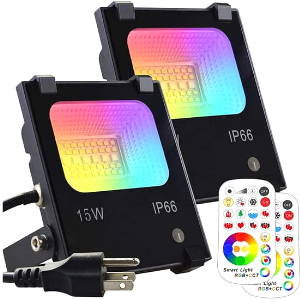 The MELPO 15W LED Flood Light comes with an adjustable color temperature. That feature can provide the versatile lighting you need for Christmas or Halloween decorations. Moreover, the 120 color options ensure that it suits every situation. In addition, the light can adjust from 2800k to 6500k, and you can dim it to the temperature you need.
Also, this color-changing light has 4 different modes, including the smooth mode, flash mode, fade mode, and strobe mode, respectively. With these modes, you can adjust the recurrence of the color changes.
The IP66 waterproof rating means that you can use the light outdoors as well as indoors. Therefore, it is good for when hosting a birthday party, landscape lighting, nighttime barbeque, stage lighting, garden lighting, etc. Another commendable thing is the memory function which ensures that your light color stays the same as the last color you set when you switch it on again.
The housing construction comes from superior quality aluminum. As a result, it is durable and offers maximum heat dissipation. Unlike the previous products, which were only 16 colors, this particular edition offers 120RGB colors options. At least, you will not have to worry about not getting your favorite color choice.
According to many users, this product is very affordable, beautiful to look at, and operates efficiently.With just 3 of these lights, you can illuminate your entire house. Also, customers commend the different color spectrum that they can choose from.
There is no contrary view to this product yet.
Main Features:
Memory function
2700k to 6500k adjustable color temperature
IP65 waterproof rating
6 storage buttons
4 flash modes
120 RGB color options
Dimmable
For outdoor and indoor usage
Pros:
Very affordable
Produces higher brightness
Very easy to mount
Remote icons are unique
Customizable lights
Cons: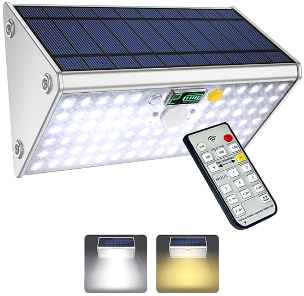 The SLARR remote control solar security floodlight has some amazing features to be on this list. Because of those features not only you can use this light as an outdoor security floodlight, but also as a pathway, garage, camping, patio, etc light as well.
It comes with 208 led and produces 1700 lumens. The 208 led is bright enough to make your outdoor visible like daylight. The biggest positive of this light is its battery life. It has a big 20,000 mAh battery which is much bigger compared to any solar security floodlights. So it has solved the biggest worry of solar-powered light, as solar-powered lights often fall short in energy. If you use this light in intelligent mode, it will run up to 2-3 days with a full charge.
You can control almost everything with the remote control. It has 3 different color temperatures for different requirements and you can change them with the remote control. Also, it comes with 6 different modes and you can pick, switch anyone of them at any time with the remote control. The 6 different modes consist of the motion sensor and different lighting modes. the motion sensor detects motion at a maximum of 180 degrees and at a distance of 20 feet.
Additionally, as a dusk to dawn light, it will automatically turn on at night and off at day. the light is made of premium quality aluminum and IP 65 rated so there is no issue with using it in different weather like rain or snow.
One of the coolest things is it comes with a digital display where you can check the battery level and current lighting mode. It also gives battery indicated while changing. Lastly, the installation can't be easier or simpler. You can either install it in a fixed way or a portable way. It comes with a hanger and you simply can attach the hanger at the back of the light and install it anywhere as a portable light. or you can install it into the wall with the provided screw and hang with it.
Despite all the qualities, few users complain that it failed suddenly after working properly for some days. But those are rare occasions. But another issue is infrared remote control
Main Features
Aluminum weatherproof superior design
IP65 weatherproof
Maximum battery capacity
Wide-angle motion sensor
3 different color temperature
Remote control
Installation guide with 2 screws
6 different operating modes
Pros:
Constructed for various applications
Flexible color temperature
Wiring not needed
Excellent illumination
Easy installation
Very long battery life
Cons: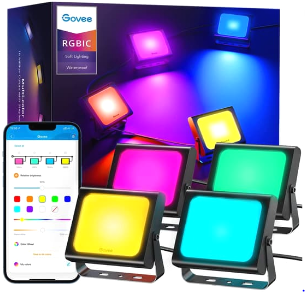 Govee Flood Lights, with smart app control through Bluetooth or Wi-Fi, can fit the bill if you love smart applications. This outdoor flood light integrates Google Assistant or Alexa for hands-free voice control.
The light is also dimmable, and you can use the Govee Home application to select and adjust the brightness of over 16 million colors on the light. You can set this brightness from 1% – 100% from 2700k to 6500k cool /warm white color options.
It features a DIY mode to enable more customizations and allows for group control. So, you can switch off and on this light via the Home Application to pair the lights then use the group control attribute.
There is also a scheduling feature on its Home Application to fix the time for the floodlight to switch on and off. There is also a provision for you to set multiple timers at a go to save your time. It also has a timer, a music sync feature, and a high-sensitivity mic to brighten up the mood.
With the IP66 waterproof rating, this amazing light can withstand extremely harsh weather conditions. This Wi-Fi flood light offers a steady performance in winter chills or summer heat. According to many users, the light is colorful, very bright, and easy to set up. Overall performance is excellent.
The main drawback to this light is the power adapter. In addition, the design is poor, and it isn't waterproof. Besides, the deepness is too steep to fit well in an enclosed, element-protected box.
Main Features:
IP66 waterproof
App control
Scheduling feature
DIY mode and Group control
28 scene effects
Timer and music sync
Pros:
Very easy to setup
Multiple color display
Very bright
Dimmable lights
Cons:
The power adapter isn't waterproof
No wall fittings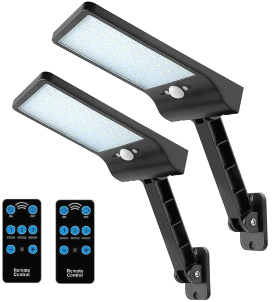 Auzev 2 pack remote solar lights can brighten your garden, park, courtyard, patio, and deck road. It is a battery-powered light with a 3 light mode remote control. The first mode is the Dim light mode plus motion sensor to provide strong brightness. This light maintains dim brightness when there're no persons around. But when people come by, it becomes brighter. You can simply adjust the light by pressing the plus or minus feature on your remote control.
The 2nd mode is the no light plus motion sensor powerful bright light. When it is dark, this light will still remain dark if people don't come close to it. But it shines brightly when people come near. The light switches off after people leave the sensor area. The 3rd mode is brightness at all times. Once everywhere darkens, the light will maintain brightness until it automatically turns itself off. The brightness is also adjustable through the remote.
You can also use the remote control to switch this floodlight ON or off and to choose various modes that will suit your specific requirements. Its solar panel is wider, including a built-in 56 high-bright white LED lights which is more than the others of its category. Its light production is more than 800 lumens for ultra-high illumination and security for your pathway, garage, parking lot, garden, etc.
With a 180-degrees motion angle, it is easy to adjust its solar panel to gain appropriate daylight exposure.The construction comes from superior-quality ABS and PC material. It is heatproof, and the IP65 waterproof rating ensures maximum protection for the circuit and the rechargeable battery. Moreover, it can stand up to extremely harsh weather conditions like; frost, blizzards, or everyday heat for a long time.
You can conveniently install this solar flood light directly on your wall thanks to the rotatable fittings, screws, and multi-angle mounting accessories. Do not forget to bring out the translucent insulation sheet before using the remote control.
According to many customers, 3 different light modes functions perfectly. Also, they love the wider coverage of the light. The main downside is the remote control. It is a bit difficult to operate. Also, a customer says that the light died after 2 weeks of operation, indicating that the construction quality is cheap
Main Features:
Adjustable bracket design
Waterproof and all-weather compatible
Remote controlled and 3 light modes
Wide application
Motion sensor
Pros:
Super bright
Ideal for security lights
Simple installation
Very sensitive motion sensor
Great lights for the outdoors
Cons:
Short timer
Remote control is not that easy to use
Low-quality plastic construction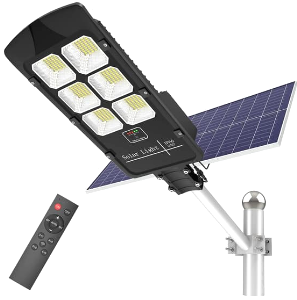 This remote control floodlighting comes with a motion sensor and can operate from sunset to sunrise. You can use it as solar pool lighting, solar park lighting, solar street lighting, etc., meaning that it has a larger area of application. With the 792 LEDs, it can shine enough bright lights to illuminate your swimming pool or entire barn.
It can produce 6500k daylight white light since it is furnished with 792pcs superior quality LED beads. Also, it can run for 50,000 hours lifespan thanks to the 3.2v-54Ah battery.Its waterproof grade is IP66; it is dustproof and anti-surge plus efficient heat dissipation.This means that it can perform effectively even during the worst weather conditions throughout the entire year.
Due to the remote control and multiple modes feature, you can control the lights from far distances. It has the motion sensor mode, timing mode, consistent light mode, constant light plus motion sensor mode to simplify usage. Moreover, this light can produce 30% brightness when there is no detection of any object. However, if it detects any slight object movement, it will flash 100% brightness.
Also, there's an upgraded PIR receiver and charging indicator which continuously flashes during charging. It can charge 20% quicker than all the other street floodlights. It features a 21 inch PV solar panel with a conversion rate of about 20%.
Moreover, the installation is a breeze thanks to the available assembling accessories unit. You can comfortably set it up on the wall, balcony, tree, pole, or any location outdoors with them. It doesn't need any wiring or maintenance.That's why customers use it for roads and streets, courtyards, private gardens, squares, and parks lighting.
According to users, the light is actually waterproof. It shines brightly after charging under the sun for a day. It is simple to set up and lightweight. Another customer mentioned that it could charge even when the weather is cloudy. Even it doesn't need to be directly under sunlight to charge like other solar lights.
Moreover, it only uses half of the battery power for the entire night. So the only challenge this light has is that some lights die off after a short period. But those that work actually perform efficiently.
Main Features:
Powered by solar
Quick working motion sensor
PIR receiver and charging indicator
IP66 waterproof rating
6500k cool white color temperature
600W power
Pros:
Energy saving
Excellent safety protection and security lights
20% fast charging than others
Resistant to harsh weather
Waterproof
Very bright
Good quality construction
Cons:
Some of the lights tend to default after a short time.
Things to Consider While Buying A Remote Control Floodlight
It is important to inspect the remote control casing for its construction quality thoroughly. The quality should be very superior to stand up to any weather condition. If the remote casing is waterproof, that will be an added advantage.
You should also check the light output of the floodlight you want to buy. If the lights are set up outdoors, their light output should be around 2000 lumens or more for broader coverage. If the light is for indoors, the light output should be lower or dimmable.
The remote control is actually the vital part of a remote control floodlight. How the remote control functions will assist you in determining the convenience. You should check for remote control with a range of 4 – 5 meters. If the remote control range is higher, it is a plus factor. Also, the remote should control all the functions of the floodlight.
Since you may not always need one particular illumination, it is essential to check for the modes provided. At times,you may require half illumination. Also, you may need a timer function for some cases. So you must inspect the remote control for the modes it offers before you buy.
FAQ:
What are the advantages of using remote control floodlights?
Using a remote control to manage your outside flood light offers convenience. This means that you can be in charge of your lights no matter wherever you are around your home. It brings comfort, and you can even quickly switch off your lights when they are not being used to minimize energy consumption. Or you can switch it on when required. Basically, it gives you the privilege to control your floodlight from your comfort zone rather than reaching the conventional switch
What is the maximum distance flood lights remote cover?
The maximum distance a floodlight remote control can cover depends on its brand. Some brands can cover about 65-feet, 266-feet, and much more. However, any remote you choose should be able to control your floodlight from anywhere around your home. So it is important to inspect the highest range of remote control before buying anyone.
What to do if the floodlight remote stop working?
Normally, even though a remote control floodlight comes with remote control, it will still have other ways of controlling it without a remote. So if your floodlight remote control stops working, you can always revert to the other methods. For instance, use the conventional switches if your remote control stops working. But, your remote control may need to change the keypad or check whether the battery needs changing. After checking and fixing these things, your remote might start functioning again.