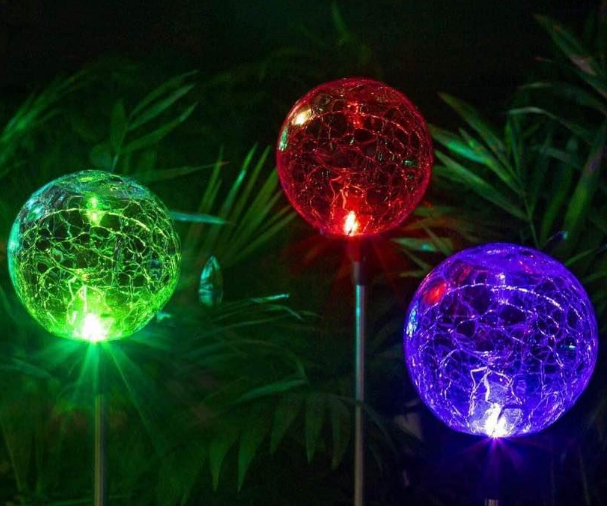 Color-changing light is one of the big trends in landscape lighting in recent times. It creates a beautiful ambiance in your garden and makes your special events more colorful. Nowadays, most manufacturers produce color-changing light. But if you want good quality, don't go for the cheap price. The cheap color-changing lights do not last long. More importantly, all of your landscape lights should not be color-changing lights. That will be an excess doing. If you have 20 landscape lights, 5 -8 of them can be color-changing lights.
A good color-changing landscape light should be high lumen, bright, vibrant and they should have good quality distinction among colors.
Review of 6 best Color-changing Landscape Lights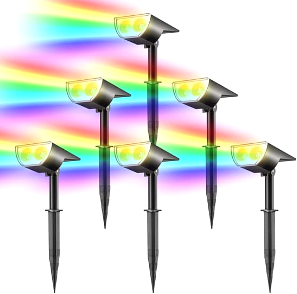 Key specifications
IP67 ratings
7 fixed and 1 auto changing color.
Solar-powered
Adjustable solar panel
2 way instalation
Do you have lots of trees in your garden or backyard? Are you looking for some solar-powered color-changing spotlights to lighten up those trees? If so, this Linkind solar-powered color-changing spotlight is the right choice for you.
In terms of being color-changing light, it has 7 different colors. All of them are pretty bright and smooth. Also with a back button, you can change the color easily both in a dynamic and static way. Also, they have clear contrast among colors. You can really separate the color and identify each color properly.
I have had a good experience with these spotlights. I am very happy with the brightness of these lights. As compact solar lights, they are much brighter compared with other solar spotlights from different brands.
One of the biggest benefits is the easiest installation possible. It can't be much easier. Also, you can install it both in the ground with a stick for using it as a landscape light or even attach it to the wall as a wall light. I have tried both and they work really well.
The biggest drawback is as they are solar-powered lights; you need to keep that at least 6 hours under the proper sun to use it for 4-6 hours. In cloudy weather where the sun has not come properly, you may end up getting 2-3 hours. In low light, you will get a much longer life but lowlight may not be enough for you. Also, you need to make sure that these lights are being installed under the different sunlight without any obstacles.
One user says "These lights only work for about 2 hours if it was cloudy or if they don't get 6+ hours of sun."
One of the coolest features I find very useful is the automatic dusk to dawn technology. So I never need to turn it on or off when it is evening or morning. It works very smoothly.
These lights have some more amazing features as well. For example, you can adjust the head 90 degrees vertically and 180 degrees horizontally. That means these lights have been designed for both landscapes lighting as well as wall lighting.
Finally, these lights come in ip67 rated which is very important for outdoor lighting. So you can stay confident whether it is winter, summer, or rainy seasons. Also, these lights look quite premium with a strong body. Overall, in terms of brightness, built quality, and price there is no better option than these color-changing spotlights.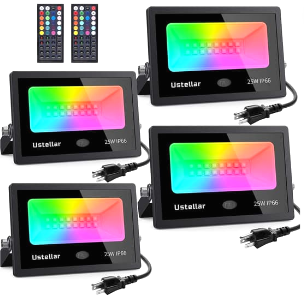 When you need to illuminate a wider outdoor area with color-changing floodlights, these color-changing remote control floodlight from Ustellar is a good bet. These lights are really versatile. You can use them in a wide range of lighting requirements for both indoor and outdoor. Being a floodlight, it can spread colorful lights across a large area and can serve various needs like parties, Christmas lighting, and other social gatherings.
You can beautify your patio and other places using the remote control to set 1000 different colors. Also, there are 20 present colors with six different moods of color for different uses such as flash, smooth, strobe, or fade. More importantly, you can do all of these with the 44 key remote control. These lights are very bright and vibrant. You can use them both indoor and outdoor in various ways. Like stage light, strobe light, wedding light, festival light, landscape, and many more.
You can mount them on the wall as an outdoor floodlight, Christmas and Halloween lights use them as indoor party lights, use stages as flashlights, etc.
Additionally, these lights are dimmable, so you can reduce their brightness easily with the remote, and save some energy. You literally can impress your neighbors and guests with these lights. They will create a whole different beautiful and colorful environment both inside and outside.
Here's what a user said about the light:
Ustellar has never let me down. I have all Ustellar lights in my yard. I love how I can change the color, brightness, and set a timer.
We also love the IP ratings of IP66, meaning that dust won't damage it, and it can withstand powerful water jets but not immersion. So, don't fix it in the ground where it will be immersed in water if you must use it for uplighting. The memory function and timing setup work properly. you can easily set time for sitch off the lights.
The lights look very sturdy and well built with good aluminum housing. But however, with lots of amazing things, these lights do also have some drawbacks.
These lights do not have any stakes to mount them on. Also, the cord length is not as long as advertised. The manufacturer claims the cord is 59 inches but actually, it is 36 inches. A user also complains that the remote control isn't working properly with all 4 lights and stopped working totally on 2 lights. Also, there is a complaint about the difficulty for color changing with remote and the light fixed with one color like red or green or blue and can't change from there. But these are very rare cases.
Product Specifications
Versatile uses for both indoor and outdoor
IP66 waterproof rating
1000 DIY colors
44 keys remote controls
2 years warrenty
Memory function and timmer setting
Also read: 8 Best battery operated outdoor floodlights Review
If you are looking for colorful pathway lights, these BEAU JARDIN color-changing solar pathway light is the right choice for you. Not just pathways, you can use these lights in any outdoor location like backyard, garden driveway, etc to increase the aesthetic colorful beauty. . They have 7 different colors and all of them are very bright and vibrant. The setting of different colors is very easy, you can both set only 1 color or in an auto, color-changing mood with sliding on the tops.
If you slide the switch to the right, the auto color changing will be off and the current color will be set permanently. If you want to auto color-changing mood, slide the switch middle. These color-changing lights can really give your outdoor a heaven look. The color-changing patterns are very beautiful. they work totally fine. Also, the hexagonal diamond shape design on the glass makes the lights even more graceful and aesthetic.
Additionally, these lights are solar powered so no electricity bill. And more importantly, they come with dusk to dawn features, so you don't need to take the hassle of switching off and on day and night.
This is what a user said about these solar color-changing lights:
I love my solar lights from BEAU JARDIN. The installation was easy; the lights are well-built and very sturdy. I also applaud how I can change the colors. I used green and red for Christmas, Pink, and Red for my Valentine's Day decoration, and I'll use green for St. Patrick's Day. For July 4th, I will use blue, red, and white.
I love that the lights come assembled and ready to install into the ground. Once you bring it out, simply push the spike into the ground, and that's it. There are no cords to struggle with, and there's no need for additional tools.
Considering the waterproof rating, we discovered it offers IP65 level, which means that dust and jets of water won't damage the lights. The watertight glass with stainless steel combined design feels solid built and appealing. The plastic spikes aren't too bad either.
But even with all those positives, there are some complaints as well. Few users told that they don't last full night, and only runs 3-4 hours." But this can be a reason for inadequate direct sunlight. Also, a user mentioned, after changing the batteries he is getting better runtime. He mentions these lights are giving now more than 10+ hours regularly.
Product Specifications
6500K color
Dusk to dawn
IP65 rating
7 auto interchanging colors
Solar powered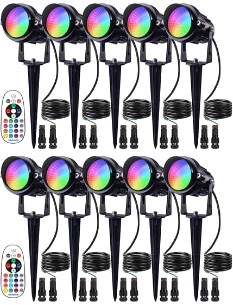 Here is another spotlight to brighten your landscape at night. These SUNVIE lights are not solar powered as the 1st one. One of the major highlights is these lights are remote control. You can easily change the 16 different colors along with 4 different modes with the remote control. There is two remote control that can work even at a 50 feet distance. When we compared this feature to other brands, we found that others are at 15 or 20 feet. Moreover, the brightness of these lights is dimmable with the remote control and you can always get the previous color setup with the memory function.
These lights are fairly bright, the colors are beautiful and there are clear differences among colors. the color changing is amazing. I love the color and intensity of these lights. So, when you want the colors of the plants and trees outdoors to be real, this product does that well.
Finally, I have found a metal build landscape light. These lights are built with metal, not from plastic. So they are well built, durable, and sturdy. The wiring is also very solid. So these lights are ready to face extreme outdoor weather.
Moreover, the light offers 900 lumens signifying a brighter output anywhere you direct them. As outdoor lights, obviously they come weather and dustproof as rated IP65, but one user complained that he find moisture behind the glass 2 weeks after the installation.
There is a 2-way installation available. Also, you can install these lights into the ground or mount them on the walls outdoors. So, that means they can serve as uplights too.
First, you must always cut off the power before connecting to avoid shock. These landscape lights come with wire connectors which is very good and appreciatable compared to other brands that sell them separately. Also, the brackets are soft and can be bent easily. So, dig holes on the ground before using or soften the soil before fixing. Another issue is that the remote affects other lights even when you only need to change color in one of them if the distance is less than 10 feel between lights.
Few users complain that these lights won't be 12W for real, but comparing other brands RGB these are decent bright than them.
They come at a much more affordable price as well considering they come with wire connectors. The allen wrench and hardware bring more value. And the customer service is also very good.
Product Specifications
900 lumens
Two RF remote controls
50,000 hours
16 interchanging colors
4 modes
IP65 rating
2-way installation
12W
Aluminum frame
\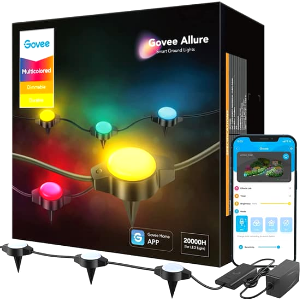 If you want to install smart colorful landscape ground lighting which doesn't require handling any switch or remote, I will recommend Govee outdoor smart RGBICW ground light. These lights are very versatile with a lot of exciting features. You can set a different color for each light. So that will just give your pathway, garden, landscape, etc a very colorful and ultimate look.
I love that this light integrates smart features that allow for both app control and voice control. These lights work with the own brand's app Govee Homme App and you can control these lights with voice controllers like Google Assistant and Alexa.
You can use Bluetooth or Wi-Fi to manipulate the lights via the Home app on your device. With your voice, you can execute simple actions on the light. You can also download the app and operate the lights within a smartphone. So you can do everything with these smart features. For example, you can set the timer to schedule the lights, and rest assured. You can set your own DIY moving sense from unlimited colors with different effects. Also, there are already 43 present scenes options for you to choose from.
Another fun feature is you can set the lights with your music bits so that the lights dance with the music. People love this feature and one of your users is getting so many compliments from the guest and neighbors for this.
The lights can withstand environmental elements like dust and water, given that it is IP67 rated for water immersion for 15cm and 1m. But note that you mustn't allow the power adapter to be touched by water to prevent electric shock. Thankfully, you can even dim the lights from 1%-100% to save power consumption and set the brightness as the requirement.
The installation can't be more simple. Just attach the stakes with the connector side of the lights and push in the ground. Lastly, connect the power adopter to the plug-in.
Each of the packs comes with 15 lights that stay 22.5 inches apart. So totally, the lights cover 26 feet in length and emit encouraging bright lights. I also love that the installation is not technical since you only need to stake the lights and connect to a power source. Moreover, the wires are thick enough to last long even though they're on the ground.
One thing is very true that these lights are not super bright. You can't change floodlight or spotlight or even outdoor lamp with these lights. these lights won't give that much lumination. Also, the build quality is debatable and the price is not very cheap. More importantly, you can't connect to power outside as the plug isn't waterproof. So it reduces your range to use these lights.
After considering everything, these lights are still one of the best smart landscape lights out there.
Product specifications
App and voice control
Google Assistant and Alexa
Wi-Fi and Bluetooth Control
millions of colors
1.5-watt electricity
Dimmable and adjustable
IP67 rating
Supports music syncing
Timer settings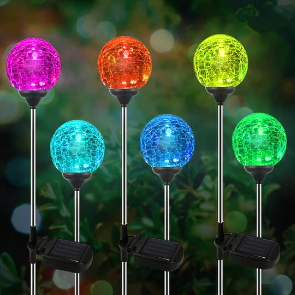 These auto color-changing solar globe lights from OXYLED can make your outdoor landscape a colorful world. The cracked glass globe design makes the lighting even more bright and delightful. They can serve as your patio, driveway, backyard, fence, walkway light, etc. in any outdoor place. The best part is that the light is a Dusk-to-Dawn light that comes up during the night and goes off during the day. That means you don't have to do anything after installation. The light comes On and goes Off without your efforts.
Those globes are a bit small but these lights are bright enough to give you the colorful outdoor ambiance. Another aspect I love so much is that the colors change on their own. These lights have 8 different colors and they one after another automatically. So, you don't have to do anything at all like pressing a remote control or voice command. Once the 600mAh batteries are fully charged, they can last for 8 hours into the night, even while you sleep. Also, there's no damage from jets of water given the IP65 waterproof ratings.
The installation is also not complicated as there is no wirework. Anyone can install the lights. You can also adjust them to any direction you need. The globes are made of glass, but you can even use the light with another existing globe if you have an old one.
However, the stakes are not very sturdy and strong. Even a few users complain that the stakes broke while installing in the ground. So, be careful even when installing them to avoid breakage. Don't push too hard; instead, use another stake first to make the way easier before sticking them. Also, these lights are not cheap. Also, a few other users mentioned that a few lights have stopped working. But these are very rare cases.
Nevertheless, these solar-powered globe lights look very amazing, they change the whole landscape view with an artistic ambiance. The globe design looks more graceful than any other design available in the market.
Product specifications
IP65 ratings
Solar powered
Dusk-to-Dawn lights
Automatic color-changing
600mAh battery
Globe design glass
Things to consider before buying color changing landscape lights
Quality color distinction and vibrant
The color-changing landscape light should be bright and vibrant. Also, a good quality color-changing landscape light should have clear differences among colors. So check the quality of light and if you don't find the ideal quality return the lights.
Lumens
Before considering any brand of light, check the number of lumens. The position of the light should be a guide to the number of lumens to target. For example, the right number of lumens for floodlights should be at least 700 to 1300 lumens. Target at least 12 to 100 lumens for step lights, and get up to 700 lumens for security lights. If you need an underwater light, get 200 to 400 lumens. As for wall lights, get 50 to 185 lumens. Landscape spotlights should have at least 120 to 850 lumens while path lights should be 100 to 200 lumens. . Pool lights should be 200-400 lumens while lamp posts should have 120 to 180 lumens. General lights for your landscape, get at least 50 to 300 lumens.
Places
When searching for landscape lights, first determine where to place them before buying. There are many landscape lights, and each one works suitably for such locations. For instance, there are spotlights, floodlights, Up/Downlights, Step Lights, Garden Lights, String Lights, etc. Each of these lights fits specific locations and uses and you should do well to consider that.
For instance, spotlights focus only on one direction, and that's why people use them to lighten up walls, statues, patios, and plants. On the other hand, floodlights spread lights in every direction and are suitable for larger landscapes. The path lights are for lighting up the pathway. Also, Uplights are suitable for lightening up walls and yards. So, pick the type that suits your locations.
Weatherproof
Generally, landscape lights come as waterproof since they're also outdoor lights. The lights you keep outdoors will surely contact water and other environmental elements. So, consider the IP rating of the brand before picking it. For instance, IP rating against water contact ranges from 1 to 8. While 1 is for dripping water, 7 is for 1m immersion, and 8 means the lights can totally emerge into the water beyond 1m without damage. For areas with splashes of water, you can target at least 3 to 4, while for water jets, you can target 5 to 6.
As for the outdoor landscape lighting consider at least IP65 ratings.
Wattages
Wattage level is another important factor to consider since it also affects the electricity consumption of the lights. Given how energy-efficient conscious everyone is now, you must check the wattage of the light. When the wattage is high, the light will consume higher electricity. So, check the wattage before buying to know what you're planning. As for wattage, target 40 or lower wattage lights for garden beds, pathways, or other areas. You can get lights from 40 watts to 80 watts for smaller yards or driveways.
Mind that 80 watts is very high-power consumption and only suitable for large driveways and lawns. If such lights come with a motion sensor, it will be hard for predators to approach your home.
Smart features
Many lights now come with smart features to simplify operation and usage. For example, you can find lights with voice control and motion sensor technologies. So, if you're searching for lights with these features, check the brands well to discover those with them.
On the other hand, voice control makes it possible for users to execute different commands on their light through speech and their phones using Alexa voice control and Google Home. So, while shopping for landscape light, check these smart features or others to simplify usage. Also, dusk to dawn is a great feature in landscape lighting. So that you don't need to take the hassle of switching on and off in day and light.
Color Temperature
Here's another important aspect of choosing a landscape light. Color temperature represents the cool or warm brightness of your light. It can also represent how white or yellowish your light is when they shine outdoors. Choosing the right temperature depends on the location you want to place the light. Also, if you want each part of the landscape to carry a different color temperature, you can choose accordingly. But the general recommendation for landscape lights is to target from 3000K to 4000K. This is because the plants around will show natural colors when the Kelvin is high. Specifically, if you're moonlighting on your landscape, make sure you get 4000K. As for that natural and soothing tone that accentuates the architectural elements outdoors, target 2500K-2700K.
FAQ:
1. What is the best color for landscape lighting?
The best color temperature for landscape light should be 2700K(warm white). The reason is that the warm whiteness of such colors is usually soothing and welcoming. The color temperature of 2000K will produce a warm reddish light glow for entertainment areas. Also, 3000K is natural and brings out the blues and green colors in the vegetation. Finally, for 4000K, you will be getting that moonlight glow.
2. Do LED landscape lights burn out?
LED lights don't burn out. If only they fail, we need to change. But it happens very rarely. More importantly, today most of the led bulbs come in 50000 hours lifespan rated. The only thing they do is to diminish in output as time elapses. This is why experts measure LED life span based on its efficient light output duration. That's why LED lights are deemed damaged when their light output diminishes to 70% of what is known as L70.
3. Why is landscape lighting so expensive?
Landscape lighting is usually expensive due to the materials used. The most used material is cast brass which is highly durable and reliable. Moreover, the materials are long-lasting and prone to harsh environmental conditions.
4. Are LED landscape lights worth it?
Though led landscape lighting is quite expensive they are certainly worth it. They are long-lasting so do not require rapid replacement. Also, they are highly energy-efficient, saving more costs on your electricity bills. And some come with solar power so you don't need to pay the electricity bills for them.
5. How long do landscape lights Last?
It largely depends on the quality and material of the lighting. As landscape lights face extreme weather, the quality of the material will determine the landscape lights lifespan. Led Landscape lights can last between 25,000 to 50,000 hours. This represents an average of 3 to 5 years when used on a 24/7 basis. But with fewer hours of daily usage, the light's lifespan can extend beyond 10 years.
6. How can I change the color of my landscape lights?
The color-changing landscape lights have a different color set up and often come with remote control to change the color. If there is no remote control then there must have some switch control in the light to change color. Also, you can change the color of your non-color-changing landscape lights by using dichroic color filters. These filters are designed with coatings that only allow the passage of certain colors through them by reflecting some light colors.
7. Should I leave landscape lights on all night?
Leaving your landscape lights on all night is the ideal means of ensuring the safety of your property. The primary aim of lighting is to have adequate illumination over an area, especially in darkness. So, to leave the lights on at night means that they are serving the purpose of their installation. Also, note that some lights are Dusk-to-Dawn which means they automatically stay on all night and go off at dawn.
Related Articles:
7 Best commercial floodlights Review
Different types of floodlights to choose