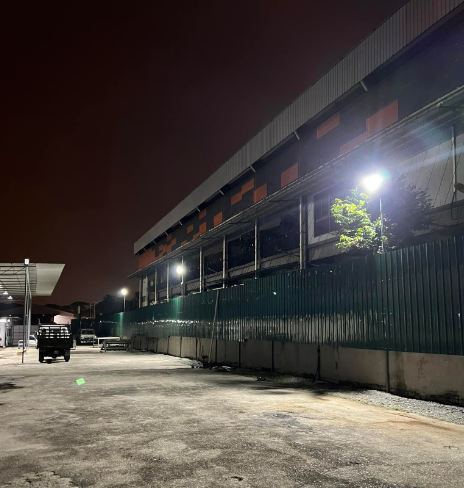 Commercial-led floodlights are a very popular choice for security and illuminating commercial and industrial spaces. These lights are very powerful with maximum daylight brightness.
So either it's a public place or commercial places like warehouses and shopping centers, these lights will give required security and ultimate brightness for avoiding accidents. While choosing the best commercial floodlights, you need to pick at least 100w power, 10000 lumens, and ip65 rated for indoor/outdoor places.
I have picked the 8 best commercial floodlights with maximum research and users feedback. Let's go through.
7 Best Commercial Flood Lights Review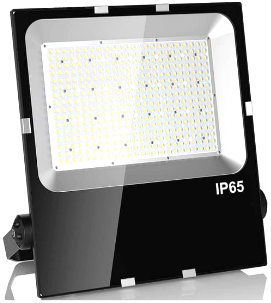 This led floodlight from OPENLUX comes with 240w which produces more than 28000 lumens. That is good enough for illuminating any large commercial space. It has 2 other versions of 80w and 300w, but we recommend this 240w version. This floodlight is very bright. It is ideal for commercial and industrial places like warehouses, shopping malls, gas stations, parking lots, etc.
You will get cool white daylight illumination from the 5,000k color temperature, which is an ideal color temperature for commercial spaces. Moreover, the IP65 waterproof rating and strong aluminum body ensure its durability for outdoor usage. So it will sustain any environmental challenge like rain, dust, smoke, and sun.
With high-quality led chips this light has around 50000 hours lifespan which combines with aluminum build heat consuming fin to keep the light cool for increasing the lifespan. Also, its performance comes with low power consumption, helping you save about 80% electricity.
The 90-degree beam angle is good enough for illuminating a wide commercial area. In addition, the explosion-proof tempered glass ensures high transmittance of light.
The most amazing thing I love about this floodlight is the multiple installations option. This light is extremely versatile in terms of uses and installation. With the strong and flexible bracket, you can adjust the light up to a 180-degree angle which gives you the maximum way of installation like ceiling, pole, ground, and wall installation. That's why it becomes more useful for any commercial space.
The ultra-thin modern design of the floodlights enhances its aesthetic appeal. Users of this floodlight recommend it for its perfect illuminating effects and budget-friendly features. So overall, this light is well built commercial floodlight that has good value for the money.
Features
28, 800 lumens
IP65 waterproof
240W
ETL listed
120 lm/w efficacy
5,000K color temperature
90o beam angle
Pros
Excellent illumination and energy-efficient.
Great heat dissipation.
Multiple installations.
50,000 hours of service life.
5 years warranty.
Cons

LEDMO commercial outdoor parking lot floodlight produces 36000lm which is very bright and perfect for commercial and industrial places. It projects 300w for producing 36000lm which means 120lm per wattage. The 5000k color temperature is widely common for outdoor commercial floodlights.
It has an amazing technology called a photocell sensor which converts this light to a dush-to-dawn light. The photocell sensors detect light levels and automatically get off when it is sunrise and on when it is dark. So you don't need to manually turn off and on this light.
It has an easy arm mount installation process that doesn't require an electrician. You can install it by yourself just by following the installation guideline. Moreover, the arm mounts are adjustable and you can adjust the light angle;e from 0-90 degrees. It gives you the privilege of using the light as your need in any direction.
Additionally, the light features IP65 waterproof rating for protection against moisture and other harsh weather conditions. This makes it a suitable lighting choice for any outdoor illumination. Also, it keeps your environment bright irrespective of the season of the year.
Designed with sturdy aluminum material, the fixture offers excellent heat dissipation that prevents fire outbreaks. Also, this LEDMO led floodlight can save energy up to 75% compared with 1000w high-pressure sodium vapor lights.
Most users of this floodlight testified of its excellent beam coverage with great illumination for outdoor commercial spaces. However, few users complain about licking water into the light after using it for a while. Also, a user mentions that this light failed after using it for 2 weeks. Another user received a broken mounting brace product but the seller replaced it later.
Features
50000 hours lifespan

300 Watts

36,000 lumens
IP65 weatherproof
5,000K color temperature
80 CRI
Dusk-to-dawn
Pros
Adjustable arm mounting.
Saves about 75% electricity cost.
Great illumination uniformity.
Cons
Sometimes water gets into the light
Not dimmable.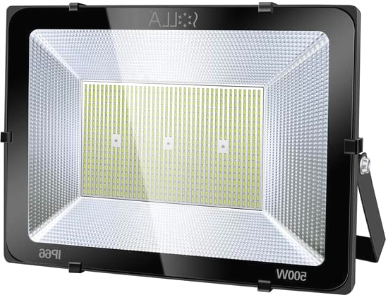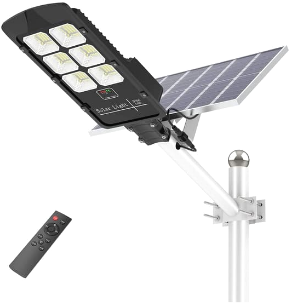 When you need a combination of high lighting efficiency and a modern, stylish aesthetic appeal, this 300W Solar Flood Street Light is your perfect choice. Imbibed with 432 pieces of LED beads, the floodlight uses 300 Watts to produce 10,000 lumens superior illumination even for large spaces.
Its solar empowering capacity ensures free electricity bills for users. Moreover, with the IP66 waterproof design, the floodlight has a wide application and use for outdoors in football and basketball courts, parking lots, garages, etc.
Furthermore, this street light has a remote control that operates between 26 to 39 feet, controlling distance. Hence, you have the convenience of using controlling the light in long distances through its multiple mode functions. These modes include the constant lighting mode, motion sensor mode, and timing mode. Besides the motion sensing mode, the other modes are adjustable.
Once it's fully charged you will get about 18 hours of continuous lighting. Also, the brightness switches to 100% if it detects moving objects. So, this commercial floodlight goes beyond illumination. It as well maintains safety and security within your ambiance.
Moreover, users confirm its easy installation process. So, with its adjustable metal bracket, you've got several installation positions such as on a pole, wall, etc. Being solar empowered, you don't require any wiring proceeding for the floodlight.
Also, some users complained of less adequate brightness. So, you may use more packs for increased illumination.
Features
IP66 waterproof
6,500k color temperature.
10,000 lumens
300 Watts
Solar-powered
Pros
Multiple functional modes.
Adjustable brightness.
Perfect solar security floodlight.
Highly durable and free electricity bills.
Cons
You may need more packs to create more illumination.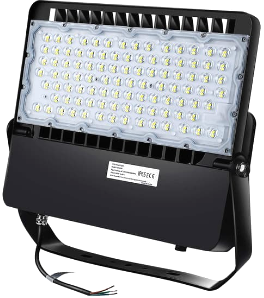 When it comes to brightness for large areas like a stadium and large fields, this LEDMO LED Stadium Flood Light is great. With 130 lm/w efficacy, it operates with low power consumption and ultra-efficiency to produce illuminating brightness of 36,000 lumens.
The high-quality LED chips ensure perfect lighting color temperature with uniformity for stadiums and fields. Athletes get great brightness and clarity and increased security and safety from the floodlight.
It has a superior aluminum design. As a result, the lighting fixture maintains perfect heat dissipation. Moreover, its module design includes an adjustable angle for professional light distribution. You can get 5 different adjustable angles of 10, 25, 45, 60, and 90 degrees.
Most users of this LEDMO Flood Light comment about its high CRI showing compatibility with TV broadcasting. Also, its brightness creates safety confidence for both visitors and fans within a stadium and parking lots.
Despite its great features, a major setback for this commercial floodlight is that the cords require hard wiring.
Features
36,000 LUMENS
5,000K color temperature
150 lm/w efficacy
80*150 degrees beam angle
Safety power LED adapter
IP65 waterproof
Pros
High-quality LED chips.
Increased safety and security.
Perfect cost-effective lighting.
Professional light distribution.
Cons
Cords require hard wiring.
Has no manual control for its ON/OFF.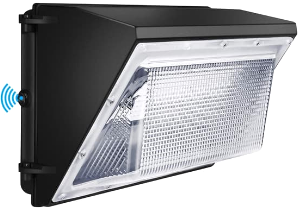 This LEDMO floodlight provides outstanding and brilliant illumination of 15,840 lumens through its 120 Watts capacity. You will get a perfect outdoor security brightness within your residence or commercial building from the 5,000K color temperature of cool white light.
It's a great lighting option suitable for different locations such as large commercial loading bays, backyards, warehouses, hotels, garages, etc. Its IP65 waterproof rating ensures resistance to moisture and other harsh weather. You can choose a suitable mounting height between 8 to 20 feet for the floodlighting.
Moreover, photocell sensors ensure automatic ON/OFF from dusk to dawn. Most of the users confirm its wide beam brightness. So, you will get a perfect illuminating light for your outdoor security.
However, a setback for this floodlight is the absence of a quick connection for some packs. This can make the installation process a bit difficult.
Features
82 CRI
Photocell sensor
120 Watts capacity
IP65 waterproof
15,840 lumens
110o beam angle
135 lm/w efficacy
Pros
Smart photocell sensors,
10 years warranty.
Reduced electricity costs.
Easy installation.
Cons
Some packs have no quick connects on the power cable.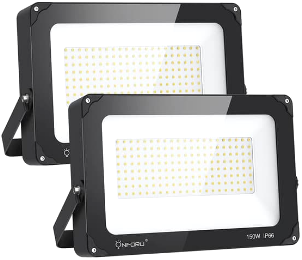 Using its 168 LED beads, this Onforu floodlight gives you a superior and brilliant brightness of 15,000 lumens. In addition, its 150 Watts capacity produces an equivalence of 750W halogen bulb, saving over 83% on your electricity bills.
Moreover, it features a 120 degrees beam angle that offers shadow-less and efficient corners illumination. Designed with superior beads, the lighting effects are better than those from normal chips. Also, the aluminum housing metal maintains efficient heat dissipation to prevent overheating of the fixture. This also accounts for the durability of the light fixture.
According to most users, the installation process for this commercial floodlight is very easy and simple to complete. The adjustable metal bracket allows for the mounting on a ceiling, floor, wall, rooftops, poles, or any other suitable location. Furthermore, it's a suitable lighting choice for courts, stadiums, garages, playgrounds, parking lots, and others.
Its major down part is that some users complain of less resistance to water.
Features
IP66 waterproof
150 Watts capacity
15,000 lumens
5,000K color temperature
168 LED beads
SPCC bracket
Pros
Wide applications
Great and superior illumination
Perfect and efficient heat dissipation
High durability.
Cons
Things to Consider When Buying the Best Commercial Flood Lights
Wattage
For choosing a commercial floodlight, target at least a 100w floodlight that can produce enough illumination for your commercial place. You can go up to 400w for big commercial places and maximum brightness. But you shouldn't go down than 100w for a commercial space. I have picked all the floodlights that are more than 100w and up to 400w
| | | |
| --- | --- | --- |
| Wattage(LED) | Use | Lumens |
| 100 | Big Ares(Commercial places) | 13,500 |
| 150 | Big Areas(Commercial Places) | 20,250 |
| 230 | Big Areas(Commercial Places) | 31,050 |
| 300 | Big Areas(Commercial Places) | 40,500 |
| 400 | Big Areas(Commercial & IndustrialPlaces) | 50,200 |
Level of Brightness
A commercial floodlight should provide adequate brightness to illuminate the whole targeted areas. So, if this particular feature is not up to par, then the light is useless. That's why you must check the total lumens that the lights produce before buying. Many floodlights in the market provide up to 700 lumens to 40,000lumens or more. The higher the number, the brighter the light shines. So, grab the brand that offers the highest number since your target area is wider.
But if you're illuminating places such as small places like driveways or patios, 700 to 1500 lumens are okay. But for commercial areas such as warehouses, industry, airports, you must need to target a minimum of 10000 lumens. And the commercial place is big, try to to get at least 36000 to 40000 lumens. Thankfully we have LEDMO 300W LED Parking lights and SOLLA commercial floodlight offering us 36,000 lumens.
Type of bulbs
Another important thing to consider is the bulb on the floodlight. There are different types of bulbs in the market, such as LED bulbs, Halogen bulbs, and Incandescent bulbs. But amongst all these bulbs, the LED type is the best for several reasons. For instance, the bulbs can conserve energy, thereby reducing wattage consumption, which lowers your electricity bills. Also, they produce much brightness up to 70-80% more than the conventional HPS bulbs with the same wattage.
Another benefit of using LED bulbs is that they last longer than others. Many of them can last for more than 30,000-50000 hours, meaning that you can also save the cost of buying replacement bulbs all the time. So, before you buy your commercial floodlights, make sure you pick the ones with LED bulbs. Thankfully, the lights in these reviews use LED bulbs.
Control method
Initially, lights come with switches that you must touch to put ON the light or turn it off. Nowadays, many things have changed, and we now have smart lights with voice controls and other brands with motion sensors, remote controls, or the Dusk till Dawn types. While you'll need your voice to activate those with voice controls, light with motion sensors will activate once it detects a movement around its perimeter. But for the Dusk till Dawn lights, they come ON when the night falls and goes OFF when the sun comes up.
Each of these activation styles has its ups and downs, especially relative to commercial floodlights. This guide has lights with motions sensor, such as the LEDMO 300W Parking lot light. We also have the Dusk till Dawn activation type of light here, such as the WHLED 2Pack LED Lights.
Color Temperature
This is another important aspect to consider while choosing commercial floodlights. There are many color temperatures available in the lighting industry, and they're measured in Kelvin.
3000k is generally warm yellowish color commonly used in residential places like houses. 4000k is more of a neutral color temperature which is not fully cool white or yellowish, rather something between the. This color is often used in workplaces.
When choosing a commercial floodlight for any space, experts recommend picking those brands with a color temperature of 5000K to 6500K. This range produces cool white daylight illumination for visuals like daylight. Thankfully we have brands with 5000K and some with 6500K, such as the TENKOO 300W Solar Flood Street Light Outdoor.
Power Sources
For choosing a power source, you have mainly 2 options. Electric powered and solar-powered.Both have advantages and disadvantages. As commercial floodlight requires a lot of energy, the electric power option is safer and better. But it will increase your electricity bill. the biggest advantage of solar-powered floodlights is there is no electricity bill. But the solar panel needs to have adequate sunlight to give you maximum illumination.
So you cannot install it in indoor places. Also, if the sun doesn't come out properly on a cloudy day, the floodlight will not get enough charge in the solar panel to give you light at night. Moreover, there is a chance of finishing the energy before the night is over. So the floodlight will be turned off. Luckily we have picked both solar-powered and electric-powered floodlights for your convenience.
Weatherproof
As commercial floodlights need to stay in the extreme environment both in indoor and outdoor places, you should look for a floodlight that comes with at least ip65 rated. This means it is waterproof and dustproof. The more the better like you can look for IP 66, ip67, or even ip68 rating. But minimum you should look for IP 65. All the floodlights I have picked here are at least ip65 or even more.
FAQs
What are Commercial Flood Lights?
Commercial floodlights are powerful floodlights with direct wider beam angles to produce daylight brightness for illuminating large commercial and business places and the environment. Hence, they have applications in courts, stadiums, parking lots, playgrounds, streets, garages, airports, and other commercial settings for security and daylight brightness.
Where are Commercial FloodLights used?
Commercial floodlights are used in commercial, industrial, and public places that need very powerful lighting to illuminate a large area with maximum brightness such as sports courts, stadiums, garages, playgrounds, parking lots, streets, hotels, and other commercial or industrial spaces.
What is the highest wattage for a floodlight?
The highest approved wattage or Ultra High Wattage for floodlight is 400 wattage. This wattage is only recommendable for large industrial and commercial or public place lighting such as stadiums, airports, large parking lots, highways, etc.