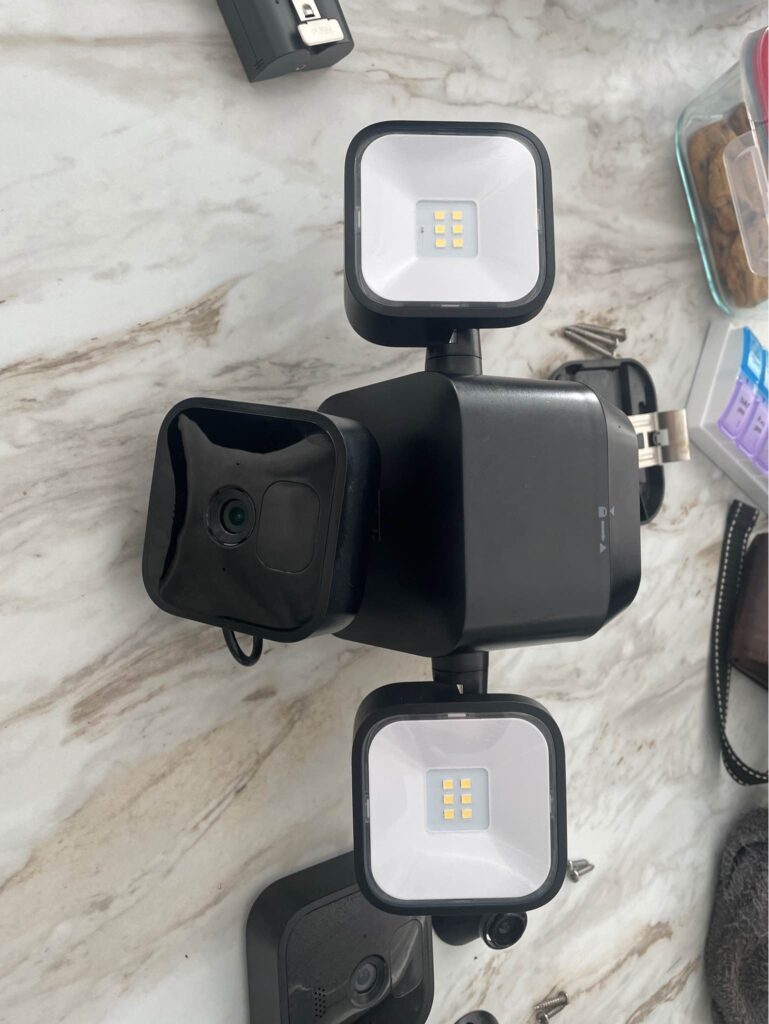 There are many reasons to consider using a battery-powered outdoor light. The convenience is top-notch, and they also save you time and money. The expenses of installing power cords will no longer apply, and the location options will expand. In addition, battery-powered floodlights can be mounted in any position since you don't have to worry about nearness to the outlet.
So, if you're considering this option for your security light, by all means, go for it. We have reviewed some of the top brands in the market based on their best features, convenience, ease of installation, and also their application. We selected Mr. Beams High-Performance Spotlight as our top pick and reviewed other great brands too.
Please keep reading to learn more about them. In case you don't have enough time to follow the whole article, you can check this list.
6 Best Battery Operated Floodlights Review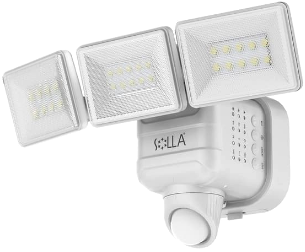 This SOLLA outdoor battery-powered floodlight is our top pick without any doubt. There are a number of reasons behind that. This is the only floodlight that comes with 3 light heads in this list. Obviously, it is a battery-powered floodlight and perfect for your outdoor security and brightness.
Though the battery isn't included, it will run by a 3 D-cel battery. let's talk about battery life first, as this is the most important issue with battery-powered floodlights. The energy-efficient technology of this light maximizes the lifetime of the battery combining fly-eye lens and premium quality Osram led chips. With this technology, the battery can last an estimated 180 days with 40 times activation per day.
in terms of brightness, it can produce a maximum of 750lm with 5000k cool white daylight. The 750lm is very bright compared to any battery-powered floodlight or even electric-powered light.
Taking about motion sensor, it can detect movement of maximum 120-degree angle. You can adjust both the sensor detection distance and time of lighting. the maximum distance it can detect movement is 33ft and the maximum lighting time after the motion left is 20 seconds. The motion sensor is multifunctional with 3 different modes based on 3 different darkness. Those are moderate mode, low mode, and dark mode.
Additionally, this floodlight is dimmable. there are 3 dimmable brightness options 750-350-100 lumens. you can simply choose any one based on your preference and situation. You can perform all the settings from dimming to motion sensor adjustment by the dist, detect, dim, and timer switch on the side of the light head. Obviously, as an outdoor floodlight, this light has a waterproof ip65 rating with frost and heat resistance.
The lighting heads and motion sensors are very flexible and adjustable. The installation process is quick and simple. As this is a battery-powered light so there is no hassle with the cord attachment and power outlet. you can mount the light in both ceiling and wall simply by attaching the mounting plate with the screw in the wall or ceiling.
Many users of this product commend the bright light output even on its dimmest level. Also, they loved that it took just 5 minutes to install and confirmed that it detects motion 33 feet away from its location. Also, adding batteries to the light is easier compared to some brands that you'll have to loosen many screws to change their batteries. However, one of the downsides is that it doesn't come with a battery.
Features
Dimmable lights
750 lumens maximum
33ft motion-sensing capacity
Battery-powered
Requires 3-D Cell batteries
IP65 Waterproof ratings
Pros
Quick installation
Very bright even at lowest dim
Versatile application
Affordable and efficient
Cons
Doesn't come with batteries
Can't detect someone on black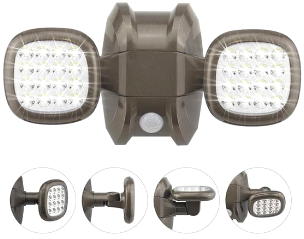 When searching for a light that can withstand the rain, this waterproof rated light is worth considering. Like others in this review, it operates with batteries and features a motion detection sensor. When there is a movement within its 26 feet range, the light comes on automatically and shines until 20 seconds of no detection.
The lights' brightness is at a maximum of 600 lumens, and you can move them in any direction you please. Depending on your needs, you can rotate the light right or left or up and down. With the 3 D-Cell batteries, this light doesn't require a wiring connection. With its screws, anyone can mount it anywhere outdoors. Moreover, water doesn't damage it since it has the IP65 waterproof ratings.
The color temperature is up to 6000K white which is higher than many others in this review. It is a spotlight and can illuminate areas like your driveway, porch, garden, tree, pathway, fence, stair, front door, gutter areas, etc. According to the manufacturers, the lights can run for 30,000 hours max, and the batteries run for 50hours.
Some users commend the light for being super bright and attractive. Also, the motion sensor is so sharp that it even detects a passing dog. But the complaint is that the light goes off after 20 seconds which is too short. Also, to change the batteries, you need to loosen the 6 screws and also tighten them back after inserting the batteries. Some people feel that this process is herculean.
Features
30 hours of lifespan
50 hours of battery life
26feet motion detection
600 lumens
6000K color temperature
32 LED lighting
3 D-Cell batteries
Installation accessories
1P65 waterproof rating
Pros
Shines very bright
Lasts longer
Easy installation
Versatile application
Cons
Changing the batteries takes time
Requires drilling of holes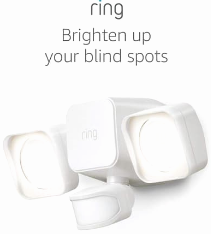 This light is the starting point if you want to take security to a new level using the Ring App. It is a smart security floodlight that shines bright and also enables convenient controls. When you add the light to the Ring Bridge, you can enjoy more smart controls of every Ring device, including the lights, cameras, or doorbells using the Ring App. The Ring Bridge comes separately or in the Starter Kit, and with it, you can connect the light to Alexa devices and use your voice to control the light.
This floodlight produces 600 lumens of amazing adjustable brightness. You can adjust the brightness to any angle you need in your home. With the 3500K color temp, you can illuminate your space easily.
The detection distance is at least 45,' and it requires 4 D-cell batteries. Moreover, the installation is easy for anyone to complete. You can install the light in your driveways, walkways, or other places where people move around a lot. All you need is to mount it using the screws it provides. There is also a user manual but don't expect a power drill.
According to many users, the light is bright, and the Alexa voice control is amazing. Also, the app is simple to understand and use. However, the downside is that the battery consumption is high, so rechargeable batteries are better.
Features
Produces 600 lumens brightness
Battery-powered floodlights
Motion sensor detection
Integrates Alexa voice commands
Enables controls with Ring App via Ring Bridge
Motion-activated notifications
Customizable settings
3500k color Temp.
Adjustable sensitivity
Pros
Easy installation using available accessories
Simply and user-friendly app
Cons
Batteries don't last long
Not suitable for larger backyards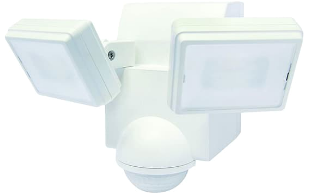 Here's another floodlight with a motion sensor to consider for multiple outdoor locations. The motion detection is at 180 degrees, and the lights come on when anyone comes 35 feet from it. Moreover, you can rotate the heads both horizontally and vertically depending on the areas you aim to illuminate.
Since batteries power the light, you don't have to worry about location suitability. You can place it anywhere in your workshop, shed, basement, garage, etc. The total lumens of the light is 700and the LED bulbs shine very bright, bringing illumination to a wider range better than the Ring Lights and Mr. Beams above.
As for the power source, the 4 D-Cell batteries provide all that, but you will buy them since they don't come with the lights. These batteries can at least last for 14 months if you use them carefully. The batteries will run very long before dying with the auto shut off. If you leave the light at 100%, the light stays on for 12 seconds once there's no motion before shutting off. But if you keep the light at 20%, the light can stay for 1 minute before shutting off until it senses a presence again.
The installation is easy since you don't need to run wires anywhere. So you can do it yourself in a few minutes. All you need is the mounting hardware that thankfully comes with your lights. Many users love the 5000K color temperature and the fact that it is weatherproof indeed. Also, many users commend the active motion detector and the very bright LED spotlight. Some even suggest that this product is 10X brighter and better than the Mr. Beams floodlight.
The downside is that the 35 feet detection advertised may not be accurate. Some customers stated that it worked only for 15 to 20 feet detection.
Features
700 Lumen brightness
Comes with a mounting bracket
Battery-powered
35 feet motion detection
5000K color Temp.
Rotatable heads
Adjustable diffusers
Pros
Weatherproof against elements
Easy to install
Very bright spotlight
Cons
Motion detection is not as advertised.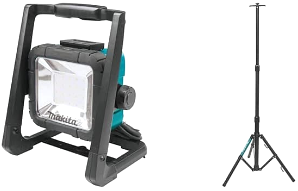 This light is unique given that it comes with a tripod stand. Also, it supports both battery operation and corded operation via the AC cords. The light offers two light modes to enable you to select the brightness level you want. The high mode shines at 750 lumens while the low mode emits 440 lumens brightness. When the light is steadily shining on high mode, it can last for 5 hours. But when you set it at the low mode, it can last for 10.5 hours.
The good thing is that you can place the light anywhere using the tripod stand. Don't worry about the sturdiness because the stand features three strong legs to hold it steady. But you can forfeit the stand and buy the lights only at a reduced price. Since the light comes with a hanging hook, you can still place it anywhere you want.
With the XPT protective technology in its design, the light can withstand water and dust. In addition, the LED lights shine bright to illuminate surrounding areas. Also, with the adjusting knobs, you can face the lights to any angle that suits you.
Some users of this brand like the weight, while some say it's too heavy for them. Also, the battery life is commendable based on users'. With 5.0amh batteries, you can get at least 7 hours of lights, and the distance it illuminates is estimated at 1500sqft.
However, the downside is that the leads don't disconnect, and some people complain that it might cause mishaps in real-world scenarios.
Features
XPT Technology to withstand elements
High mode of 750 lumens on
Low mode of 440 lumens
17 Hours steady illumination
LED Bright lights
Adjustable knobs for light angle
Support for corded operation
Three-legged collapsible tripod stand
Hanging hook for installation
Pros
Easy to install
Customizable lighting direction
Produces bright lights
Uses batteries and electricity
Cons
Non-detachable leads
No mention of motion sensor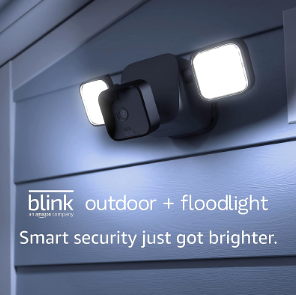 If you're searching for a smart light that will allow you to hear and see your visitors, this light from Blink is worth checking. Just like others here, the light is powered by batteries. It also has a motion sensor that enables it to switch on and off via sensitivity. And, its color temperature is up to 5000K.
The best part is that it comes with a smart camera to level up your security. With this feature, you can see anyone that comes to your house. Also, the camera shoots in 1080P, which is, of course, very clear. Through the app, you can communicate with your visitors without stepping out first.
Another noteworthy aspect is that you can save all the camera-generated files such as photos and video clips in the cloud through a Blink Sync Module or Subscription plan. Once you install the Blink app, there's more you can do with it. You can enjoy integrating it with the Alexa voice command, monitoring the lights through your phone, and setting up motion alerts.
As for brightness, the light offers 700 lumens that react to motions around it. Also, installation is simple, using the in-app instructions and available hooks to place wherever you need. There's no need to drill holes at all. The package comes with all the accessories you need including a power adapter and USB cable too. There are also the 4 D-Cell batteries and 2 1.5V AA batteries. At least this product comes with batteries, and you won't have to buy them separately.
Some of the light users commend the design with quality LED chips and housing. However, another user mentioned the difficulty of syncing the camera to the Blink app. But there's a solution which is to update the camera firmware to at least 10.48.
Features
5000K color Temperature
Integrates with Alexa
4 C-Cell Batteries
Security Camera
Motion detection sensor
700 Lumens bright light
1080P HD Camera
Supports cloud storage via Blink App
Pros
Easy to install using mounting bracket
Smart operation and control
Long-lasting batteries
Bright LED illumination
Cons
Camera might need an update before syncing with the app.
Things to consider while buying a battery-operated floodlight
1. Installation
One of the things to consider when buying a battery-powered light is the installation accessories. Thankfully, you might not need to call an electrician to run wires all over the place. But you still need to fix the light somewhere, and that's why you have to check the processes and the mounting hardware available. Some lights here are very easy to install, while some require drilling a hole. So, check the process before you pick.
2. Lumens
If you're lighting up the outside of your home, you will need a light with high lumens to ensure very bright light output. Of course, the higher the lumens, the brighter the light will be. So, check the lumen to find an adequate one depending on the location you want. For instance, the Makita floodlight and Solla floodlight in this review offer 750 lumens, which are commendable for an outdoor floodlight using batteries.
3. Type of Batteries
There are different types of batteries that come with battery-powered lights. We see the D-Cell, C-Cell, AA, and AAA batteries. The D-Cell batteries are suitable for applications that require higher currents. They're also stronger than the C-Cell batteries. The C-Cells are also strong but not as the D-Cell but better than the AA and AAA batteries. So, check your light's one, as it'll tell you what to expect. Thankfully, the batteries in the lights here are all D-cells except the Single-Piece HONWELL Floodlight
4. Sensors
Motion sensors are very good to have in your outside floodlight. The reason is that it saves energy and also ensures ease of use. You won't be going out to switch it off at night, and it also alerts you of when someone or something comes within its range. So, check the availability of the sensor and find out the area of coverage. Many of the lights here have motion sensors, although the areas vary. So, check that out.
FAQ:
1. Can outside lights be battery operated?
Outside lights can be battery-powered, and these batteries can be rechargeable or non-rechargeable, depending on the brand.
2. Do floodlights have batteries?
Nowadays, there are many brands of battery-powered floodlights, just like the one we have in this review. Some use AA batteries, while many others use D-Cell batteries.
3. How long do battery operated security lights Last?
Many battery-operated security lights last very long. Some of them last for 50,000 hours, while others last up to 80 hours, depending.
4. How can I power my outdoor lights without an outlet?
All you need are batteries or solar to power an outdoor light without an outlet. Many of the lights here illuminate outdoor spaces without any outlet. They're all powered by batteries.
5. How can I light my porch without electricity?
You can light your porch with any of the battery-operated outdoor lights available. You don't need to run wires anymore. All you need is to get the batteries and mount the lights. Also, you can use solar-powered outdoor lights to provide illumination. Other ways include using LED candles to do the trick.