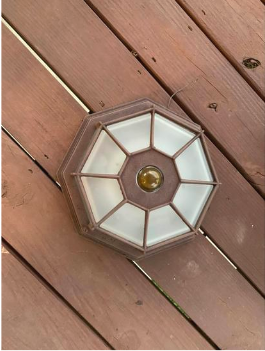 Home security is one of the reasons to use outdoor ceiling lights with motion sensors. Such lights can easily detect motions within their range of coverage to improve the security of your surroundings.
With the best outdoor ceiling lights with motion sensors, your lights will automatically turn on once detecting movement within some ranges. Also, they go off once the movement stops, thereby showcasing their energy efficiency. So, you don't have to reach for a switch or be physically present for the light to turn ON.
Here is a review covering some of the best outdoor ceiling lights with motion sensors, the features, functionalities, flexibilities, and versatility. This will serve as a handy guide for you when choosing these lights. Keep reading.
7 Best Outdoor Ceiling Lights with Motion Sensors Review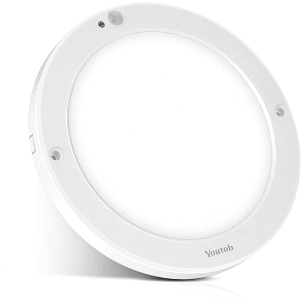 As an outdoor motion sensor ceiling light, this Youtob motion sensor ceiling light is our top pick for a number of reasons. It comes with 81 powerful led that produce 1200 lumens along with 4000k color cool white temperature are ideal for brightening your outdoor locations like porch and corridor perfectly.
The motion sensor works perfectly. It picks motion within the 9-16 feet range and turns on automatically. If the motion leaves, the light will turn off after 30 seconds. In outdoor places with ceilings, it is a perfect security light. users are happy with the motion detection and brightness.
Taking about the motion sensor range, the motion sensor can detect any movement up to 120 degrees with a maximum 10ft distance. The light has built all-weather friendly so as an outdoor ceiling light, it can cope with any weather. Through outdoor light, as it is a ceiling light, it will not get direct sunlight or rain, but may get snow and moisture of rain.
Furthermore, it has 2 different modes. One is daylight and another is night mode. You can always switch to any through the sun and moon button. basically with the daylight mode, the light works and detects motion both day and night, with the night light mode, it only works in the nighttime.
It has a combination of light and motion sensors that process the lighting. Through the light sensor in the night mode, the light operates as a dusk-to-dawn lighting system. So, once it's daytime, it automatically turns OFF and will only turn ON when darkness comes. This means your work is cut out for you; no need to manually switch on or off the light since it does all the work itself.
Additionally, the light uses its 15Watts LEDs to produce great brightness of 100 Watts equivalence of fluorescent tubes. Hence, it can save up to 85% on electricity bills.
When it comes to installation, this Youtob ceiling light poses no difficulties. It's already internally wired and has its instructional guide. Also, it comes with all the necessary mounting hardware such as a bracket, screws, etc. you can simply complete the process in a DIY with some minutes by following the guidelines.
But some drawbacks as well, on a rare occasion, a user complained that the motion sensor doesn't work properly. But most of the users are very pleased with this light.
Key Specifications
15 Watts capacity
360 degrees beam angle
81 LEDs
4,000K color temperature
9 – 16 feet motion sensitivity distance
1,200 lumens
2 different modes
When searching for energy-conserving ceiling light, this product fits the bill. TOOWELL outdoor ceiling light comes with both Daylight and Night modes. When on Daylight mode, the light will remain ON during the day, but if you place it under the Night Mode, the light will only come ON during the night.
One of the outstanding features of this light is the motion sensor. The light has a built-in Photocell sensor and infrared motion detector that can reach at least 120 degrees. My experience with the light confirms its ability to detect motions sharply and turn the light on automatically. Also, the light can see any movement at 20 feet away, and once it does, the lights will come ON.
The light coming off the bulbs is usually very bright. We're not surprised that it could shine that bright, given the LED bulbs of 300 lumens. You can see the brightness covering about 30 square feet when it comes on. Moreover, the light doesn't flicker; instead, it is soft and comfortable, especially at night. My family loves its protective illuminance, especially once darkness appears.
This product works great in many locations. For instance, I've used the light in my closet, bedroom wall, patio, and even study room. Other users expressed great experiences using the light in kitchens, garages, staircases, porches, gatehouses, and even bathrooms. It works perfectly in all locations and shines brightly too.
When it comes to installation, you will find a simple-to-follow instructional guide. Moreover, its lighting package comes with mounting hardware for more convenience. However, one of the users complained about the weight of the light with the batteries, which could be very difficult to lock during installation. The mounting plate for locking the light on ceilings and walls is not so strong.
But you can mount the light on the wall instead of the ceiling. Also, you may decide to just keep the light on top of a shelf where it may be quite compacted for mounting. I've tried all these possibilities, like mounting on the wall and sitting it on my shelf within my closet. In all cases, it works perfectly well, offering adequate bright light.
But no matter the mounting position you choose, always ensure that the motion sensor faces the direction where motions are likely to be coming from.
Specifications
Built-in Photocell sensor and Infrared motion detector.
3 Watts capacity
300 lumens
80 LEDs
120 degrees range of detection
20 feet sensitivity motion detection distance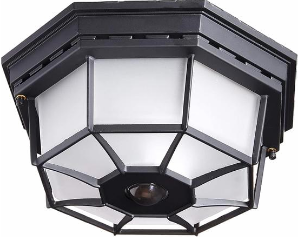 In terms of look and design, this Heath Zenith light is much different from the other lights in this list. If you want a traditional, stylish, and attractive outdoor motion sensor light, this is the light you should go for. The beautiful frosted glass design will give a traditional look to your outdoor places like porch, corridor, door front, patio, etc.
The thing that impressed me most is the motion detection angle range. It can detect movement up to 360 degrees which are the most on this list. Also, the maximum detection distance is 30 feet making it perfect for the outdoor motion sensor requirement. It has 2level Dualbrite energy-saving technology to save electricity which works at night when there is no motion.
The light is built with a combination of metal and glass. The metal housing all over the light and the frosted glass make it a strong durable and weather-resistant light fixture.
The installation is mainly ceiling mounted and it is easy to install compared to other lights. Just follow the guideline or hire an electrician.
Let's come to the most important part, the bulbs. It doesn't come with any included bulb but it has 4 incandescent bulbs setting at a maximum of 25w. Now the problem is, it doesn't support the led bulb directly and you need to be careful to install the led bulb rather than the incandescent bulb. I will suggest you use the non-dimmable led bulb rather than the dimmable led bulb with the DualBrite feature. If you have disabled the DualBrite feature, you need dimmable led light.
Specifications
25 Watts capacity per bulb
360 degrees motion sensitivity
Tradition stylisg design
Strong metal housing
Weather-proof metal housing
Dual Brite feature
Cons
Blubs are not included
Designed for incendesent bulbs
hard to install led bubs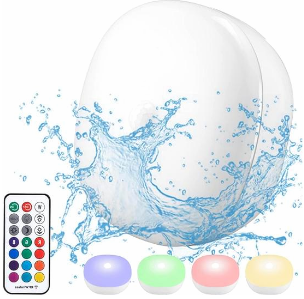 If you need a light that offers different color scenes, convenience, smartness, and security, this Youtob light is the potential option. This light is an RGB light that can change colors. It's packed with 13 different light colors that will give several suitable lighting moods and scenes.
This product has 20 LEDs and could produce 200 lumens for brilliant illuminance. Also, it can produce up to 6,000K color temperature of cool white light that's crystal and useful in security lighting.
Amongst its numerous operations is the motion-detecting capacity of the light. The design allows the light to turn ON when it detects motion and turns OFF after a few seconds of inactivity. So you don't have to step out for any switch once you've installed the light.
Moreover, the Youtob light comes with remote control. This offers you the convenience to control most of its functionalities remotely from different locations within your home. For example, you select dim the light brightness, change the lighting color, or the light mode with the remote control.
Additionally, this ceiling light is smart and has a memory function. This means that you can have the last setting on the light before it is turned off. So, there's no stress of having to set the light multiple times whenever you turn it OFF and then ON again.
The Youtob light is very easy to install. It requires no wiring. All you have to do is to fit 4 D-cell batteries (not included) and mount the light on either your ceiling or wall. It works perfectly on them.
According to a user, this Youtob ceiling light serves perfectly as a retrofit light for their old home. He said, "I searched for battery-powered lights that could provide bright lighting for just like traditional bulbs for our closets. This Youtob light is a perfect choice. We now have adequate illuminance for our closets and pantry. Also, the appearance of the ceiling is similar to that of traditionally wired light. What's more, with the motion sensor, we have the light on only when we need it."
Being an IP54 rated light fixture, this Youtob light is water-resistant despite its angle of installation. So, it's highly suitable for different outdoor lighting purposes. You can mount it in garages, porches, patio, and others.
Specifications
120 degrees motion angle
3 Watts capacity
200 lumens
IP54 protection rating
20 LEDs
Dimmable
Remote control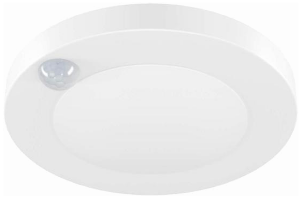 The Jullison surface mount motion sensor ceiling light can be a very good option for outdoor ceiling places. This led light consumes less energy compared to other motion sensors outdoor ceiling light and gives 600lm with 15w which is bright enough for outdoor security and movement. the 5000k color is pretty cool write, ideal for outdoor spaces.
The motion sensor pick motions both day and night at the best 120-degree angle with a max of 5 meters. You can install this light on both ceiling and wall. On-wall the motion detection range can be a bit large. Moreover, the light keeps on for 30 seconds after the movement stops.
This 4 inches led light is energy efficient and can save more than 80% energy compared to an incandescent bull of 60w in the same 600lm.
Talking about outdoor lighting, this light is wet rated, so moisture will not get into the light. The ETL certificate ensures the quality and performance of the light. As a quality led light, it can run up to 50000 hours in the same brightness.
The installation process is quite easy. First, remove the plastic shade from the light, secondly put the fix the mounting screws into the outlet box, and finally rotate the shade clockwise until it fixes properly.
Only one complaint, the light isn't dimmable. but other than that everything looks pretty good.
Key Specifications
120 degree motion sensing angle
30 secounds on time after motion detection
600lm in 10w
ETL and wet rated
50000 hours lifespan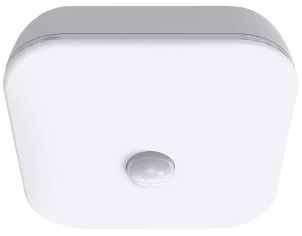 Are you looking for super illuminance that completely spreads out in all directions without leaving shadows or being blurry? If yes, then this Brilliant Evolution ceiling light is for you.The light uses LED bulbs that produce 200 lumens for its super brightness at a color temperature of 4,000K. So, it gives perfect illuminance for dark areas that is up to 17 feet X17 feet measurement.
Also, the light is battery-operated and requires no electrical wiring. It uses 3 C batteries (not included) to function. It's a great choice for locations without electricity or a means for cutting down your electricity bills. The battery can last for over a year with about 6 to 9 daily activations. Moreover, its installation is very easy. There's no requirement for wiring. It comes with screws that will enable its seamless mounting within a few minutes.
The motion sensor automatically controls the light. It will turn ON when it detects motion and OFF after 30 seconds of no movement. This sensitivity distance is about 20 feet away.Moreover, this Brilliant Evolution ceiling light is weather-resistant. It can serve light purposes for both outdoors and indoors; I've used the light in different places in my home, such as the garage, patio, closet, shower, and staircase.
One of the users said, "This light is a great solution for non-electricians. I did not know electrical wiring, so, this light is perfect for me. Not wanting to drill any hole, I used 3M tape to hold the light, and it's securely working in my shower." Hear what he further said, "The light is generally good with the motion sensor not overly sensitive. Though the light will light off after 30 seconds of no motion, what I love most about the light is that if you remain with its range of detection consistently, it won't shut OFF to initiate another motion-detecting before it turns ON again.Its performance is steady till it you are out of its detection range."
One of the major down parts is the short time of 30 seconds that it turns OFF. A user mentioned, "Though I love the light's concept, I prefer a situation where I could set the time it will stay on before turning OFF. The 30 seconds limit is too short. It's quite annoying that you must constantly be in motion for it to remain ON."
Specifications
3 C batteries (not included)
1 LED included bulb
20 feet motion sensitivity distance
200 lumens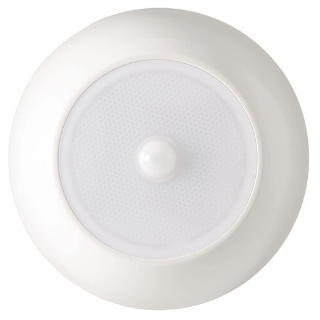 This beautiful outdoor ceiling light with motion sensor comes from Mr. Beams, a notable lighting manufacturer. The light design conforms to modern and aesthetic appeal that matches the most contemporary settings and décor.In addition, its brightness makes it possible to blend with different surroundings seamlessly.
The light functions with great brilliance that diffuses uniquely by spreading across wider areas of its mount. It comes with LED bulbs that could produce up to 300 lumens to enable a good deal of brightness. Functioning with 4 D-cell batteries, this Mr. Beams ceiling light is a great option for places with no electricity.
This light has motion sensors that power it ON once they detect movement that is up to 18 feet away. Also, the light will automatically turn OFF after about 20 seconds without any motion detection. This helps in preserving the life of its battery as it will only be on when you desire to.
The installation of the light is completely wireless. There is no need for professionals as the included screws are all you require to mount it. Moreover, you may choose either to mount the light on walls or ceilings. Both positions will give you excellent performance as the motion sensor will detect motion up to 18 feet away, while the ultra-brightness provides coverage of about 300 square feet. Also, you won't need to crack or break either your ceiling or wall for the installation process.
Furthermore, the weatherproof rating of the light ensures that it shuts off the water, dust, and even insects. So, you can use the light for both indoors and outdoors, like in closets, patio, basements, showers, porches, hallways, and others.
One of the major setbacks is the short time for turning OFF. The light will automatically turn OFF after 20 seconds of no movement. This time frame could be quite inadequate, especially in a shower situation. However, the user will just have to move again to turn ON the light.
Specifications
18 feet motion sensor detection distance
300 lumens
4 D-cell battery powered (Not included)
Tight weatherproof seal
Dusk to dawn sensor
What to Consider When Buying Best Outdoor
· Weatherproof
The light you want to choose is primary for outdoor illumination where it's exposed to different weather conditions. So, it's very important to select weatherproof lights. This will give the necessary protection again some elements such as rain, winds, sunlight, and even dust particles. Using a non-weatherproof light in such conditions will not provide optimal performance. Always go for the certified weatherproof one to enjoy the lighting benefits from the best.
· Motion Sensor Range
Most motion sensor outdoor ceiling lights have a motion detection range of 9 to 30 feet. This is an ideal value and will ensure that your outdoor lights will keep up almost all movement within its illuminance coverage. Additionally, the detection angle (in degrees) plays a role in the sensitivity field of the lights.
So, when you purchase any of the lights with less than 360 degrees of detection angle, their installation must be such that the sensor faces the direction that movements come. This will ensure its ability to detect motion and function adequately.
· Low Energy Consumption
Going for low energy consuming light will serve as a vital method of reducing your electricity bills. Though some of these outdoor ceiling lights are battery-operated, you should ensure to select the ones that will not easily run down the batteries. In most cases, lights with LEDs are more energy-efficient than other types with different bulbs. Moreover, using lights with dimmable bulbs will go a long way to lower energy consumption.
· Type of ceiling
Your ceiling type will affect your choice of outdoor ceiling lights with motions sensor. Considers if the ceiling is slanted, vaulted, or flat to select the lights. Also, the ceiling type can affect your installation process for the lights to ensure the motion sensors remain visible for easy detection.
FAQs
How long do outdoor motion sensors last?
Outdoor motion sensors can last between 10 to 20 years. This is generally where are no electrical faults (such as short circuits) or corrosion of the light components.
Do motion sensors use a lot of electricity?
Motion sensors help reduce the lighting electricity as their power can only use about 0.5 Watts to 8 Watts. Moreover, a motion sensor while on standby mode uses an average of 1 watt in standby mode for 24 hours and 5 watts hourly on its active mode.
Can I add a motion sensor to an existing outdoor light?
You can add a motion sensor to an existing outdoor light. It requires a simple process that does not need additional wiring. This will give you the convenience of having your outdoor lights turn on while you're still outside instead of going inside to put them on from their control switches.