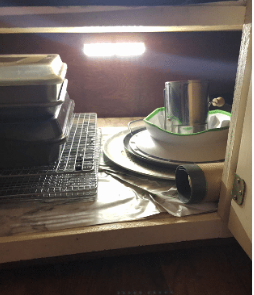 Motion sensor under cabinet lighting have sensors attached to them that respond to movement. As soon as these lights detect any kind of movement in the kitchen or area in which they are installed, they will automatically switch on. Motion sensor under cabinet lighting is used for convenience's sake as well as preserving energy. Not only do they provide ease of use to the users as they do not have to manually operate the lights when they enter the kitchen, but they are also cost-effective in the long run as they do not use a lot of power. This makes them a very popular choice in the house, especially under the cabinets in the kitchen.
7 Best Motion Sensor under cabinet lighting Reviews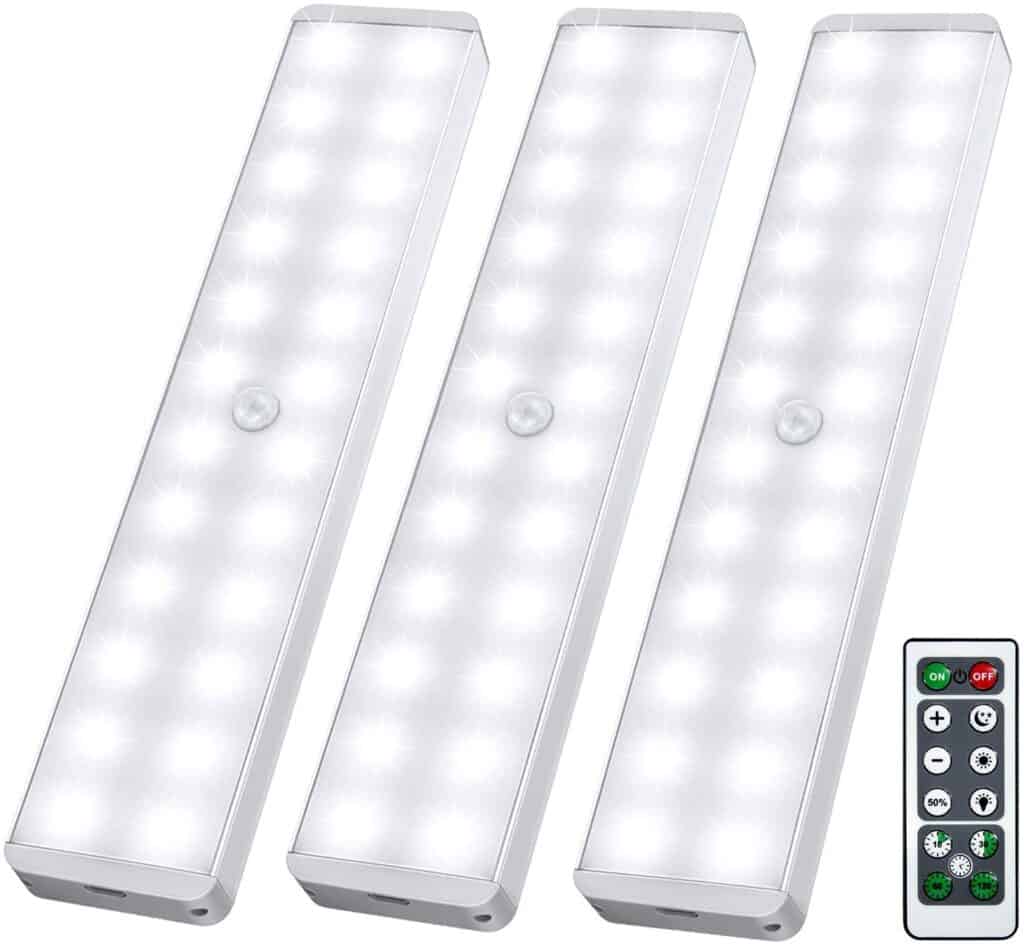 Key Features
3*7.8 inches LED Light Bars
4 modes to choose from
Built-in Magnet
USB Charging
10 feet detection area
120-degree detection angle
Lightbiz LED Closet light delivers some great features making them the top pick amongst all the under-cabinet sensor lights reviewed. The motion sensor works up to a distance of 10 feet and has a 120-degree angle range which is ideal for the kitchen and under cabinets. They can be placed under cabinets and light up areas around the corners where it tends to be dark. The lights come with four different modes and users can use the remote control to choose the mode that will provide them the most adequate lighting for the task at hand. The dual use of remote and sensor makes these light fixtures very versatile for the user to operate.
The magnetic strip and mounting feature make it easy to install these lights. Users can stick the iron plate on a flat surface and the magnet allows the lights to stick onto the metal plate. These lights switch off if no movement is detected for 20 seconds. This is useful if you forget to turn off the lights. The amount of energy conserved will reduce the electricity bill by a margin.
Another great characteristic of these lights is that they can be charged using a USB port. This reduces the need to keep buying batteries and replacing them incurring great costs. The charged light can stay on for a considerable time between charging. Overall, this light fixture is a great pick for under the cabinets.
Pros:
4 different modes.
Magnetic strip allows for easy installation.
Chargeable battery
Remote control for dimming etc.
Can detect motion up to 10 feet away.
Energy efficient
Cons:
The adhesive to stick the light fixture is not too strong and may require additional adhesive to keep in place.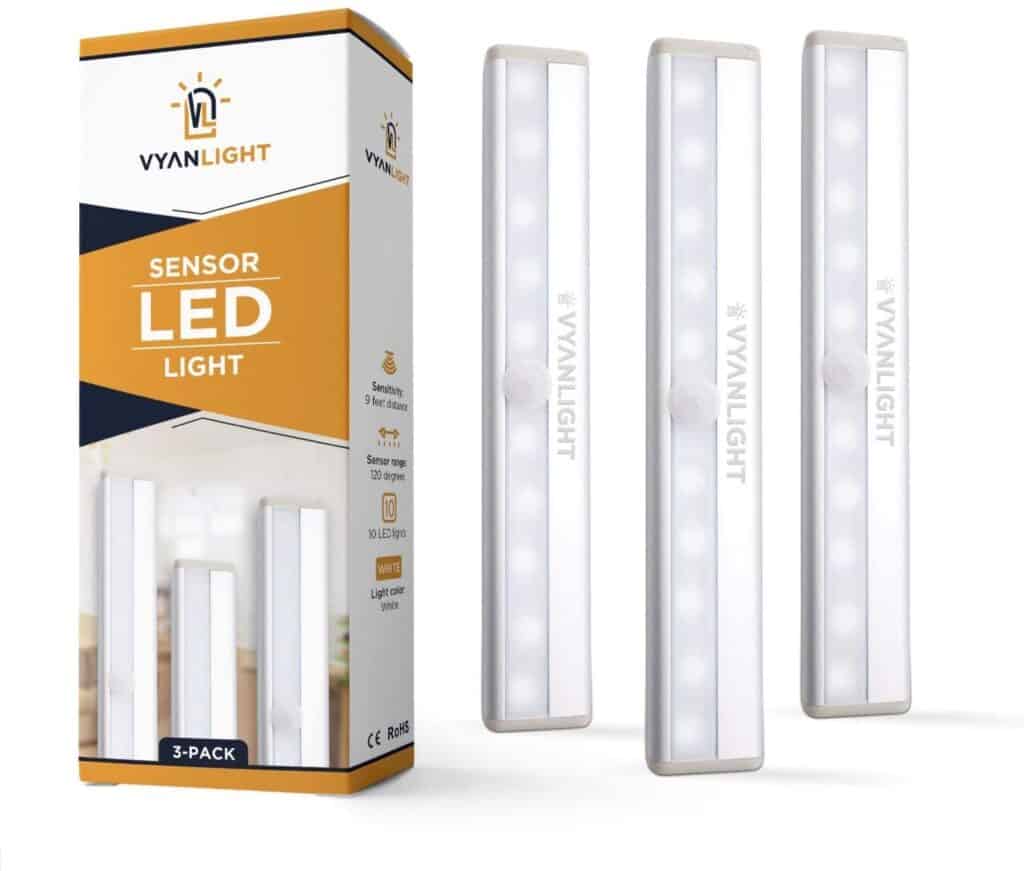 Key Features
3*7.5 inches LED Light Bars
Built in magnet
Detection area of 10 feet
Battery operated
6 Volts
The LED light bars from VYANLIGHT give some great features at an amazing price. If you do not want to spend a lot of money on adding lighting under cabinets, then this is a great deal. Having a motion detection area of 10 feet, the lights will switch on automatically when someone comes into the kitchen or near the cabinets. The automatic switch-off feature is also good for preserving energy and lowering costs.
These lights can be installed easily by the user. Since they have a magnetic strip and a stick-on iron plate, the installation can be done in minutes. They require batteries to run. This may be the disadvantage these lights have as the batteries may run out and need to be replaced frequently. The lights give adequate brightness for small spaces, but a larger area may require more lights. The number of lights you install will depend on the size of your cabinets.
Overall, these lights are a great purchase for lighting up dark under cabinet areas. Being friendly on the pocket, the extra light will be an added advantage in the kitchen and under cabinets.
Pros:
10 feet motion detection area
Easy installation with magnetic strip
Energy efficient and cost effective
Great Value for price
120 lumens provide adequate brightness
Cons:
Batteries may run out easily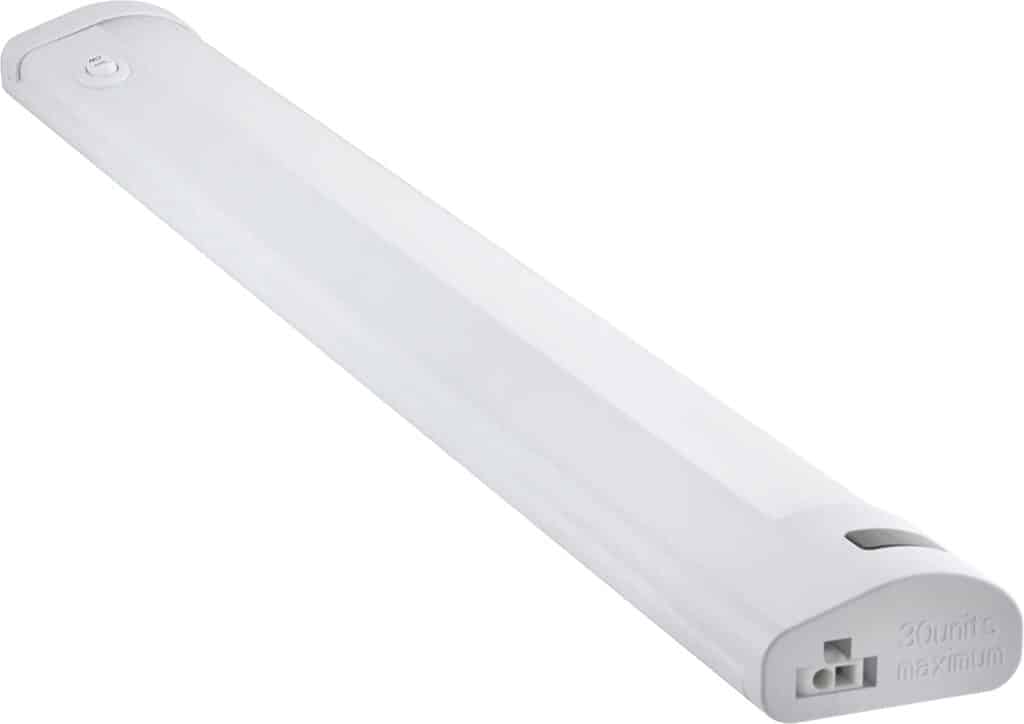 Key Features:
12 inches length
450 lumen bright light
120 Volts
8 Watts
Linkable
Motion detection area of 3 feet
The GE Premium under cabinet LED light comes with a lot of great features. Though there is only one light bar in this package, it has the ability to link up to 20 lights bars with one plug. This gives users a lot of versatility in their application as they can choose the number of bars they would like to install depending on the size of their cabinets. The lights have a motion detection range of 3 feet, which is not a very good range. However, since these lights are installed under the cabinets, the 3 feet can work as users tend to be near the cabinets when they are performing any tasks. Therefore, a 3 feet range will be good in the case of under cabinet lighting.
Other key characteristics that make these light fixtures a premium choice is the ease in which they can be installed, the brightness, and the two lighting modes. These lights have a brightness of 450 lumens providing adequate illumination. The lights have two modes – a high lighting mode which gives off a sharper and brighter light that is more useful for task lighting when prepping in the kitchen and a low lighting mode which is great for creating a warm and inviting ambiance. The low lighting mode can be switched on for some peaceful family dinners or a cozy meal with a loved one.
Pros:
Linkable up to 20 light fixtures
Easy Installation
450 lumen bright light
Low energy use
2 lighting modes
Cons:
The motion detection range is very small and may not pick up the motion at times.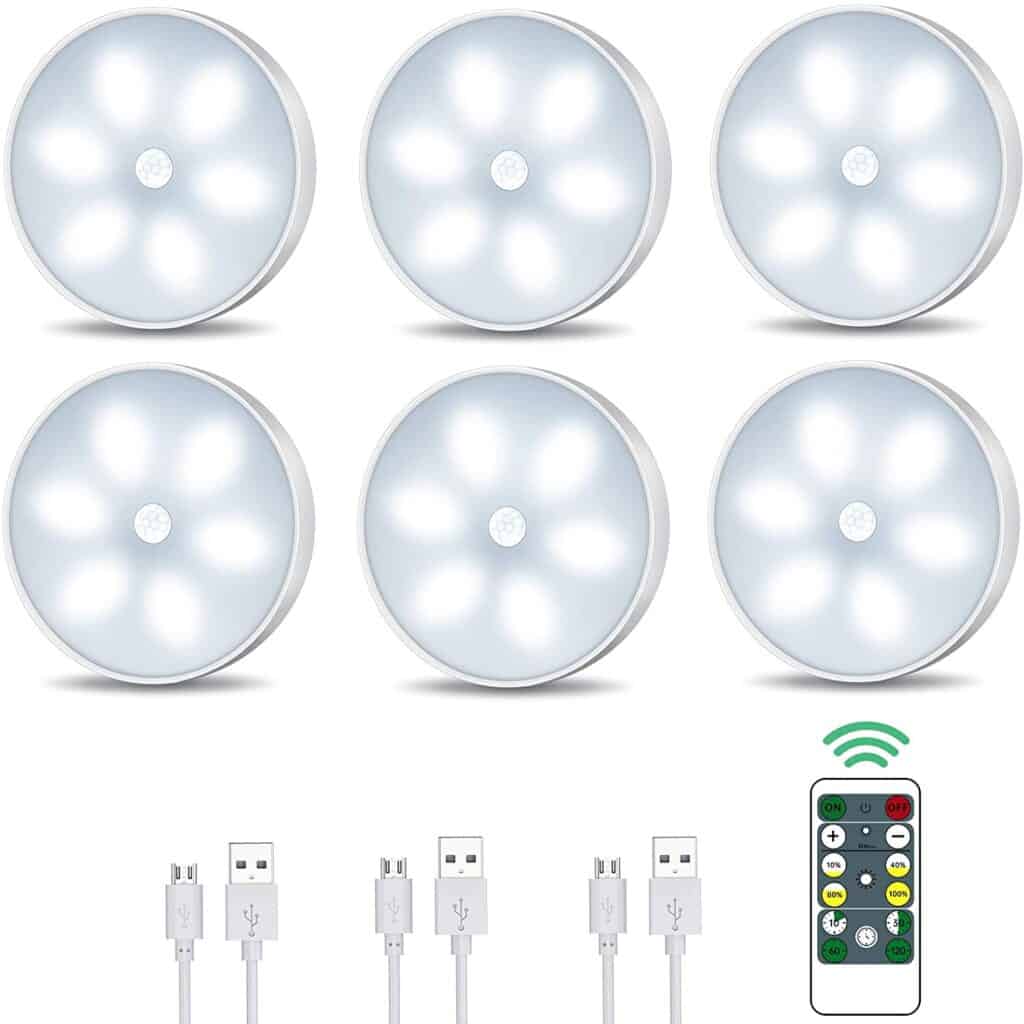 Key Features:
6 pack of Puck Lights
4 Levels of Brightness
10 feet detection range
Rechargeable Battery
Dimmable
Magnetic Strip
Lightbiz, with its 6-pack Puck Lights, gives dual benefits of the motion sensors as well as a remote control. The motion sensor can detect movement up to a range of 10 feet. The lights switch on automatically when someone comes in and switch off after 20 seconds of inactivity. This is enhanced by the remote control, whereby users can control the various functions such as dimming the lights, switching to any of the four levels available. They can also operate a timer function with the help of the remote, whereby the user can set a timer for 10, 30, 60, and 120 minutes. This is an added advantage as users can set the lights depending on their schedule. The dual remote and sensor combo makes these lights very easy to use and provides a lot of convenience to the users.
These puck lights can be installed easily with the magnetic and adhesive options provided. No tools are needed to ensure that anyone can install these lights. Another great feature is that the lights are rechargeable, leaving out the hassles and expenses of changing batteries. A full charge can last 7-20 days on auto mode which shows that they will not need to be charged every day.
The lights are very bright and are perfect for creating brightness under the cabinets. They are white in color which looks good with most styles and décor.
Pros:
Dimmable
Easy Installation
Remote Control provided
Timer Function
Magnetic Strip
Rechargeable Battery
Cons:
The adhesive is not too strong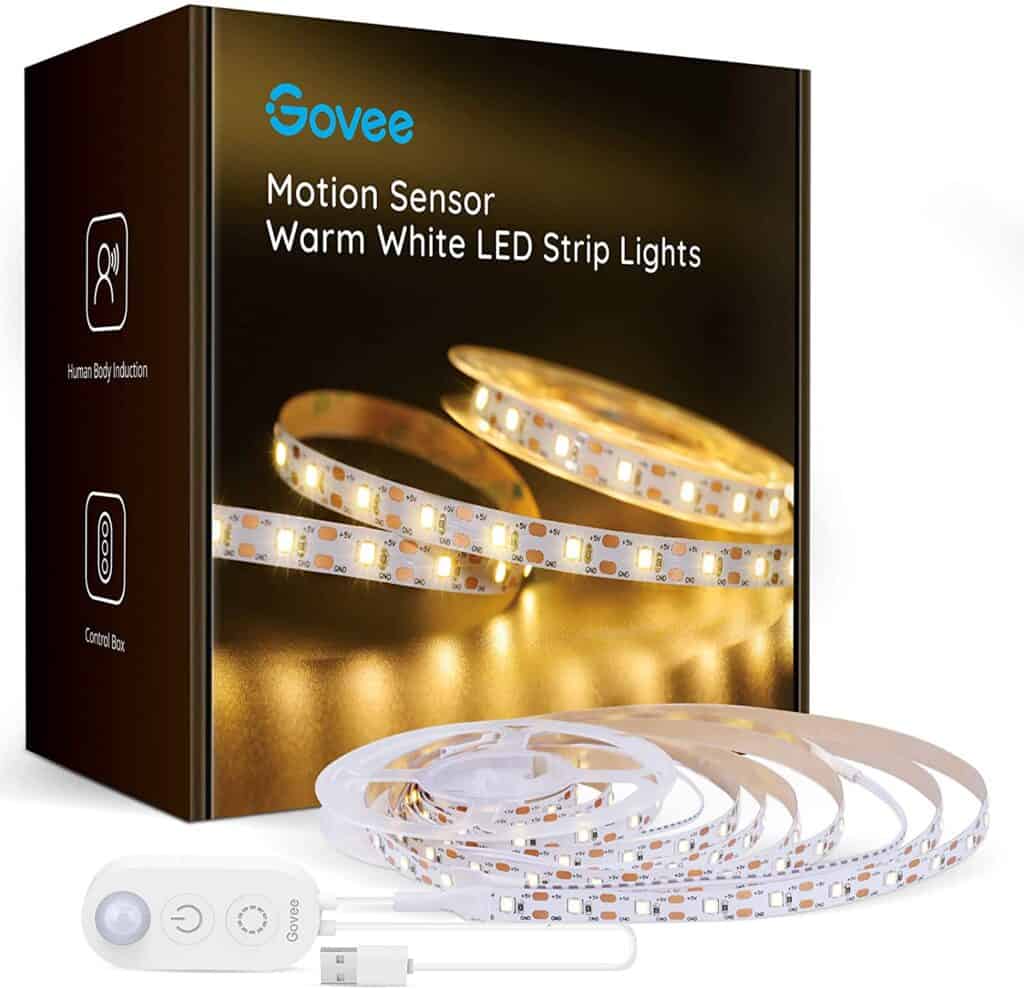 Key Features:
9.8 feet length
6.5 feet motion detection area
Adjustable Brightness
Color Temperature 3000K
CRI over 80
Govee is a renowned name for strip lights and this motion sensor light strip comes with some amazing features. They can sense motion up to a distance of 6.5 feet, which is an ideal range for under cabinet lights. The lights will switch on automatically as soon as they detect any motion. They also have the switch-off feature, whereby the lights will turn off automatically if no motion is detected for 15 seconds. This will cut down on the energy used and reduce the cost of electricity.
Installation of these lights can be done easily by the user through the stick-on adhesive mounting. The light strip is flexible in nature, and you will be able to bend easily into any nooks and crevices. Dark corners can easily be illuminated with these kinds of light strips.
The lights have a control box through which users can adjust the brightness. You can choose between 6 levels of brightness depending on the task you are performing and the ambiance you are trying to create. The warm white color produced by the 3000K color temperature goes well with most styles and decors. The memory function is another bonus feature. It will be easy to set your favorite mode with these lights and enjoy the same level of brightness every time.
Pros:
Good detection range makes it easy to operate the lights
Easy Installation
Energy efficient and cost effective
Adjustable brightness
CRI above 80 gives off the true color
Cons:
The strip length cannot be cut and the whole length of the strip will need to be used.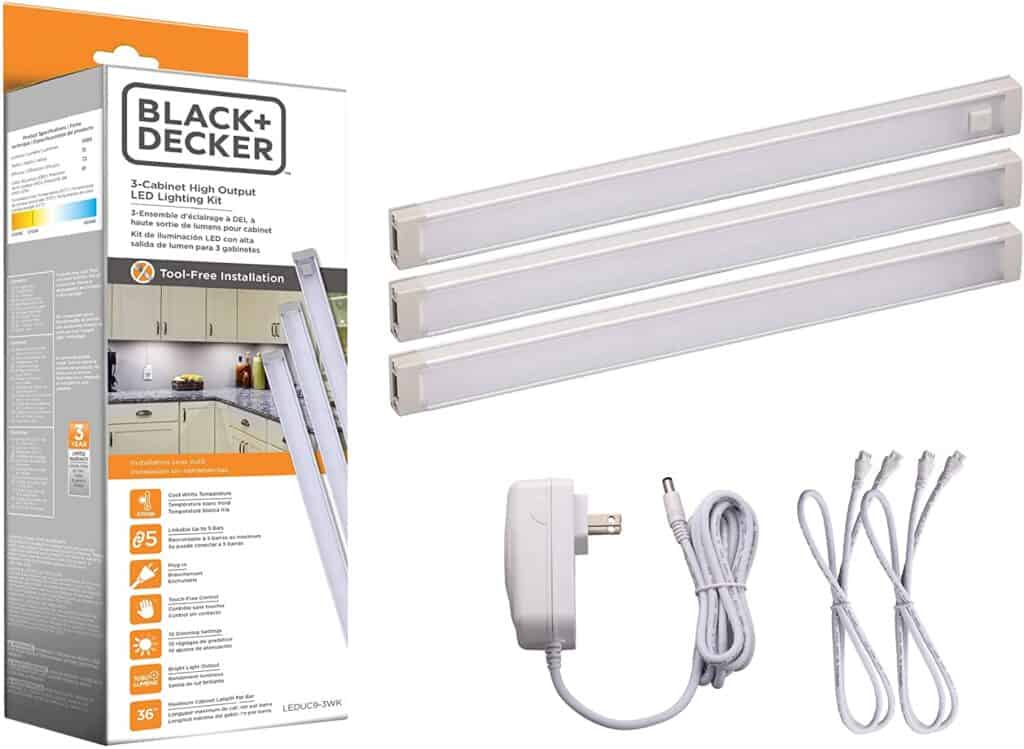 Key Features:
9*3 inches length
Dimmable
Warm White
2700K color temperature
Motion Sensor
The Black + Decker Plug-in motion sensor light can work with the motion sensor for a hands-free experience or in a traditional way with the power button. Users not comfortable with the sensor technology can switch the lights on and off through the power button. The lights can automatically switch off when no motion is detected. This helps to save on the energy used and makes the lights cost-effective.
They come in a set of 3 but you can easily link up to 5 light bars through this set. This will help in illuminating a large under cabinet area in the kitchen. The plug-in option provides a great deal of ease in the installation. No need to get the help of an electrician – the strong mounting adhesive ensures that you can stick them on yourself. The slim profile of these lights allows the light fixture to be hidden from view and gives off a very streamlined and professional look.
In addition to the color temperature of 2700K giving off warm color, it comes with 10 different brightness levels. The user can easily increase or decrease the brightness in congruence with the task at hand. The lower brightness level can create a warm, inviting ambiance and feel, perfect for relaxing and having a meal with family and friends.
Pros:
Energy efficient and cost effective.
Adjustable Brightness with a total of 10 settings
Slim Profile
Simple Installation through the adhesive mounting
Warm white light providing an inviting ambience.
Cons:
The motion sensor doesn't have a wide detection range.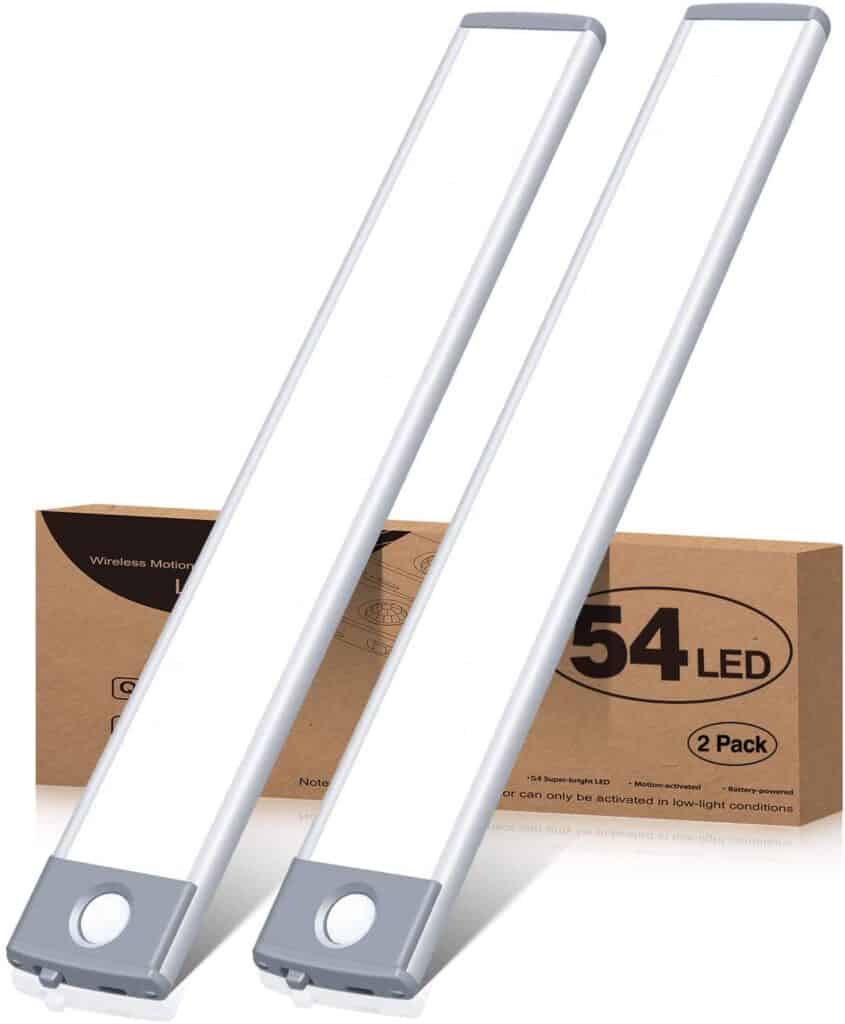 Key Features:
8*13-inch length
Cool White
Color temperature of 8000K
Rechargeable Battery
Aluminum Covering
10-feet detection range
120-degree induction range
Magnetic Strip
The PRIORARE LED motion sensor light comes in a set of 2 lights. Having a magnetic plate and stick-on iron plate, the installation is a breeze. It can easily be done by the users on any flat surface under the cabinets. The ultra-slim profile also gives a very clean look. Users will not see any light fittings from far, with just the illumination and brightness of the lights lighting up the counters under the cabinets.
The rechargeable battery is very efficient as it can be charged easily with a USB port and an hour or two of charge can give up to a month of use in the sensor mode. This allows users to enjoy the lights for a long period without having to repeatedly charge the light. It can also work for 5 straight hours with the same amount of charge showing that it conserves energy and saves on cost.
The motion sensor detection range of these lights is 10 feet, which is more than adequate for under cabinets. The light fixture gives off a cool white light of 8000K color temperature, which can be a bit too sharp. However, the aluminum covering ensures that the light is diffused, and the end result is a uniform, soft light that works well in most under cabinet areas.
Pros:
Aluminum cover gives off a soft illumination.
Rechargeable Battery
Energy efficient and cost effective.
Simple Installation
Slim Profile
Good motion detection range
Cons:
The adhesive used for installing the lights is not strong enough and additional glue may be required.
Buying Guide: What to look for while buying Motion Sensor under cabinet lighting
The decision to buy a motion sensor light may be a bit confusing for a novice. You can ask yourself these important questions before purchasing a motion sensor under cabinet lighting.
What kind of motion sensor does the under-cabinet lighting have?
Motion sensors are of two types – occupancy sensor and vacancy sensory. The occupancy sensor turns the lights on when someone enters the room and turns off when they exit. These are ideal for under cabinet lighting as they will work when users are performing their tasks in the kitchen. Occupancy sensors require the users to turn on the lights when entering the area and they turn off automatically when the person leaves. This is a good option if a person keeps forgetting to turn the lights off. Ascertain why you want to keep motion sensors under cabinet lights and then choose them accordingly.
What range of detection should you choose for your motion sensor under cabinet lighting?
Range of detection refers to the distance at which the motion sensor can pick up the movement. Most motion sensor lights can detect movement between 3 to 100 feet away. The detention angle of the light is also important as you will be able to estimate the field in which the light will be able to detect the motion. The range is usually indicated in the product description. The range of detection for under cabinet lighting will not be as big as compared to a light installed outdoor. The size of your kitchen will be a key factor in determining the range and angle of detection needed for your under-cabinet lighting.
Advantages and Disadvantages of using Motion Sensor Under Cabinet Lighting
There are many advantages and disadvantages of using Motion Sensor Under cabinet lighting. These include:
Advantages:
They do not require a touch for them to switch on. This is helpful for the elderly, children, or people having disability. The light can automatically switch on when they are present in the kitchen.
They save on energy bills as they only work when someone is around. They will automatically switch off when you leave the area, thus conserving the energy.
They can keep you safe as enough illumination is present when you are performing a task or when you enter the area.
Disadvantages:
Users do not have total control over the lights as they can switch on when you enter an area. This may feel intrusive when you enter the area at night and do not want the light on.
The light may turn off when you move away for a short while. Hence, it is better to have lights that can be manually controlled in addition to the motion sensor lights so that they don't turn off completely if you move out of the room for a few minutes.
FAQs (Frequently Asked Questions)
What is the best wattage for under cabinet lighting?
Ans: An ideal wattage for lights under a cabinet in the kitchen is approximately 15 watts per meter. This may vary depending on the project, the size of the kitchen, and the brightness of the light.
Can I install a motion sensor to an existing indoor light?
Ans: Yes, it is possible to install a motion sensor to an existing indoor light. You will need to purchase a motion sensor kit and then add it to the existing light as per the instructions on the kit.
Can you convert light to a motion sensor?
Ans: It is easy to convert an existing light to a motion sensor. First, you need to purchase a motion sensor kit. Remover the cover of your light and ensure that it has an opening where you can screw the motion sensor. Screw the motion detector to the light fixture by combining the hot (black) wire to the motion sensor black wire. Tie the neutral wires together and then calibrate the detector to ensure that it works properly. Close up the light fixture and you are done.
Are motion sensor lights worth it?
Ans: Motion sensor lights have a lot of uses such as ease of use, lower energy costs, and increased security.
Do you need special bulbs for motion sensor lights?
Ans: No, you do not need any special bulbs for motion sensor lights. The bulb needs to be attached to the motion detector to work.
Related Articles:
Best smart under cabinet lighting
Best plugin under cabinet lighting
Best hardwired under cabinet lighting