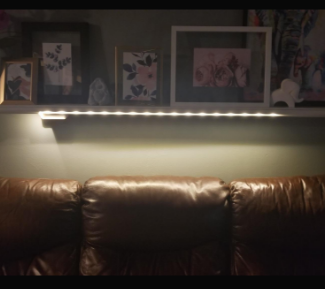 LED strip lights are one of the best options for under cabinet lighting as they are cost-effective in the long run, do not heat up a lot, and provide uniform lighting that is perfect for task lighting in the kitchen. An LED Strip light consists of a long circuit board with light-emitting diodes (LEDs) mounted on it to provide illumination to a room or an area. As the cost of many LED lights has gone down considerably, they are now the rage for under cabinet lighting. If you are looking to renovate your kitchen, you should consider looking into LED under cabinet lighting.
5 Best LED under cabinet strip lighting Reviews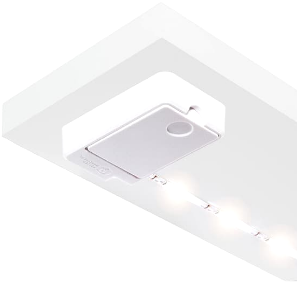 Key Features
5000 K color temperature
Battery Operated
Daylight White
3 ft Length
Power Button
The LED light strip from Luminoodle is the best battery-powered LED under cabinet lights. It uses 3AAA batteries and they tend to last at least a month without requiring the need for replacement. The light strip itself is easy to install with the stick-on adhesive. The adhesive is very strong and there are no issues with the lights falling off in the future. They can adhere to different surfaces making them great for under cabinet lighting. The lights are attached to a battery box which is quite big in size. It would be useful to plan your installation out before attempting to do it and hiding the battery box under the cabinets so that it does not come into view. The light strip is waterproof and hence will not get spoilt in the kitchen if some water accidentally went on it. However, the battery box is not waterproof and should be kept away from water.
The light is quite bright, and it lights up a small area very well. The daylight white color is good for performing tasks in the kitchen and other areas and it pairs well with a modern and contemporary décor. However, one disadvantage is that the light cannot be dimmed when a minimal amount of brightness is required.
Pros:
High intensity brightness perfect for task functions.
Easy installation
Waterproof
No unsightly wires to hide.
Cons:
Battery Compartment is not waterproof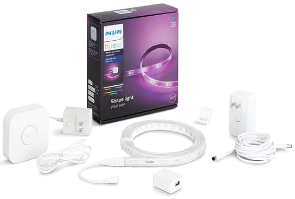 Key Features
Compatible with Alexa, Google Assistant
White Color
80-inch Light Strip
Bright Illumination
The best smart LED light strip is the Philips Hue Light Strip. Featuring a hub, an 80-inch strip light, and connection cords, this light strip can light up a large under cabinet area. It also has the ability to be extended with 1 m kits for lighting up even larger areas. The light strip is compatible with Alexa, Google Assistant, and Apple Home kit. It can be operated with voice control through the app without needing hands to switch the light on and off. Simple voice instructions are all you need to choose between different colors, adjust the brightness, and customize various schemes.
The Philips LED strip doesn't have a remote control to operate the lights and all functions need to be controlled through the app. This may be difficult for people who are not very tech-savvy. Users can choose between different color options from warm light to cool white depending on the task they are performing, the time of the day, and their personal preference. These light strips are slightly more expensive than other LED strip lights, but the brightness, quality, and features provided by these lights make up for the higher price.
Pros:
Bright illumination
Multiple scheduling options
Versatile colors
Dimmable
Warm and Cool Lighting Options
Cons:
No manual control options
A bit on the pricey side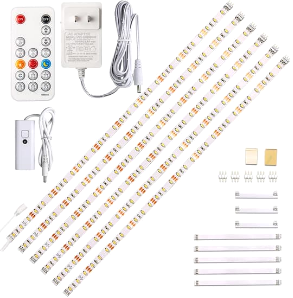 Key Features:
Dimmable
Remote Controlled
Warm White
2700K Color Temperature
1500 Lumen
This under-cabinet LED lighting Kit by Wobane provides precut strips with great connection options at an amazing price. These strips can be installed easily, and you will be able to connect a maximum of 12 light bars with one connection. The set comes with different connectors that allow the strip to go round corners and reach the furthest nook and cranny. The adhesive backing ensures that the light bars can be stuck on the surface easily. These light bars can be controlled in two ways. They have a wireless remote control through which users can change the brightness, set timers, and choose the color temperature. The lights can also be controlled through the in-line dimmer control. This allows users to turn the light on and off and adjust the brightness. This dual way of operating the lights gives users a lot of flexibility in their usage.
The brightness provided by these LED lights is 1500 lumens. This is good for accent lighting but may not be too good for the task or functional lighting. However, it can be combined with another source of light to provide adequate illumination for detail-specific work. They are also very energy efficient and use very low voltage for operation.
Pros:
Wireless remote for all functions
Adjustable brightness
Good value for money
Low power and heat
Easy Installation
Cons:
Not enough light for task or functional lighting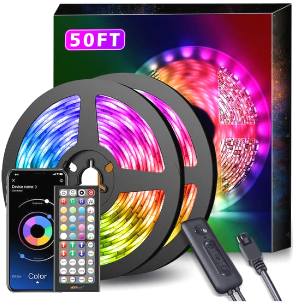 Key Features:
Built-in Mic
Remote Control
Downloadable App Compatible
2 * 24 Ft Length
27-Watt Power
The 50 feet Strip light from Nexillumiis a great deal at less than $20. If you want to illuminate your kitchen counter on a budget, these are a good option to go for. The set comes in 2 flexible strips of 24 feet each and a range of different connectors for easy installation in different areas. The light strip can be cut along the marks depending on the size of your cabinets or the area you are illuminating. It comes with a safe, tested power adapter that will shut down as soon as it is being overloaded. This feature is a useful one as it can minimize any fire and overheating hazards.
The lights can be operated through an app that is downloaded on a smart device, through a remote control, or through a control box. This triple method of operating the lights makes them very versatile in their use. The light strips have many features such as different colors, brightness level, ability to sync to music, and timer function. The color, brightness, and timer can be set through the app. The timer function is also very useful as you can set the light to go off every night thus conserving the energy.
Pros:
Light weight
Easy Installation
Can be used through remote control, app, or control box.
Power adaptor that can shut off when overloaded.
Cons:
The remote and app may interfere with each other.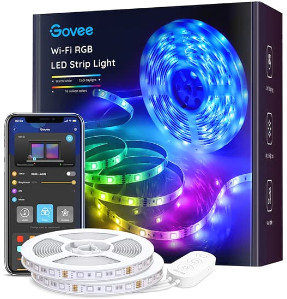 Key Features:
Alexa and Google Assistant Compatibility
Built-in Mic
32.8 ft Length
Music Sync
The LED strip light top pick is from Govee. The ability to control these lights through the app and through your voice makes them a winner. They can work with compatible Alexa and Google Assistant devices to power the lights on and off, change the brightness, and set the themes and color. Users can give voice commands to perform all these functions. However, non-tech individuals may find it difficult to work the lights as there is no remote control provided. They would have to use the app. The built-in mic is useful as you connect the lights to your favorite music to create a jovial or relaxing mood. Imagine working in the kitchen with music playing in the background. It really does take the lighting to another level.
These lights have many features such as multiple colors, and different brightness levels to choose from. The lights can be dimmed according to the task being performed. The installation is also very simple with an easy stick-on mechanism. The light strip is bendable, and it is simple to pass it through corners and crevices. The different colors make the area beautiful and relax the mind. Choose from an array of colors to brighten up your mood.
Pros:
Hands-Free control making it easier to operate
Adjustable Light Direction.
Compatible with Alexa and Google Assistant
High intensity and reliable strip lights.
Easy installation
Adjustable Brightness
Cons:
Not waterproof
No remote included
Buying Guide: What to look for while buying LED under cabinet strip lighting
It is important to understand the different factors and properties of LED under cabinet strip lighting before you make a decision to buy them.
What are the LEDs/Length of the LED strip light?
If you are purchasing LED strip lights, then you should look at the number of LEDs per length of the strip. The LED lights that have a larger number of LEDs per foot or meter is the one to go for. If the LED light is close to each other, they will give off a brighter and higher-quality light. On the other hand, If the LEDs are too spaced out along the strip, they will produce a poor-quality and spotty light instead of clean, consistent light. However, the LEDs/Length is only one factor that affects the brightness and there are other factors that can also affect its brightness.
What is the LED Strip Brightness?
The brightness of the LEDs is measured in lumens. The higher the lumen of the LED light, the brighter it will be. The lumen that will be perfect for your project will greatly depend on type of material of the surface under the cabinet and the amount of brightness required.
Surface under the cabinet: This plays an important role in selecting the LED Strip Light. If the surface is made of a matte or wood finish, it will absorb more light, and will not give off a sharp glare. On the other hand, a shiny or polished surface will give off a glare and LED strip lights with a lower lumen works on such surfaces.
Primary Source of Lighting: If the LED under cabinet strip light is used as the primary source of lighting and there are not many other sources of light in the room, then LED strip lights with a higher lumen (500 – 1000 lumen/ft) should be used. This gives off a very bright light and it is recommended to install it with a dimmer to be able to moderate the amount of light provided by the strip lights.
Task Lighting: If there is a primary source of light, but lighting under cabinet is installed for task purposes, then an LED strip light having medium brightness or lumen (200 – 500 lumen/ft) should be chosen. This provides lighting in a certain area where you will be completing your task.
Accent lighting: If the primary purpose of installing the LED strip lights is to provide a soft illumination or just for aesthetic purposes, then an LED strip with lower output (80 – 200 lumen/ft) should be chosen.
What is the Color Temperature of the LED lights?
White light is commonly used under cabinets in the kitchen especially for task lighting. It comes in different shades which are determined by the color temperature. A lower temperature in Kelvin gives off a warmer light, while a higher temperature gives off a cool, white light. A warmer light with a color temperature less than 2500K can help you unwind and provide a relaxing atmosphere, whereas a cooler temperature of 3500K and more is preferable for task lighting or for a more contemporary look.
LED under cabinet lighting can work with different types of power supplies, such as direct-wire, plug-in, or battery operated. For a direct wire option, you will need the help of an electrician who can configure the whole system for you. This option is preferable as it gives off a very polished and professional look with no unsightly wires hanging about. Another option that is also feasible is a plug-in one, though a power outlet needs to be nearby that can be used to supply the power. Finally, you can have a battery-operated option if your usage is not too great as this will need replacement of the batteries as soon as they run out.
The LED strip lights can be found in a 12V, 24V, or 48V option for DC power. The LED strip light that will be suitable for your project will depend on the size of the project. Most under cabinet lighting will require a 24V DC power. However, some small projects that use the LED strip lights for accent purposes can run on 12V.
FAQs (Frequently Asked Questions)
Are LED strip lights good for under kitchen cabinets?
Ans: Yes, LED strip lights make a good choice for light under cabinets in the kitchen. They provide detailed lighting under the cabinets that are great for task and functional purposes. Another advantage is that their flexibility makes it easier to mount on different surfaces such as the underside of the cabinets, any crooks, or crevices, and in a recessed space. Furthermore, it can be cut into any length making it versatile for any project.
Where do LED strips go under cabinets?
Ans: The LED strip lights can be stuck along the bottom of the cabinets or even along the kitchen console table. If your cabinets have a frame underneath them, then it is better to stick the LED strips behind the frame. This will hide it from view and illuminate the space underneath. However, if the cabinets do not have a frame underneath, then the LED strip lights can be placed further back. Most cabinets are deep enough that the LED strips will not be seen.
How do I hide my LED strip power supply?
Ans: A good way to hide the LED strip power supply is to have a three-inch-wide horizontal board fixed beneath the cabinet. This prevents anyone from seeing the cords and the light fixtures and keeps them out of view. The result is a clean and sophisticated look without any unsightly wires and cords hanging around.
Where do you cut the LED strip Lights?
Ans: LED strip lights come with a line indicated between the copper dots that can be cut. This is the place where you can cut the LED strip light if you want to shorten it. It is important that you cut in this indicated section only, or else that part of the circuit or the whole strip light will stop working.
Can you cut RGBIC Strip Lights?
Ans: RGBIC strip lights cannot be cut or connected as they are controlled by individual IC chips. If you cut it the strip light will stop working or its performance will be affected. In contrast, it is possible to cut the RGB strip along the marks indicated.
Related Articles:
Best smart under cabinet lighting
Best plugin under cabinet lighting
Best hardwired under cabinet lighting