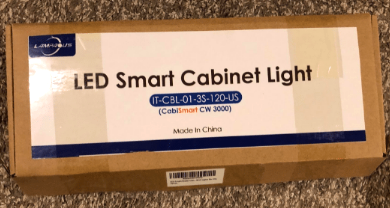 Smart under cabinet lighting has made it easier and simpler to add task lighting to the kitchen or any other room remotely or without having the need to power the lights with a power switch. They use wireless transmission to send and receive signals, and users can control them through their smart devices. Smart under cabinet lighting makes it easy to operate the lights while working in the kitchen, cuts energy costs, and adds elements of fun and style such as colored lights, color themes, and music synced lights. Before you go on to buy smart under cabinet lighting for your home or kitchen, you can go through the reviews of some of the different smart cabinet lighting.
6 Best Smart Under Cabinet Lighting Reviews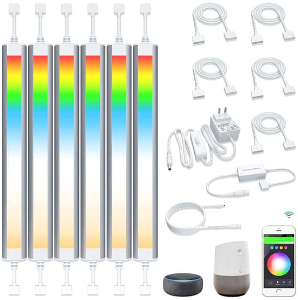 Key Features
LED Light Bars
2700K to 6500K color temperature
0-1000 Lumen adjustable brightness
Compatible with Amazon Alexa and Google Assistant
CRI greater than 85
6 * 12 inches in Length
Voice Control
Our top pick is the six-pack set of LED smart light bars from LAMPAOUS. These smart under cabinet lighting come with a few amazing features that augment its functional use and add an element of style to the cabinets. Since they are easily controlled by Alexa and Google Assistant, users can use voice or their smart device to switch the light on and off and control different features such as the brightness and the color intensity. Since the smart lights are using Wi-Fi technology to connect to the devices, they can be controlled by the app from anywhere in the house and outside. This is an added advantage when you are away and have forgotten to switch off the lights. You will still be able to switch them off wherever you are.
These smart lights have many other features such as the ease with which they can be installed. The color temperature can be chosen from 2700K to 6500k providing users the flexibility to go for warm and cool tones. Users can easily match the smart light to the aesthetics of their home and kitchen. The light has a plastic cover, allowing the light to diffuse evenly giving off a uniform look and eliminating any kind of spot.
Pros:
Easily controlled by the App.
Can be controlled by Voice.
Lots of brightness and intensity options.
Can be used to create various moods
Plastic cover for diffusing light
CRI greater than 85 ensures true colors
Cons:
Some controls like dimming can't be controlled manually and can cause an issue if your device is not with you.
Key Features
LED Light Bars
Dimming through App or Voice
Compatible with Alexa, Google Assistant, Echo
2700K to 6500K color temperature
6*12 inches length
CRI greater than 80
Smart under cabinet lighting that gives the most value to their consumers are the 6 LED smart light bars by LAMPOUS. The lights are compatible with Google Assistant, Echo, and Alexa and users can use their voice to control most of the features of these lights such as the temperature, brightness, and intensity through the app. This is a useful feature when busy in the kitchen, as you do not need your hands to operate the lights.
The lights have very simple installation techniques which can be done easily by the user without any professional help. The varied color temperatures provided by these lights can be adjusted from cool to warm tones which can be matched to the aesthetics of the home. The lights can be easily connected to the Wi-Fi of the house, without requiring a separate hub to be installed. The brightness can be adjusted depending on the time of the day and the task at hand. These LED lights use only 24 watts of energy ensuring that they last a long time without incurring huge energy bills.
With the number of features provided by these smart under cabinet lighting, the price you are paying is a real deal. At this price, it is advisable to install these smart under cabinet lighting without much thought.
Pros:
Controlled through voice and app.
Numerous Color temperature and Brightness options
High CRI, showing off the true colors.
Installation is simple and can be done by the user.
Cons:
The adhesive is not too strong and may require additional adhesive to stay firm.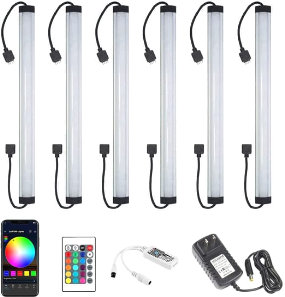 Key Features:
12*6 inches length
6000K Color Temperature
Plastic shell with Aluminum alloy shell
24W energy
Multicolor
3-Year warranty
The best feature of these light fixtures from LAIFUNI is the fact that they can be controlled by remote control in addition to the control through the app. This gives users a lot of choice in the way they will use the lights. Users, especially those who are elderly, who find it hard to understand smart technology can operate the lights, switch them on and off, and adjust the brightness with the help of the remote. Compatible with Alexa, Echo, Google Assistant, etc., users can access many features through the app on their smart devices. Apart from adjusting the brightness, color temperature, you can also set different themes on the app and save them for use at any time. The remote control is not compatible for saving themes and other such features, but it can control most of the basic functions.
The color temperature of these lights is 6000K which is a very cool white. However, as it is RGB mixed-light, you can change the color through the app from color temperatures ranging from 2000k for a warm color to 9000K. The lights are covered by a plastic covering giving off a diffused light with no spotting or uneven light. Installation is simple and efficient energy use makes them cheaper in the long run.
Pros:
Remote control gives ease of useability.
Multicolored
Plastic cover giving off a diffused light.
Low energy use
Easy installation
Compatible with Alexa, Google Assistant and Echo
Cons:
Remote has only a few presets.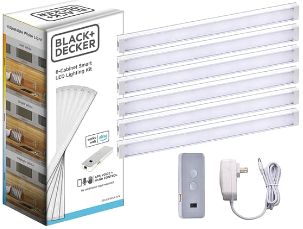 Key Features:
6*9 inches length
Dimmable
Adjustable Color temperature of 3000K, 4000K and 5000K
24 Watts
Compatible with Alexa
Smart Control Box included
App, Voice & Hand Controlled
3-Year Limited Warranty
The LED bars from Black + Decker are the premier choice for smart under cabinet lighting. The premier status is provided to these lights as they can be operated using Alexa, Motion Sensor, as well as the Smart Control Box provided. This makes them very flexible to use. These lights require an Alexa device to operate the lights. This can be an advantage or a disadvantage as most devices are compatible with Alexa, and it is very simple to operate. However, if you do not have access to Alexa, then you will need to get it to operate this light. Users can power the light, dim, and adjust the brightness and color temperature through Alexa. Motion sensors will allow you to control the lights while busy doing your tasks in the kitchen.
There are many features that are very useful in these light bars such as nightlight mode. Under this mode, it is easy for you to create a routine whereby the lights dim at night at 30% of their brightness and then switch off after 5 hours. Besides that, other modes can be created by pairing the lights with the speakers and smart devices for a soothing or vibrant feel. You can also schedule the lights based on your day by specifying the time they would switch on and off. All this can be done through Alexa. Multiple color temperatures allow you to choose the color based on your style and décor.
Pros:
Works with motion sensor, control box, and with Alexa.
Multiple color temperatures to choose from
Dimmable
Strong clips for installation
Cons:
Only compatible with Alexa and not any other App.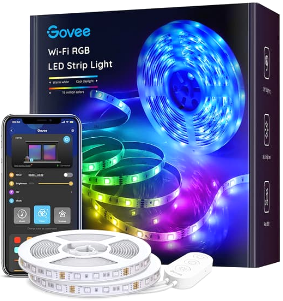 Key Features:
32.8-inch length
36W Power
Stick On Installation
12 Volts
RGB colors
Built-in Mic
Govee's smart LED strip light provides some great features while being friendly on the pocket. The light strip is compatible with Alexa and Google Assistant and the control of the lights is a breeze through the app. Users can operate the lights, set different colors, customize different modes, and add timer functions all through the app on the smart device. Timer function enables users to program lights to go off at times when they are not in the kitchen or at night. The built-in-mic allows users to connect the lights to their favorite music and create a relaxing and uplifting mood in the home.
The strip lights are also very simple to install with the stick-on adhesive mounting and the ability to be connected to a power socket. The bendable strip is also easier to go around bends and crevices under cabinets and users will be able to lighten up dark corners with ease. The number of smart features of the strip lights, coupled with the ease of installation, at an incredible price makes these lights a favorable investment in the house.
Pros:
Many smart functions such as timer function, and customized modes.
Uniform light without any shadows
Energy efficient and cost effective
Built-in Mic to connect to music
Ease of installation
Cons:
The mounting tape is not strong enough and may require additional adhesive.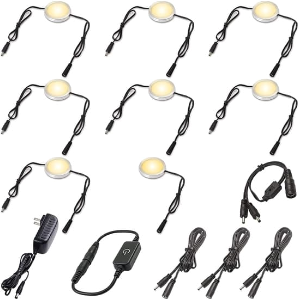 Key Features:
8 Puck Lights
Dimmable
Warm White
Smart Touch Dimmer Switch
12V
The Lvyinyin Smart Puck lights can be considered the best in smart puck lights due to the various features that are inherent in these fixtures. These puck lights have only a 0.32-inch thickness, giving them a very slim and attractive profile. They can easily fit and stay hidden under the cabinets. This gives a very sleek and streamlined look. The lights are designed to be linked together in a series and you can connect each puck light with the other in a neat and organized manner. Extra wires are provided for you to extend the lighting system with an additional 4 lights. This allows users to illuminate a larger under-cabinet area if needed.
These puck lights give off a warm white color. It also has a smart touch dimmer switch which can be used to power the lights and adjust the brightness to its desired level. The aluminum cover gives off a soft, diffused light ensuring that there are no harsh spots.
Pros:
Slim Profile ensures that they stay hidden.
Smart Dimmer Switch for ease of use.
Aluminum cover gives off a soft illumination.
Additional lights can be attached in series for illuminating a larger area.
Cons:
The lights may take a few seconds to switch on having a short delay.
Buying Guide: What to look for while buying Smart under cabinet lighting
How will the smart under cabinet lighting be connected to your smart device?
Smart under cabinet lighting can be connected to your smart device in different ways.
Some smart light fixtures connect to the device through a home automation hub. In this case, you need to purchase a separate hub which will operate all the smart lights in your home. However, in most cases under-cabinet lighting doesn't require a hub as they are fewer in number. There may be exceptional cases when the light fixture is not compatible with the smart device app and may need to be connected through the hub.
Many under cabinet smart lights can connect to your phone or tablet via the Wi-Fi. This is preferred way as most people find it easy to operate the smart lights when connected through Wi-Fi. However, if you have many smart lights, it can use a considerable amount of the Wi-Fi.
Some under cabinet smart lights may be connected through Bluetooth. The limitation of this is that you can only control the lights within the Bluetooth range and cannot make any changes to the smart under cabinet light if you are away from home.
2. What features of smart under cabinet lighting are important for you?
Smart under cabinet lights have different features and it is important to note which features are important for under cabinet lighting.
Some smart lights can be controlled with simple voice commands through an app. This can be handy when you are busy prepping food in the kitchen and do not need your hands to operate the lights.
Smart lights have a wide range of lighting options and color hues to choose from. You can choose colors based on the mood, the task you are doing in the kitchen, or just the colors that are compatible with your décor and give an aesthetical appeal to your kitchen.
Smart light brightness can easily be adjusted through the app on your device. If your device is with you, you do not need to go to a dimmer to adjust the brightness, which is useful for under cabinet lighting.
Some smart lights have sensors that allows them to sense if it is too dark. They can turn on automatically when the kitchen gets too dark, or they can switch off if it is too bright. This can help save on energy costs as the lights can go off automatically when it gets bright.
When purchasing smart under-cabinet lighting for your kitchen, you should buy the ones that have features that you will be using more.
Advantages of using Smart Under Cabinet Lighting
There are many advantages of using Smart Under cabinet lighting. These include:
Control and Convenience: All you need to do is use your voice to ask Alexa or any other compatible app to switch on the lights and it will be done. You can continue doing the tasks that you are busy with. It is that simple.
Lower Energy Usage: The lights use less electricity as compared to traditional bulbs and lights saving on the amount of energy needed to light up the room.
Long Lasting: These lights can last for a long period of time reducing the expense and time of replacing bulbs.
Setting the Mood: Smart lights tend to be a lot of fun as they enable you to set the mood by changing the color or the intensity.
Aesthetic Appeal: They come in different sizes and shapes and can be matched to the décor of your home.
Customizable: The lights can be changed as you want. You can choose from warm colors to cool colors based on your preference or mood.
How do you install smart under cabinet lighting?
Ans: Installing smart under cabinet lighting is not too complicated. Most smart lights come with an easy DIY installation procedure. To ensure that the installation of the smart under cabinet lighting is done properly, follow the steps below.
First, make a detailed plan of where the lights need to be installed and how many lights will be needed.
Then, measure out exactly where each light fixture will be attached.
You can then attach the light fixture under cabinets by using the mounting adhesive provided or with the help of screws. If using the screws, you will need to drill holes under the cabinet.
Fix all the light fixtures and connect them with the help of a power cord to a power outlet. If you would like to hardwire the lights, it is better to get the help of a certified electrician.
Once the installation is completed, you will need to download the compatible app on your smart device. Then through Wi-Fi or Bluetooth, you can pair the lights with the app on the smart device. Once the lights have been paired, it will be very simple to operate the lights through the App. Have fun playing around with the different colors, brightness levels and finding the perfect light for your kitchen.
Related Articles:
Best hardwired under cabinet lighting
Best plugin under cabinet lighting
Best led under cabinet strip lighting