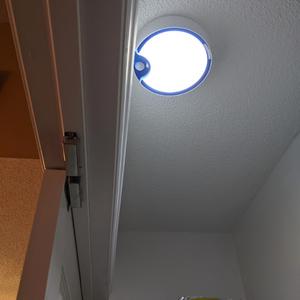 If you are here to find the best battery-operated ceiling light, you are at the right place. In places where it is difficult to install electric-powered ceiling light or there is no power connection, the battery-powered ceiling light is the best option for those situations. Also, the battery-powered ceiling light is easy to install and convenient, you can remove and install it anywhere easily. But finding the best one out of many can be a bit confusing, that is where we have done all the hard work for you. We have tested more than 20 lights, researched the internet from top brands, and taken many customers' feedback to pick the best out of many.
The best battery-powered ceiling light should have at least 180-200 lumens of brightness, 3-6 months battery life, motion sensor, adjustable brightness option, easy to install, and a minimum 1-2 years warranty.
If you don't have enough time to follow the whole article, just check the following list.
How to Choose The Best Battery-powered Ceiling Light
Battery Powered Ceiling Light type
We have picked the 7 best lights by considering different requirements. There are different types of light on this list for different purposes. We have listed conventional top-quality battery-powered ceiling lights, ceiling lights with wall switches, hanging pendant ceiling lights, color-changing ceiling lights, water-resistant ceiling lights, rechargeable ceiling lights, etc. You should consider which type fulfills your need and choose according to that.
Brightness
Battery-powered ceiling lights can't be a substitute for electrically powered ceiling lights as battery-powered lights can't produce as much brightness as electric-powered lights, but the light you choose should give enough brightness for the need.
In this list, we have picked lights that at max produce 300 lumens of brightness which is the maximum you can get. When choosing a battery-powered ceiling light you at least should look for a minimum of 180 lumens. That gives enough brightness to fulfill most of your daily needs.
Battery Life
Battery life is a key decision-making point for battery-operated ceiling lights. If the battery dies fast, you need to change it frequently which is expensive to operate. A good battery-powered ceiling light should last at least 3-6 months. When choosing batteries, we recommend buying lithium-ion batteries as they last longer compared to other types of batteries. Also, features like, motion sensor, adjustable brightness, photocell sensor, and auto-off help to maximize the battery life by only using the light when required.
Motion Sensor
The motion sensor is another feature to increase the battery life. As, most people use battery-powered lights in their close, cabinet, basement, garage, etc when they are only physically active in those places. So motion sensor light gives the advantage of the auto turning off and on when there is motion or not. That way the motion sensor only uses the battery when it requires the most.
Adjustable Brightness
For a battery-powered ceiling light, it is important to use as less as energy as possible to maximize the battery life. So when you don't need maximum brightness, you can dim the light for saving energy if the light comes with the dimmable feature. Luckily, many of our lights come with adjustable brightness functions.
Also, features like the photocell sensor give you the option to choose whether the motion works always or only at night.
Moreover, battery-powered ceiling lights should be easy to install without any complexity, and if it comes with a remote control that is very good.
7 Best Battery-Powered Ceiling Lights Review
1. TOOWELL Battery Operated Motion Sensor Ceiling Light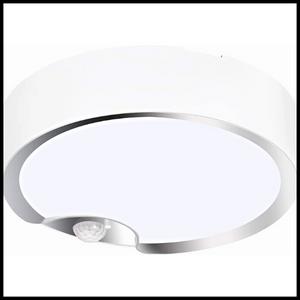 Highlights
300 lumens
6 months battery life
4 D-cell Battery required
Stylish & Modern
Energy-efficient
80 pcs LEDs
20-second auto-off Motion sensor
On/off daylight & night mode photocell sensor
120-degree motion detection angle
Up to 19 feet motion detection range
3-5 meter recommended installation height
This TOOWELL battery-powered motion sensor ceiling light is our top pick. It has a modern and stylish design and is suitable for places like the basement, hallway, stairs, garage, garden shed, porch, bathroom, etc where there is no electric outlet or difficult to install an electric-powered light. As a battery-powered light, it is bright. It produces 300lm with 80 pcs high quality and long-lasting LEDs. It delivers daylight white illumination of 5000k, which is suitable for any dark place.
It comes with a motion sensor and photocell sensor. It can detect movement up to 120 degrees angle with 5 meters/20 feet detection range with the infrared PIR motion sensor. When it detects any movement, it turns on and turns off 20 seconds after the movement is left. It has daylight mode and night mode. Through the photocell sensor, You can simply sift from daylight mode to night mode by sliding the switch to turn on and off. In the daylight mode, the light will stay motivated both day and night so the motion sensor will work whether it is day or night. In the night mode, the light works only at night.
As a motion sensor light, this light is energy-efficient because it only turns on when it detects any motion. So, this light uses energy when it requires the most. It requires 4 D-cell batteries to operate which can give up to 5-7 months lifetime in normal usage, but the batteries are not included with the light, you have to buy them separately. Moreover, you have to be careful in battery use. Don't use any other types of battery rather than the D-cell battery and don't mix the old battery and new battery.
The installation is very easy and simple. You can install it with the hardwires included for mounting both in the ceiling and wall.
According to the users, this light is bright enough that it works very well for dark closets and is much brighter than other contemporary battery-powered lights. The instruction is very easy and the motion sensor is very accurate.
However, few users complain about the motion sensor as they mention that the motion sensor doesn't work properly and misfunctions. But I didn't find any issue when I use it. Also, another user mentioned that with 4 batteries the light gets heavy and doesn't stick to the wall, but when I tried, it stuck perfectly with the ceiling.
But it is true that 4 D-cell batteries make the light heavy, so I would recommend using the screw to install it. Also, the D-cell batteries are not cheap, they are expensive so add that with the price of the light as they don't come with the light. But as this is an energy-efficient light with a motion sensor, it will run quite well with 4 batteries. There is no off switch in this light. So you can't completely turn off the light unless you remove the batteries.
Additionally, this light is not super bright, so if you are hoping it will brighten a large room fully, that is not going to happen. But the brightness is good compared with other battery-operated lights. The color of the light suits perfectly with the room. The build quality isn't very strong but it doesn't feel fragile.
2. Energizer Battery Operated Ceiling Light with Wall Switch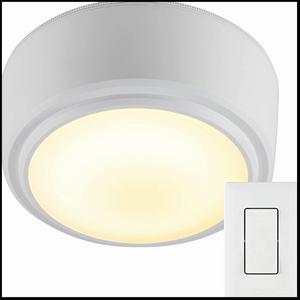 Highlights:
Wireless remote wall switch
Up to 50 ft wireless wall switch range
Adjustable lumen 100/200
Auto-off after 1 hour
90 days warranty
Easy installation
4 C batteries require
A23 battery included for wireless switch
Wireless switch compatible with all 47485 mode light
Designed in the USA
If you want a battery-operated ceiling light that comes with a wireless wall switch, this Energizer battery-powered light is the best option for you. It comes with a wireless light switch that can be mounted easily to the wall and works up to 50 feet distance. So you can easily on/off the light using this switch. Another cool thing is that this wireless wall switch works with all the 47485 mode lights. It has a motion sensor variant as well, but that doesn't come with the wireless wall switch.
Coming to the brightness, it gives warm white illumination of around 3500k. It can deliver a maximum of 200 lumens of brightness which is bright enough for a room or closet. It has 2 variations of the lumen, one is 100 and another is 200 which is the maximum. You can select either one just simply slide the switch on the light. You can select the100 lumens to maximize the battery life where you don't need too much brightness. Another interesting and very useful feature is that the light automatically turns off after 1 hour of use to save the battery life.
The light requires 4 C batteries to work. Keep in mind that the batteries are not included with the light, need to buy them separately. The wireless switch needs 1 A23 battery and it is included. In terms of battery lifetime, it mostly depends on the usage. But, some users complain about the short battery life. One user mention it only last for 2 weeks. But that may be a rare scenario with too much usage. Normally, if you only use it when you need it the most, it gives a good battery life.
This light is easy to install, and the installing hardwire-like anchor and screws are included. You can easily install the light with the anchors and screws anywhere you want.
According to the users, the light is very useful, easy to install, bright enough from the closet, and dark basement, and the wireless switch gives great advantages of controlling the light from a distance.
But it has some drawbacks as well. The battery life is not super great. Also, this model doesn't have any motion sensors which are often used in battery-powered lights to save battery. But that can be both good and bad based on requirements. In a motion sensor light, you can't keep it turn on for a long time without any motion but this light stays turned on for 1 hour once you turn it on. And, needless to say, it kills more battery. Also, the wall-mounted wireless switch kills the battery faster.
Other than that, this light is well made, and designed in the USA to ensure quality and performance. So in the garage room, closet, stair, and basement where it is difficult to install an electric-powered light that requires wiring, this light gives you a perfect solution with the wireless light switch.
3. It's Exciting Lighting Battery Powered Hanging Pendant Light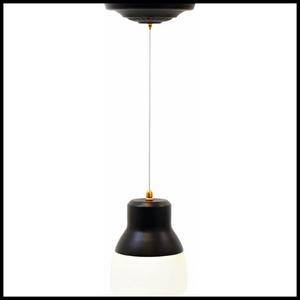 Highlights:
No wires
Adjustable brightness(25%-100%)
24 led, 170 lumen
4 hours auto-off timer
3000k color temperature
Remote control brightness
Energy efficient
Adjustable cord
Frosted glass shade with bronze finish
Need 3 d batteries(not included)
100 hours battery life with height brightness
Easy to install or remove, portable, lightweight
ideal for power outages
Are you looking for a hanging pendant but don't want to take the electric wiring hassle?
This hanging pendant is battery-powered, so it doesn't need any electrical wiring installation. This battery-powered hanging pendant light is suitable for those who are looking for a stylish battery-powered hanging light and don't have a close power connection or don't want the wiring installation hassle.
This light is a great solution for places like dining tables, pool tables, and vaulted ceilings where it is hard to install electrical wiring light. Also, the aesthetic beauty of this light is very appealing.
The light is beautifully designed with a bronze head and frosted glass shade. This light runs with 3 D batteries. Installing the batteries inside the led pod shade is not difficult. It comes with high-quality bright 24 LEDs. It can produce 170 lumens of brightness with 3000k warm white color temperature. Most importantly, it comes with remote control and you can adjust the brightness at 4 levels from 25% to 100% with the remote control. This is a very important feature for any battery-powered light as you can increase the battery life to reduce the brightness when you don't need too much brightness.
Another great feature to save the battery is a 4-hour auto-off timer. The light automatically turns off after 4 hours of run time to save battery.
Regarding installation, it is to install if you have a little bit of DIY knowledge. It is lightweight, portable, easy to remove, and can be installed anywhere.
Easy installation process: 2 installation stages
Stage 1: First, need to install the ceiling bracket on the wall. then the ceiling plate needs to be installed on the bracket. After that attach the pendant light with a cord and insert the led pods with batteries. you can adjust the cord length as you want to get a comfortable height.
Stage 2:
Add the batteries to the led backplate
Add a nail or screw into the wall where you want to install it
Hang the backplate on the wall
Turn on the backplate
Attach the shade to the backplate
Finally, this light is perfect for places like dining tables, bedrooms, high ceilings, etc. A|so very useful for power outage situation. Few users mention that the installation process is hard and confusing. But I find it easy once you properly follow and understand it. that is why I explained the installation in detail.
As reported by the users, this battery-powered pendant light looks beautiful, gives enough brightness over the dining and game table, is easy to assemble, works perfectly in emergency situations, and is very useful where there is no power connection.
However, it has some drawbacks as well.
It is not very bright, not very cheap, the globe is cheaply made and somewhat fragile, and is a little difficult to install who don't have minimum DIY knowledge. Also, a few users find some hardwire issues with the light. But most of the users find the light very attractive and useful.
4. BIGLIGHT BatteryPowered Color Changing Ceiling Light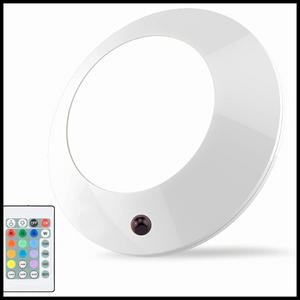 Key Specifications:
16 color-changing modes ( 4 lighting modes, 12 different colors options)
Adjustable brightness
Fully remote control(24 keys)
Dimmable
Required 3 C-cell batteries(not included)
4 LEDs, 3000k color btemperature
300 lumens
4 different timer setup
Easy installation
4 different modes
Simple installation process
If you are looking for a battery-powered color-changing ceiling light to make your bedroom or shower colorful, this BIGLIGHT light is the best choice for you. It has 12 different colors and 4 different modes(flash, strobe, fade, smooth) so that you can change the ambiance of your room with different colors. More important, you can do all these with the remote control which comes with 24 keys.
You can choose any color from those 12 different colors by pressing the color button on the remote control. Also, you can adjust the brightness and choose any mode from those 4 modes with the remote control. Also, by pressing the lens of the light, you can on / off and change 4 colors ( white, green, red, and blue).
The light runs with long-lasting 3 C-cell batteries which have 100 hours lifetime with maximum brightness. If you use it in low brightness, the lifetime will increase.
In terms of the lumen, the light has 4 ultra-bright LEDs which illuminate 300 lumens at 3000k color temperature. The 300 lumens are bright and surely will create a beautiful ambiance in your place
Additionally, the remote control has 4 timer buttons(1,2,3,4) to set up the auto turn-off timer from 1 to 4 hours. That means you can set the time when the light turns off automatically from 1 to 4 hours.
This light is long-lasting, the manufacturer claims that it has a 30000 hours lifespan and the batteries have 70 hours runtime.
Lastly, these lights are extremely easy to install. It comes with screws and plastic anchors to install in the ceiling or wall which you can do it easily by following the guideline without an electrician. Also, these lights are great value for the money.
Good things based on user experiences
The light is very versatile and flexible in terms of use. It is easy to install and comes with a simple remote. You can control almost anything and everything with the remote. It works perfectly. The installation is pretty easy, with the 1/th drill it is quite smooth to install. The different colors work properly in different light conditions. The colors are bright but the white color is particularly brighter, other colors are more off for ambiance but you can easily differentiate them. You can dim the light and change the different colors with the remote. This light is a great solution for relaxing who don't want a permanent light solution for the shower.
Drawbacks based on user experiences
If you use this light extensively, it will kill the batteries quickly. So it is going to be expensive to use. The batteries won't last long for the daily too many uses. Also, it doesn't have any motion detector which can be more energy efficient. the remote control doesn't work from a long distance or if there is a distraction like a door or a wall between the remote and light.
But these issues are very minor compared to the great advantages of this light. So whoever looking to add some colorful ambiance to relax without having an electric outlet, this is the best you can get.
5. Youtob Water-Resistant Battery-Powered Ceiling light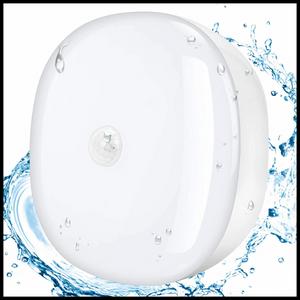 Highlights:
IP 54 rated
300 lumens
30 seconds auto-off motion sensor
120-degree motion detection angle
Color temperature: 4000k
Up to 16 feet installation height
photocell sensor: daylight & night mode
Require 3 D batteries( not included)
Ideal for wet and moisture places
Quick and easy installation
If you are looking for outdoor battery-powered ceiling light for the patio, door front, or indoor battery-powered ceiling light for the bathroom, shower, or laundry where the light may come close to water splash or moisture, this Youtob battery-powered ceiling light is the best light for you in this list. This light comes with an IP54 rating, so it is resistant to dust and soft water splash from any angle. That is why it is suitable to install in any semi-open space. It also has a color-changing variant which comes with a remote control like the previous light.
As a battery-powered light, it needs 3 D batteries to run. This light only uses 5 wattage electricity for producing 300 lumens. Besides that, it comes with both motion and photocell sensors which gives you to save energy as much as possible and use it when it needs the most. That is why the light is battery efficient and one set of batteries is enough for 1 year with an average of 7-8 times use per day.
As a motion sensor light, it picks motion properly and detects motion at a maximum of 120 degrees angle. The motion sensor works at a maximum 16 feet distance so the maximum installation height is 16 feet. And, the light automatically turns off after 30 seconds once there is no motion. Based on the photocell sensor this light has 2 modes; one is daylight mode and another is night mode. The daylight sensor mode works both day and night but the night mode works only at night, so you can choose as your need to use the light when you need it only.
In addition, this light comes with a 30 pcs led which gives 300lm 4000k white color, very bright as a battery-powered light. The 4000k is ideal for the workspace like laundry, basement, closet, garage, etc. The light is 6.1 inches in width and 2.5 inches in height.
If anything needs to pick as negative, there isn't any. But it doesn't have a color-changing feature and is not dimmable. But as motion sensor light, being dimmable isn't that much necessary.
Installation:
The installation is easy and shouldn't take more than 5-10 minutes. It comes with all the necessary hardwires to install so shouldn't have any issues with the installation. Just follow the process given below.
Turn the light upside down and slide the mounting plate to the arrow to separate it from the light
Turn the backplate counterclockwise to open the battery compartment
Press the center point to select nighttime or daytime motion setting
Install 3 D cell batteries and close the compartment
Screw the mounting plate to the ceiling or wall and attach the light to it
(Note: There is no instruction in the manual about the drill bit size for pilot hole drilling. We recommend using the 7/32 drill bit.)
This light has got great user feedback. It has got 4.5 out of 5 from more than 850 customers rating on amazon. According to most of the users, this light is bright and almost looks like a traditional electric-powered light. The motion sensor is highly sensitive and works perfectly and always comes on when it needs, very suitable for power blackout situations. The photocell sensor has adequate sensitivity and it only comes when you must need it. Moreover, it is easy to install with great customer support.
But some drawbacks as well from a few users like the light gets heavy when the batteries are installed and there is a tendency of falling. One user complained that the motion sensor stopped working after 1 week and the light didn't stay on for a long time. But those are very rare and the manufacturer provides all the support if there is anything wrong happen with the light.
Lastly, this light looks bright and beautiful so suitable for shower, kitchen, laundry, or half outdoor places.
6. TOOWELL Rechargeable Battery-Powered Ceiling Light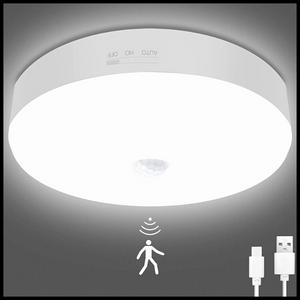 Key Features:
Inbuilt 10000mah rechargeable battery
10 hours to full charge
Doesn't require a new battery once die
Photocell sensor & motion sensor
30-60 days runtime with 1 time full charge
USB cable
300 lumens and 5000k color temperature
30000 hours lifespan
This is another battery-powered light from Toowell but it is very different than other lights on this list. If you are trying to find battery-powered ceiling light but don't want to pay for batteries after each time batteries die, this light is the best solution for you. It comes with an in-built rechargeable battery. So you don't need to change the battery in regular intervals once the charge is finished, instead of that you simply can recharge the light with the USB cable, power bank, laptop, etc. This is an excellent feature and very useful too. So those who are looking for rechargeable battery-powered ceiling light, this is the top pick for them.
Regarding the battery, it comes with an in-built 10000 mah battery, takes around 10 hours to charge fully and you can use this light from 30-60 days(based on uses) by charging once. So compared to other battery-powered lights, this rechargeable light is more useful and easy to power. It has a small light signal of charge, if the charge is low, it shows a red signal, and once fully charged, it shows a green signal.
Regarding brightness, it produces 300 lumens with only 5w led which is equivalent to a 30w fluorescent bulb. That means, it saves around 85% electricity compared to other lights and also has a 30,000-hour long lifespan. Additionally, it has a 5000k color temperature which is cool white and very bright which suits the workplace and home. Moreover, it can brighten 300 square feet and the frosted cover is ideal for softening the light illumination so that it doesn't trouble your eyes.
More importantly, it also comes with an infrared motion sensor which can capture motion at a 100-degree detection angle and a max of 16 feet distance. The light turns on once it finds a motion within that range and turns off after 20 seconds the motion is left. You simply can on and off the motion sensor by sliding the switch. The motion sensor only works at night.
The light has 3 different modes. With the on mode, the light stays turned on always and doesn't turn off automatically. In auto mode, the light motion sensor only works at night, not during the day. It also has a photocell sensor, with turning it on the light won't turn on if it can detect enough brightness. Lastly, the 3rd mode is off mode, when the light always stays off.
For the installation, it comes with 2 screws and you easily attach the load-bearing plate with the screws in the ceiling and then simply fix the light.
Users have a positive review for this light. One real user says" I was looking for a battery-powered light which is bright for my stair garage, but afraid of frequent battery changing. Finally, I have got what I was looking for."
According to one of my friends who is using this light, this light is bright, the motion sensor works quickly and accurately, has good battery life, and gives enough brightness for the basement. All the features work properly and changing is simple. Once it is fully charged, it runs for months.
But one user complained that the light died after using it for 2 days and couldn't be recovered. The manufacturer sent a new light and it works fine. If I need to say anything which is not great is if it would come with a remote control that would be more convenient. Also, this light doesn't have a dimmable feature.
Finally, this light is very useful and valuable for money as it doesn't require new batteries like other battery-powered lights on this list. It will add enough brightness to your hallway, kitchen, corridor, stair, storeroom, garage, etc.
7. Lineway Motion Sensor Battery-Powered Ceiling Light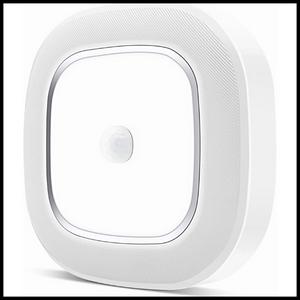 Key Features:
Square shape design
180 lumens with 6000k color temperature
48 LEDs in each light
2-way installation
120-degree detection range with 16 feet max distance
Max 15ft installation height
5.9 inches width & 0.98 inches height
20-second auto-off motion sensor
Light sensor
Require 4 AA batteries
Here we have Lineway 2 pack battery-powered ceiling lights. These lights are simple and basic yet very useful for indoor uses in closets, hallways, stairs, basements, etc. These lights have some handy features which are really cool.
These lights are square-shaped and come with motion sensors. The motion sensor gives a 120-degree detection range and 16 feet max detection distance. The maximum installation height is 15 feet.
The width and height of these lights are 5.9 inches and 0.98 inches and the width of the actual light without the bezel is 3.74 inches.
These lights have 3 different modes. Only with the auto mode, does the motion sensor gets activated and it turns on the light when detecting any motion and turns off after the 20s the motion is left. Also in auto mode, it doesn't turn on during daytime and when it gets enough brightness. So it only works at night because of the light sensor which maximizes the battery life by only keeping the motion sensor working in darkness.
With the on mode, the light stays turned on always whether day or night. And with the off mode, it stays off always like any conventional lights. Most of the battery-powered motion sensor lights don't come with always stay turn-on mode, which is a great thing. As you can use the light as your need to stay on/off or auto motion sensor mode.
The lights run with 4 AA batteries. With an average of 8-10 times used, it runs around 3 months. The lights have 48 LEDs each and produce 180 lumens with 6000k cool daylight white color temperature. So they are bright enough for any indoor usage. We recommend you use Lithium-Ion AA batteries rather than normal AA batteries. We have tested that Lithium batteries make the light much brighter compared to usual AA batteries, also lithium batteries give enough brightness for the indoor requirement. More importantly, the lithium batteries last longer compared to other types of AA batteries in these lights.
Also, you can choose EBLrechargeable lithium-ion batteries, if you don't want to buy new batteries once the old batteries die. This will save your expense.
It has 2-way easy installation. It comes with brackets and you can install the brackets to the ceiling with the screws another option is it comes with adhesive so that the brackets can be installed on the ceiling with the adhesive. Choose one of them. One user complain that the motion sensor doesn't work properly but when we tested it, we got it absolutely fine.
In terms of user experience, these lights are very functional with useful features and do have a great user experience. One real user says that these lights are absolutely fun to use, and come with an on/off button which is a rare feature in battery-operated ceiling lights and it gives the advantage of keeping the light always on avoiding the motion sensor.
Also, the lights give adequate brightness for indoor needs and give good battery life. The motion sensor works quickly and properly as expected. Moreover, these lights come with the necessary hardwires.
But even all that, the lights are not water-resistant, not recommended to install in outdoor places or showers where it comes close to moisture and water splash. Also, the switch feels a bit flimsy, should have better quality. Also, one user complains about the misfunctioning of the motion sensor after using a few days, but luckily the manufacturer sent a new light.
.
I have shared links of all the productfrom amazon to buy because whether you are trying to buy these light from USA, UK, Canada, Australia, amazon gives best price, support and quick delivery. 
Advantages & Disadvantages Of The Battery Powered Ceiling Light
Advantages
Easy to install: the biggest advantage of battery-operated ceiling lights is they are easy to install. You don't need any writing or any power connection to install it. You can install it simply with the screw. There is no hassle of extensive wiring. That is why you can install it anywhere even in the remote area in your home where it is difficult to do electric wiring.
Flexible: Another great advantage is you can easily uninstall the battery-powered light and install it in any other place quickly as your requirement.
Lastly, in places like the basement, garage, cabinet, closet, shower stairs, etc motion sensor battery-powered light is a much better option compared to the electric light.
Disadvantages
Brightness: Battery-powered ceiling light doesn't give as much as brightness the electric light so battery-powered ceiling light isn't ideal for brightening large places. Also, these lights can't replace conventional lighting. These lights are only ideal for specific places with specific requirements.
Expensive to operate: Only without the rechargeable battery-powered lights, other battery-powered lights need to change battery frequently when the battery dies which makes them expensive to use.
How long do battery-powered ceiling lights Last?
Different battery-powered ceiling lights last for different periods of time. Some last 1-2 months, some are 3-6 months and there are some those lasts for 1 year. But in general, most of the lights last 2-3 months which is not that great. So choose a light which at least last for 3-6 months. Also, pick a light that comes with features like the motion sensor, and adjustable brightness to get good battery life.
How can I run lights without electricity?
Simple, by using battery-operated light, you can run light with any electricity. But once the batteries die, you need to remove the batteries and install new batteries.
How can I get ceiling lights without wires?
Through the battery-powered ceiling light, you can get ceiling lights without wire. But this is not a substitute for wired ceiling light. Battery-powered ceiling lights are ideal where it is difficult to wire or there is no main power source for installing electrical wired light.
Are battery-operated lights any good?
The battery-operated lights are certainly good for being easy to use and install or remove, portable, and a source of emergency lights.