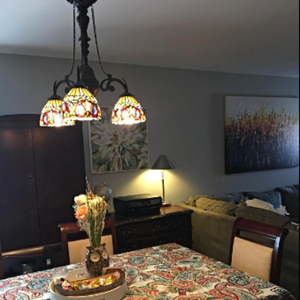 The Tiffany-style lights are a huge part of interior decoration for ages. The Tiffany-style stained glass chandeliers are the same too. If you are looking to give a gorgeous, antique, and decorative look to your home, a tiffany style chandelier can fulfill your need. The tiffany chandeliers are being used widely in bedrooms, living rooms, dining, kitchen, foyer, hotel lobby, restaurants, bars, etc as a symbol of luxury, vintage, and sophisticated ambiance.
Tiffany-style stained glass chandeliers are expensive because it takes a lot of handcrafting, but here I have picked some affordable options as well.
The best tiffany chandelier should be made of handcrafted stained glass, vibrant and colorful with evenly toned color, gorgeous, brass metal finish, supports different types of bulbs, strong and durable built quality, and unique in design and style.
I have picked the top 7 after hours of research, testing, talking with users, and reading a lot of user feedback. I am sure this list won't disappoint you.
How To Choose Best Tiffany Style Chandelier
Choosing the best Tiffany-style chandelier depends a lot on individual preference of look and style. But still, there are a few things to look after while choosing one.
Design & Style
This is the most important point and largely depends on individual preference. That is why I have picked the 7 best tiffany style chandeliers and each of them has uniqueness in terms of design and style. There are differences in design, color, size, lampshade number, lampshade design, finish, weight, price, etc, to find the best one check which one attracts you the most in terms of both design and style. More importantly, you need to consider deeply whether the color of the tiffany chandelier will suit your place or not.
Size
Before buying a tiffany style chandelier or any chandelier, you must need to consider the size of both the chandelier and the ceiling where you place where you are going to install it. You need to pick a size that suits your space. In this list, I have picked large, medium, and mini chandeliers. If you looking for a large chandelier, you can choose from LITFAD 9 lights baroque style, LITFAD 6 heads parrot style chandelier, or Capulina tiffany pool table chandelier, for medium size, you can choose from Chole 3 lights victorian chandelier, Capulina 3 lights antique pendant chandelier or Cotoss 5 lights chandelier, and lastly, for mini size, Amore Lighting single hanging pendant chandelier is a perfect choice.
Height Of the Ceiling
Both for high ceilings and low ceilings, the chandeliers that come with adjustable hanging cords are ideal. Here, there are some chandeliers that come with a 60″ adjustable hanging cord. The long hanging chain is necessary for the high ceiling. Also, you need to check the minimum hanging height for each hanging light.
Built Quality & Material
This is a very important point to consider deeply. The tiffany style chandelier should be made of the handcrafted stained glass shade. So check the material properly and read the customers' feedback to be ensured the built quality. Also, try to buy from a manufacturer which is making tiffany style lights for a while and has a good name in the industry.
After-Sale Service
You may find it difficult to assemble and install the light fixture. Also, these light fixtures may come as broken or missing parts. So be assured of the company's response and see how supportive they are and how quickly they respond to the users' feedback.
Price
As you already know, tiffany lamps are pretty expensive, which is no different from the chandelier. But, the stunning beauty of tiffany chandeliers is worth the price. Also, the time and effort required for making one, surely justify the price even more. So, you need to consider that price as well. Luckily, there are some affordable tiffany chandeliers on this list so that you get a great value for money.
Best Tiffany Style Chandeliers Review
1. Chloe Victorian Tiffany Style Mini Chandelier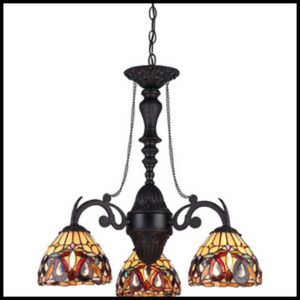 Highlights
3 lights Victorian-style mini chandelier
60w E26 Type A bulb socket
Dark brown antique bronze patina finish
Simple and stunning design
Real handcrafted tiffany style stain glass shade
Finished with blazing crystal
Weighs 13.2 pounds
Hardwired installation
59-inch cord
6-inch shade
Corded electric power source
Size: 25.8×20.5×20.5 inches
If you are looking for a beautiful Tiffany-style mini chandelier, this is a great option for you. This Victorian-style serenity tiffany chandelier looks absolutely stunning and classic. The glass shades are made of 486 pcs of handcrafted glass and 63 pcs of crystal. The glass shades are genuine stained glass that is handcrafted one by one personally with high-quality glass cutting tools.
The dark brown color bronze patina added a more classic look to the chandelier. The glassed shades have colors like amber, blue, red, green, and orange. The crafted glass pieces with these colors are combined to give the vibrant look.
Talking about bulbs, you can use 3 60w E26 bulbs. I recommend using LED as it makes the design even more beautiful and vibrant. Also, by adding bulbs that support a dimmer switch, you can make this light fixture dimmable. The height of this chandelier is 25.8 inches and the width is 20.5 inches. All 3 shades are equal in size at 6 inches in diameter.
Most users are very satisfied with the design, built quality, and lighting output of this chandelier. It is versatile and can be used in places like living rooms, hallways, dining, cafe, bar, etc.
According to the users, this tiffany style chandelier looks absolutely gorgeous, looks like original tiffany light, elegant, and easy to assemble. The colors look beautiful both in light off and on. This light fixture is bright and has great value for money. The light looks antique with so much detailing which makes the light fixture like an artwork.
Few users mention that the direction is not right and the light is a bit complex to assemble. Also, the guideline for assembling is unclear. But as well lots of users didn't get any issues in the assembling and installation. So I recommend you hire an electrician if you don't have enough experience in assembling and installing light fixtures.
2. Capulina Vintage Style Tiffany Chandelier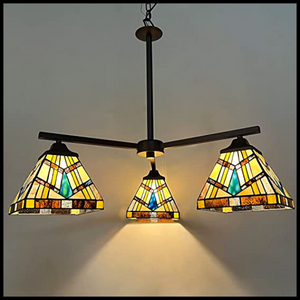 Highlights
Vintage style pendant Tiffany chandelier
24-inch height, 22-inch width, and 60-inch adjustable hanging chain
7-inch width of each pendant lamp shade
9.7 pounds weight
Compatible with E26 60w led, CFL, or incandescent bulb
3 light bulbs required
Made with 100% handcrafted stained glass
Antique bronze finish
90 days free return refund policy
Easy to install
Capulina as a company manufacturing tiffany style lamps since 2005. Their designers have 20 years of experience in designing tiffany glass. So they have great knowledge and expertise in manufacturing different types of tiffany style lighting fixtures by maintaining top-class quality. The designers of Capulina are inspired by the cultural heritage of America and Europe and it shows in each of their tiffany lights. This unique vintage-style chandelier is no different.
This antique-style tiffany chandelier is suitable for the dining room, kitchen, foyer hallway, etc. It gives a unique and traditional look with a stunning and colorful stained glass design.
It has a height of 24 inches and a width of 22 inches. Moreover, the adjustable chain can belong up to 60 inches making it perfect for a very high ceiling. The weight of this light fixture is 9.7 lbs.
The fixture support 3 60w E26 bulbs. You can use bulbs like incandescent, CFL, or led but I recommend led for more bright illumination than the other two. Though the maximum recommended wattage is 60 if you use led, you can use a bulb with more wattage as the led bulb doesn't get very hot. You can convert the light to dimmable by simply adding bulbs with the dimmer switch. The incandescent bulb gives vibrant color so if you are looking to make the colors more vibrant, the incandescent bulb is recommended.
Each piece of stained glass is properly welded to connect together with soldering tin by handmade experienced workers. So there is no doubt about the high quality. The installation process is easy and it comes with all the required mounting hardware.
Users like this light for the beautiful vintage design and stained glass color combination for amazing illumination. According to the users, this tiffany style chandelier is very versatile and can be used in many different places to increase the architectural beauty and classic ambiance of the place. It is very vibrant and looks amazing. One user mentioned that this light completely changed the look of the dining room and he gets compliments from all the guests who visit his home.
3. Cotoss Tiffany Style 5 Light Chandelier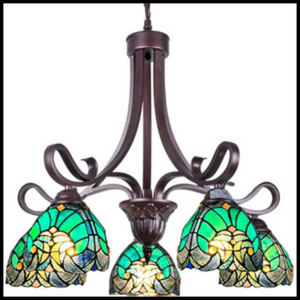 Highlights
5 light chandelier
Big traditionally decorative tiffany chandelier
100% stained glass shade
26-inch width, 24-inch height with 84 inches total height
60-inch long adjustable hanging chain
Supports E26 Incandescent, LED, CFL bulbs
Vibrant and properly toned colors
Sea green 5a color
Fulltime online support
Easy installation process
9.5 kg weight
Cotoss is a popular and trusted name in the Tiffany Style Lamp industry as they are a 100% genuine handmade tiffany style light maker, and manufacture a wide range of tiffany lamps like tiffany flush mounts lights, semi-flush mounts, chandeliers, table lamps, pendants, etc. Their tiffany lights contain 100% handcrafted stained glass with evenly toned vibrant color.
This 5 light vintage tiffany style chandelier keeps the quality with the company's reputation. It has 5 tiffany style light shades. Each of them is made by using many 100% stained glass pieces. All the glass pieces were welded by soldering tin at a very high temperature to make each shade. The whole process is fully handmade and ensures each glass piece attaches properly to each other with the foil.
The light fixture has a 24-inch height and 26-inch width. Additionally, it comes with 60 inches long adjustable hanging chain. you can adjust the length of the chain to make it the perfect height for your ceiling.
It works with 60-watt E26 incandescent, led, and CFL bulbs. The warm light bulbs( under 3000 kelvin ) suit the light fixture better than other types. So, the incandescent or halogen bulbs will make the light more colorful and vibrant. You can make the light dimmable by using a dimmer switch.
The oil-rubbed bronze finish gives a premium look and ensures high-quality construction.
This traditional chandelier gives beautiful illumination through the glass shades and the tiffany style stained glass patterns spread the illumination in different colors and shapes. All the patterns and colors are toned evenly and give even brightness. Combining all, it creates a heavenly ambiance in the dimming room, living room, kitchen, corridor, foyer, etc. the 5 light is big and bright enough to give a grand look to any indoor space.
The real users just love the artistic and eye-soothing look of this decorative chandelier. Also, they are very happy with the quality of each part of the materials.
Also according to a user, despite not being an electrician, he was able to install it very easily and this light fixture is not as heavy as it looks but he confirms the real stain glass. But, few users mention that this light fixture is not as bright as they expected and we also can say that it is not very bright like any contemporary light but also what type of bulb you are using that will decide how bright it will be.
Also note that though this light fixture looks somewhat green in the picture, it is slightly on the blue side. Basically, it is neither fully green nor blue, something between them.
4. LITFAD Baroque Style Tiffany Style Chandelier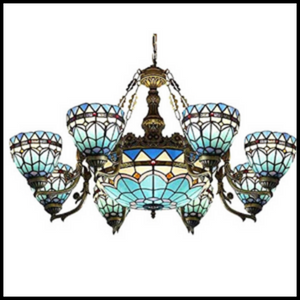 Highlights
Baroque-style tiffany chandelier
Retro pendant tiffany glass shade
9 light shade
Adjustable chain
22 pounds weight
E26/27 bulb base, wattage:31-40 in total max 360w
16 inches diameter of the center lampshade, 4 inches of the others
27.5 inches in height, 37.4 inches in diameter
2 years warranty
Value for money
Bronze finish
LITFAD tiffany style chandelier is the biggest on this list. If you want to decorate your living room or bedroom with a luxurious grand style tiffany chandelier, this can be a great choice for you. Not only for the bedroom or living room but this vintage tiffany style chandelier can also be installed in places like coffee shops, restaurants, bars, hallways, and dining rooms to make the place more gorgeous and decorative.
Another key difference between this chandelier with the previous products on this list is the lampshades are retro. style. Also, this is a Baroque Style tiffany light, so it is incomparable in terms of beauty. The blue tiffany style stain glass shades look stunning and can make any ordinary place decorative.
It has 9 lights, one big light hanging pendant light in the center surrounded by eight smaller lights. The diameter of the center light is 16 inches and the surrounding lights are 4 inches inch. The overall diameter of this light fixture is 37.4 inches with 27.5 inches in height. Keep in mind the height is without the chain length. It comes with a hanging chain whose length can be adjustable as the requirement. The total weight is 10 KG.
If your compared the size design, price, and 2 years warranty with the same size of lights of other manufacturers, it is fair to say it comes at a comparatively affordable price. So it is a value money tiffany style chandelier.
Coming to the bulb, you can use 30-40 wattage led, incandescent, and CFL bulbs with both an E27 bulb base. I will suggest using led bulbs as led will give cooler illumination and help to make the Tiffany stained glass art more vibrant compared to other types of bulbs.
In terms of dimming, you can make this light fixture dimmable but for that, you need to add a dimmer switch that suits the bulb. So if you are using the led bulb, you need to pick a dimmer switch that works with that bulb.
The most important part is the assembling and installation. the installation can be tricky. So if you don't have enough experience or professional knowledge regarding lighting installation, I suggest hiring a professional. But if you have experience in installing a lot of lighting, you should be able to assemble and install it. But it is time-consuming.
As reported by the users, the light looks very colorful, beautiful, and bright. It adds a beautiful colorful ambiance to the home. The support of the manufacturer is also commendable and you can reach the manufacturer easily through email for any help regarding assembling or installation or any other problem. The blue color of the light is very vibrant. The light comes well packaged but takes some time to ship as it comes from China, so before ordering keep that in mind. More importantly, it comes at a very affordable price, and compared to the size of other lights, it is cheap.
But not easy to assemble and install if you don't have previous experience installing so hiring a professional is recommended. Also, the instruction guide which comes with the product is confusing and not clear.
5. Amora Tiffany Style Hanging Chandelier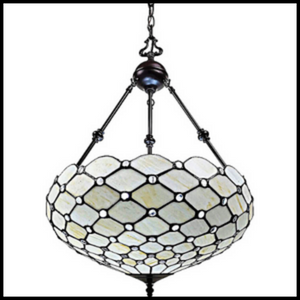 Key Specifications
Designed with 160 pearls
3 feet adjustable chain
144 stained glass pieces
Retro style lamp shade
3 E26 60w tyle A bulb required
Antique Dark brown finish
Height and width(18″ and 9″)
12-pound weight
5.5 kg weight
UL listed
If you are looking for the most beautiful single pendant chandelier for your dining room, this Amora tiffany hanging jeweled chandelier is my best pick for you. This is absolutely perfect for places like the dining room. It can give stylish look to an ordinary dining room. Not only the dining room, but it is also suitable for restaurants, tabletop, bar, hallway, kitchen, etc.
Amora Lighting is manufacturing tiffany style lights for a while now and they are well known for making tiffany style al-white frosted stained glass light with crystal.
Regarding the bulb, it comes with 3 bulb sockets. The manufacturer's recommendation is E26 60w led or incandescent type A bulbs. We suggest you use led bulbs as it doesn't get hot so you can use whatever wattage. But if you use incandescent bulbs. you shouldn't use more than 60w bulbs. More importantly, your bulb choice will define the color the light fixture will produce. If you use cool white bulbs, it will give you white color illumination and if you want cream color illumination we will suggest you use warm white bulbs. The installation of the bulbs is very easy with the solidly designed socket.
This light fixture weighs 12 pounds and the height and width are 9 inches and 18 inches. Moreover, it comes with a 3 feet long chain making it suitable for high and vaulted ceilings. You can shorten the chain length for the low ceiling.
The light looks very stunning because of the combination of the dark brown bronze fixtures with stained glass and pearl. It has 144 pearls with 160 tiffany style stained glass pieces. the pearls give gorgeous illumination with the light bulbs. So the combination of glass and pearls works brilliantly to increase the aesthetic beauty of the place. Also, this light fixture is UL listed.
Note that it has a mineral oil finish as the protection of stained glass, you can remove the excess oil with a cloth or tissue.
Most of the users are pretty amazed by the beautiful illumination of this light fixture. Users like the pearl and all-white Tiffany stained glass combination. The installation is also quite easy compared to other tiffany style chandeliers as it is quite compact and single shade design. But this isn't very bright. So if you are looking for a light that will cover a large space, you need to use more than one or other lights.
6. LITFAD Parrot Tiffany Style Chandelier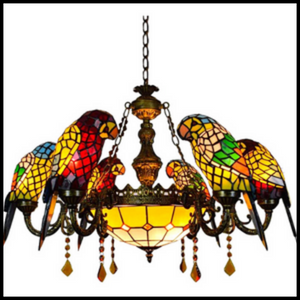 Key Features
Unique parrot style tiffany light head
6 bird style light heads with 1 large pendant in the middle
Multicolor
Antique brass finish
31.5″ in height and 30.31″ in diameter
23.6-inch adjustable chain
20.9 pounds weight
Require 31-40w E26/E27 8 bulbs
Warranty: 2 years
If you are looking for a tiffany style chandelier that is completely unique design(doesn't match with contemporary chandelier design) but looks gorgeous as well, you can consider this parrot-style tiffany chandelier. It looks totally unique compared with other tiffany style chandeliers on this list and looks amazing in places like living rooms, hotel lobby, bedrooms, dining rooms, restaurants, etc. It is a big chandelier with a classic parrot style tiffany stained glass shade. This light fixture surely adds extra classic beauty to your place. This light fixture is made of handcrafted tiffany stained glass, all the parrot is fully handcrafted Tiffany stained glass.
Coming to the light shade, it has 6 parrot-style stained glass light heads around one pendant dome-style hanging light in the center. There are 8 bulb sockets, one in each parrot and two in the center light shade. More importantly, this light fixture is very versatile in terms of bulb use. It has E26 and E27 as bulb bases compatible with led, incandescent, and fluorescent bulbs. The manufacturer suggests using the 30-40w bulb but if you use led you will be able to use bulbs with more wattage.
It is a multicolor chandelier. The glass shades have a combination of different colors so it gives vibrant illumination with a colorful ambiance. The antique brass finish gives vintage look to this light.
Regarding size, it has 31.5″ in height and 30.31″ in width. Also, it comes with a 23.6″ adjustable chain so you can set the light at your required height. The weight of this chandelier is 10 KG.
It comes with all the necessary hardware to install but the installation is a bit complex. So it is recommended to hire a professional electrician to install it. Also, it doesn't come with a proper installation guide which makes the installation process tricky. Additionally, though this light is very beautiful it is hard to ship and may come with some broken parts. But it has 2 years warranty and you can replace it if you receive any broken parts.
According to the users, it is a beautiful chandelier. It looks stunning and adds a colorful display of light to the home. The parrot style looks elegant and gorgeous. One user has mentioned that it makes the breakfast table so beautiful and colorful. All the users are very happy with the architectural and colorful beauty of this chandelier. But some of the users also have complained that it comes with very bad instruction and is fully unassembled. Also, one user has mentioned that it didn't come with proper packaging and came broken. So he had to order another one. Also, this light fixture is fragile to ship. So, it is not quite easy to assemble and install if you are not experienced.
But considering everything, it is a beautiful chandelier and if everything goes well it certainly makes your place heavenly.
7. Capulina Tiffany Style Antique Farmhouse Chandelier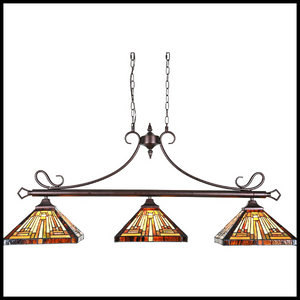 Key Features
3 lampshade Antique Tiffany style chandelier
Ideal for dining room, tabletop, and kitchen
47.2″ wide, 20.6″ height with 60″ adjustable chain
12″ lampshade(each)
Rectangular shape pendant shade
24 hours support with 90 days free refund or exchange policy
15.5 pounds weight
Need 3 60w E26 bulb
Edison-led bulb recommended
This Capulina rectangular pendant antique Tiffany-style chandelier can make your dining, and pool stunning with its's purity colored brightness. It is a 3 lights vintage farmhouse style tiffany chandelier. Each lampshade is made of real tiffany stained glass pieces welded properly at high temperatures. So there is no doubt about the quality.
This chandelier is ideal for pool table, dining room, and kitchen to give bright and classic illumination to the place. Each lampshade has 12 inches in width and the whole fixture has 47.2 inches in width. It comes with a 60″ adjustable chain and the height of the light fixture is 20″ without the chain. The total weight is 15.5 pounds.
It requires 3 E26 60w bulbs. the bulbs can be CFL or led but it is a wiser decision to use the Edison led bulb as it doesn't get hot and gives a cool and vibrant color to this light fixture. You can make it dimmable by using a compatible dimmer switch and bulbs. Also, the light gives enough brightness to make a room bright properly.
The installation process is very simple and easy. You shouldn't need to hire a professional if you have minimum knowledge of wiring and follow the guideline exactly. Additionally, it has 90 days replacement or refund aftersale service which makes it an even more attractive deal. Finally, this chandelier looks absolutely stunning and we think it won't disappoint you.
It has great user feedback. Users like the clean and elegant design of this tiffany style chandelier. Similarly, the light is bright enough to replace any conventional light. So inters of both aesthetic beauty and brightness, this is a good combination.
Are Tiffany Style Lamps & Chandeliers Outdated?
No. Tiffany-style lamps and chandeliers are certainly not outdated at all. In fact, the popularity of the vintage tiffany style lights is getting better as a part of both traditional and modern home decor. So tiffany style lamps still are very much in style and their popularity is not going to finish very soon.
As tiffany style lights are very suitable for traditional style house. Also, in modern-style houses, tiffany style lamps and chandeliers add a beautifully colorful environment and give sophisticated looks which make Tiffany-style lights suitable for modern interior design too.
So, for increasing the decorative and aesthetic beauty of the house, hotel, restaurant, and office, tiffany style lights will be in fashion for a long time.
Why Tiffany Lamps Are expensive?
The original Tiffany lamps made from 1890-to 1930 in the Tiffany studio are very expensive and are considered now luxury products for home decor. Because there are only a few of them in the world and each of them. In 2011, one tiffany lamp was sold for $2.8 million in an auction. The original Tiffany lamps are rare to find, they are fully handmade and never produced in a large number which increases the price of Tiffany lamps over time. The price of tiffany lamps those are made by Tiffany studio from 1890 to 1930, comes at a price from $4000 to $1 million.
Even, today tiffany style lamps are quite expensive compared to other types of lamps as they are handcrafted so it takes a good amount of time and effort to build one. Also, the real handcraft stained glass is expensive. So the time and hard work behind each tiffany style lamp make them expensive.
Why Do Tiffany Lamps feel Like Plastic?
When you tap even in an original Tiffany lamp, it sounds like plastic though it was made from original stained glass. That's because Louis Comfort Tiffany invented a technique to wrap the stained glass handcrafted pieces in copper foil which contains a piece of paper.
How To Clean Tiffany stained Glass Chandelier Lampshade?
Cleaning the tiffany style stained glass lampshade is a little bit tricky compared to any non-stained glass lampshade. But the task is not that difficult. Just follow the steps below.
Firstly switch off or unplug the light from the power outlet. If the light fixture was switched on for some time, wait for a while for cooling the lampshade.
Secondly, even if you can reach the chandelier in the ceiling, I recommend you unmount it so that you can clean it properly and avoid any unwanted accidents.
After that, unassemble the stained lampshade and use ammonia-free glass cleaner and rub the lampshades with little pressure with a soft cloth. In case, the lampshades aren't stained glass, you can follow the same process without even glass cleaner. But if the lampshades are very dirty and stained glass, you need the glass cleaner will clean the shades properly. More important, rub each corner and stained glass mark as dust often gathers in those places of the lampshade.
After cleaning all the lampshades, let them dry and use a feather duster to ge4t gid of any inside dust.
Final Words
All of the light fixtures in this list standouts individually for their uniqueness and architectural beauty. If you have chosen anyone from this list, you are going to be satisfied. My personal favorites are Chole 3 light victorian style chandelier, Amora Light single hanging pendant chandelier, and Cotoss 5 lampshade chandelier.
If you also looking for a tiffany style flush ceiling light, I have written a post reviewing some of the best on the market.